Claim Bryce Dallas Howard's Butt Was Edited in 'Jurassic' Poster Debunked
Bryce Dallas Howard's posterior has become an unexpected talking point on Twitter this week, amid claims it was Photoshopped to appear smaller on a poster promoting one of her biggest movies.
A viral tweet was shared on the micro-blogging platform that said of the 41-year-old screen star: "Bryce Dallas Howard's butt is so big they had to Photoshop it down in the Jurassic World poster."
To support the claim, an image of Howard in the poster for the 2015 box office juggernaut was shared beside an image of the actor posing on a red carpet, where she was seen appearing to have a more curvaceous figure.
"This is what they took from you," read an accompanying caption on the tweet, which has attracted more than 12,000 retweets and 186,000 likes.
The post ignited a strong reaction among Twitter users, a number of whom suggested they were somehow robbed of seeing Howard in curvy form.
"Wonder if the person who was assigned the job of airbrushing-out Bryce Dallas Howard's monster cake ever thought about Nuremberg and how 'just following orders' is not a valid defense," read one of the more popular responses.
However, others posted out that there was a time gap between when the two photos would have been taken, therefore ruling out any need for Photoshop.
Newsweek has verified that the photo showing Howard looking curvier was actually taken at the 5th Annual Reel Stories, Real Lives event, held in Los Angeles on April 7, 2016.
The event took place some 10 months after the release of Jurassic World.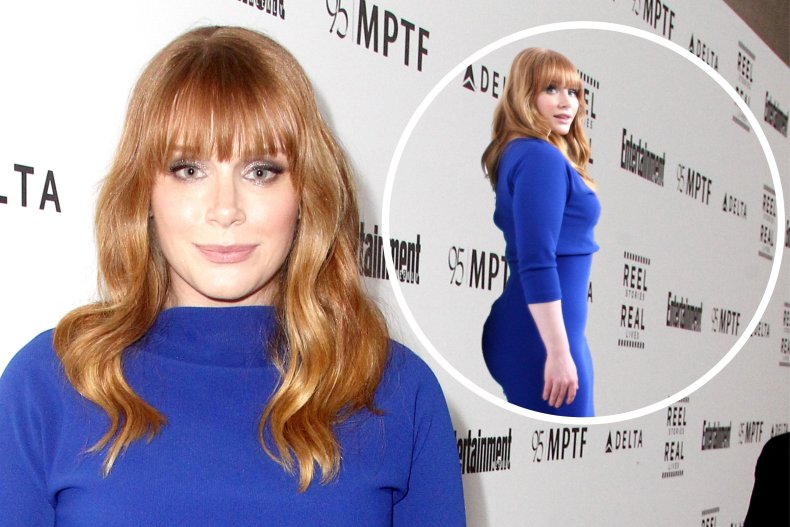 Later in 2016, Howard starred in an episode of anthology series Black Mirror called "Nosedive," set in a world where people can rate one another between one and five stars based on their interactions.
With these ratings potentially affecting a person's socioeconomic status, the episode served as a commentary on humans' quest for likes and shares on social media, as well as the rating culture developed by apps like Uber.
For her role as Lacie, a woman obsessed with boosting her rating, Howard gained more than 30 pounds, as some of the storyline included body-shaming.
While promoting her episode in the popular series, Howard discussed how the widespread fixation with body image has affected society.
"In the culture we live in, there's this pervasive, shared agreement that there's a certain body type to admire, and it isn't actually based on anything real or substantive," she told Marie Claire. "It's a truly superficial thing, and there's a cost to that.
"This episode [of Black Mirror] asks, 'what are the ways we oppress our authentic selves?' and that's a true form of oppression for women. I feel like it's a subversive thing which keeps women preoccupied with something that doesn't matter, and takes up a lot of space, and prevents people from what they're meant to be doing."