Clapper Is Confirmed as Intelligence Czar After a Round of Senate Dealmaking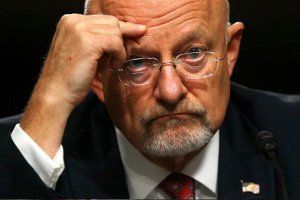 The Obama administration's somewhat drawn-out campaign to appoint a new National Intelligence Director came to a successful conclusion today as retired general James Clapper was unanimously confirmed by the Senate.
Three Senate Republicans, including two Senate Intelligence Committee members, signaled they might try to hold up a final Senate floor vote on the nomination. Two congressional sources, who asked for anonymity when discussing a politically sensitive topic, said that the last-minute threats were related to efforts to extract concessions from the Obama administration on intelligence-related matters that were not necessarily related directly to Clapper himself.
One of the senators who was threatening to hold up the Clapper vote was Sen. John McCain, who one of the sources said had been seeking information from the intelligence czar's office since last year on classified controversies related to the acquisition of expensive picture-taking satellite systems. According to a former intelligence official, McCain's ire was at least partly piqued by what he viewed as efforts by the intelligence director's office to stall on disclosing to him a report naming names on who was responsible for a purchasing fiasco surrounding a failed program called "Future Imagery Architecture," which was supposed to design and build a new generation of spy satellites.
Earlier this week, however, the congressional source said, the Obama administration agreed to turn over to McCain the information he was seeking. In a statement released on Tuesday, McCain's office confirmed: "This afternoon Senator McCain received the report from the Office of the Director of National Intelligence that he first requested nearly one year ago, and as a result he is releasing his hold on General Clapper's nomination. This report only confirms Senator McCain's long-standing concerns about the poor oversight and cost overruns in intelligence technology programs. Senator McCain will continue to fight to ensure American taxpayer dollars are used most efficiently and effectively to strengthen our national security."
The two Senate Republicans on the intelligence committee who had indicated they might try to hold up a floor vote on Clapper's confirmation were committee vice chairman Kit Bond of Missouri and Tom Coburn of Oklahoma. A congressional source said their threats to delay a confirmation vote related to efforts they had been making for several months to force the administration to produce classified assessments by intelligence agencies of the risks individual terrorist detainees would pose if they were released from the U.S. detention facility at Guantánamo Bay. As Declassified reported, Senator Bond has been at odds with the administration over its decision to send back to Yemen a Guantánamo detainee whose release had been ordered by a federal judge but whose liberation, according to Bond, was opposed by the CIA and Defense Intelligence Agency (which administration officials denied).
A person familiar with Bond's views told Declassified on Wednesday that the senator decided he was "not going to hold Clapper." Coburn's spokesman did not respond to multiple requests for comment, but on Thursday afternoon Congressional Quarterly reported the Oklahoman had also lifted his threat to delay a confirmation vote. "We got everything we need," Coburn told CQ's Tim Starks.
A Senate source said that the GOP senators' decision to back off their threats to hold up the Clapper nomination was not unexpected, given that the administration had recently begun to turn over to the intelligence committee the detainee threat assessments that Bond and Coburn had been seeking. The source said that Congress recently passed, and the president signed, an appropriation bill containing a clause requiring the administration to turn over to Congress the detainee threat assessments by the middle of next month, so there was no question that the material was going to turn up on Capitol Hill reasonably soon.
When Clapper was first named as the president's choice to replace ousted intelligence czar Dennis Blair in one of the government's most thankless jobs, both Democrats and Republicans—including Sen. Dianne Feinstein, the powerful Senate Intelligence Committee chair—muttered about holding up the nomination until the White House succeeded in pressuring House Speaker Nancy Pelosi to allow a floor vote on a long-stalled intelligence authorization bill. The bill contains proposals to improve congressional oversight that House and Senate intelligence committee members believe are useful but that Pelosi believes don't go far enough. On Thursday, Feinstein and Bond issued a statement praising the Senate for passing a final version of the intelligence reform bill, and urged Pelosi to allow a floor vote on the bill in the chamber she runs. But any further threat to link House approval of the authorization bill to a final confirmation vote on the new intelligence czar now appears to have vanished.
In a statement released after Clapper was confirmed, Senator Feinstein said, "Today the Senate confirmed General Clapper before going on recess, and this is good news because to have left this key position vacant could well have damaged our national security."