Clarence Thomas Wants SCOTUS to 'Correct the Error' of Legal Gay Marriage
Supreme Court Associate Justice Clarence Thomas argued in a Friday opinion that the nation's top judicial body should overrule a previous decision legalizing LGBTQ marriage nationwide and a former ruling that determined criminalizing sodomy is unconstitutional.
Thomas issued a concurring opinion with the Supreme Court's 6 to 3 decision overturning abortion rights as established by Roe v. Wade on Friday. The conservative justice, who was appointed by former Republican President George H.W. Bush, took aim at the Court's 2003 ruling in Lawrence v. Texas and its 2015 decision in Obergefell v. Hodges.
Lawrence established that criminal penalties for sodomy or private sexual acts between consenting adults are unconstitutional. That decision came down in a 6 to 3 ruling. Obergefell legalized same-sex marriage nationwide in a 5 to 4 decision. Thomas, who joined the court in 1991, dissented in both the 2003 and 2015 Supreme Court decisions.
In his Friday concurring opinion with the majority decision to overturn abortion rights, Thomas wrote that the Supreme Court "should reconsider all of this Court's substantive due process precedents, including Griswold, Lawrence, and Obergefell." The justice contended that those precedents were "demonstrably erroneous."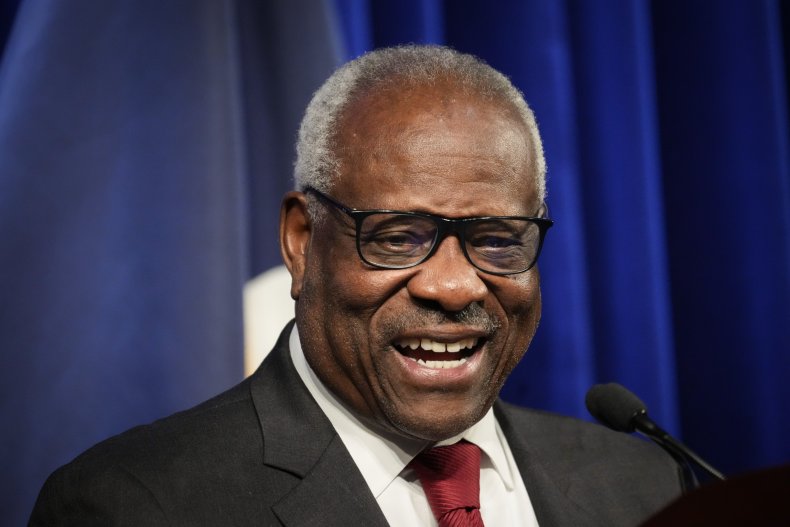 Griswold v. Connecticut established that married couples have a right to purchase and use contraception without government interference. It was decided in 1965.
"We have a duty to 'correct the error' established in those precedents," Thomas continued.
"After overruling these demonstrably erroneous decisions, the question would remain whether other constitutional provisions guarantee the myriad rights that our substantive due process cases have generated," he wrote.
Thomas has previously made similar arguments. In October 2020, Thomas and fellow conservative Justice Samuel Alito urged the Supreme Court to "fix" its ruling in Obergefell.
"It would be one thing if recognition for same-sex marriage had been debated and adopted through the democratic process, with the people deciding not to provide statutory protections for religious liberty under state law," Thomas wrote at the time. "But it is quite another when the Court forces that choice upon society through its creation of atextual constitutional rights and its ungenerous interpretation of the Free Exercise Clause, leaving those with religious objections in the lurch."
He went on to argue that "the Court has created a problem that only it can fix. Until then, Obergefell will continue to have 'ruinous consequences for religious liberty.'"
The National Black Justice Coalition, which primarily works on behalf of Black LGBTQ individuals, blasted the decision issued by the Supreme Court in a Friday statement emailed to Newsweek.
"The conservative-led Supreme Court decision to invalidate landmark precedent and overturn fundamental federal protections guaranteeing the right to abortion is a five-alarm threat to the civil rights of all Americans," said Victoria Kirby York, deputy executive director of the coalition.
Kirby York contended that the decision is "not in line with the aspirations of equality that our nation seeks to achieve. Simply put, a narrowing of the 14th Amendment could put the right to interracial marriage, marriage equality for LGBTQ+ people, and other civil rights on the chopping block."
Notably, Thomas, who is Black, is in an interracial marriage with a white woman, conservative activist Virginia Thomas.
Human Rights Campaign, the largest LGBTQ advocacy group in the country, blasted the Supreme Court's decision on abortion and warned of the threat to LGBTQ rights.
"It shows that all of our rights are on the line right now, as state lawmakers will be further emboldened to test the limits of our hard-won civil rights. Women are under attack, LGBTQ+ people are under attack, BIPOC people are under attack, and we are justifiably outraged. We cannot relent—we must fight back," HRC's interim President Joni Madison said in a statement emailed to Newsweek.