The Supreme Court's draft majority opinion document leaked by Politico and published late on Monday evening could overturn 50 years of constitutional protection for abortion rights—and potentially threaten other fundamental rights that have only been recently recognized after years of battling, including same-sex marriages.
In 2015, the Supreme Court ruled in favor of the fundamental right of same-sex couples to marry in Obergefell v. Hodges, a landmark case for the recognition of LGBTQ+ rights. Now, the reasoning suggested by Justice Samuel Alito to overturn Roe v. Wade might threaten this and other recently recognized rights.
The 98-page leaked document shows that conservative Justice Alito, author of the document, wrote that Roe v. Wade and Planned Parenthood v. Casey "must be overruled." The two cases are considered crucial in the history of abortion rights, with the Roe v. Wade ruling in 1973 establishing the right to abortion as a fundamental right, and Planned Parenthood v. Casey in 1992 reaffirming that ruling, although partially allowing for restrictions.
In the document obtained by Politico, which has not yet been independently verified but it's widely considered to be authentic, Alito writes that Roe and Casey must be overturned because "the Constitution makes no reference to abortion, and no such right is implicitly protected by any constitutional provision."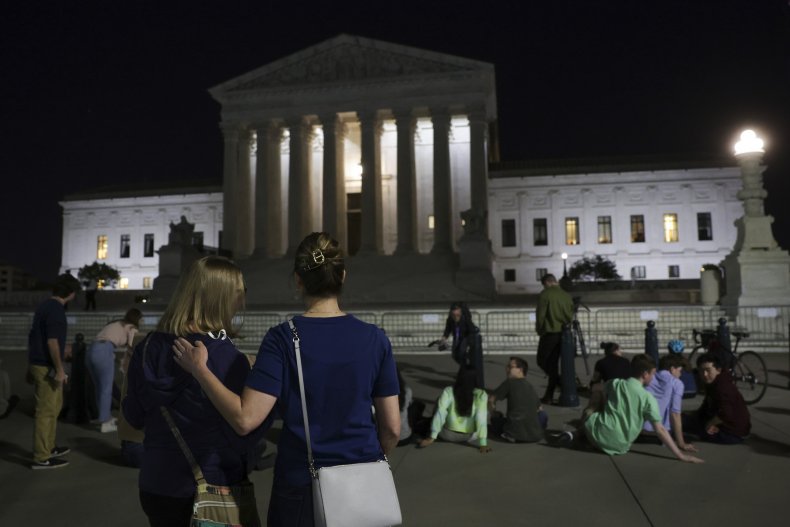 How The Roe v. Wade Draft Opinion Could Threaten LGBTQ+ Rights
Alito's argument for overturning Roe v. Wade is built around the idea that the right to abortion does not fall in the category of those rights "deeply rooted in this Nation's history and tradition" and "implicitly in the concept of ordered liberty"—a direct mention to the Washington v. Glucksberg case, in which the Supreme Court voted against a physician who had challenged the state of Washington's ban on assisted suicide.
In that case, the court ruled that helping a terminally ill patient to die went against the country's traditions and practices.
Alito claims that abortion was "entirely unknown in American law...until the latter part of the 20th century," a statement that would apply to other fundamental rights only established in the past decades, including LGBTQ+ rights.
Likely foreseeing backlash, the conservative judge says in the draft document that while the right to access an abortion does not deserve constitutional protection because it is not rooted in the country's traditions and original Constitution, the same reasoning does not apply to other recently recognized rights. Alito writes that abortion rights are "fundamentally different" from others established in previous rulings involving "intimate sexual relations, contraception and marriage."
But some have raised concerns that this might not be the case, and overturning Roe v. Wade on this basis would be a dangerous move threatening LGBTQ+ rights in the U.S.
Commenting on the document, Slate journalist Mark Joseph Stern made the case that while Alito assures key rulings on interracial marriages, contraception and others will not be jeopardized by overturning Roe and Casey, the judge never mentions Lawrence v. Texas or Obergefell v. Hodges—crucial cases in establishing LGBTQ+ rights—in the list of safe precedents.
In 2003, with Lawrence v. Texas, the Supreme Court overturned state sodomy laws, making same-sex sexual activities legal across the whole country, and punishment or sanctions against it unconstitutional. In 2015, with Obergefell v. Hodges, the court ruled it unconstitutional for states to ban or refuse to recognize same-sex marriage.
That these recently recognized rights could come into question was an issue raised by some scholars already in December last year, when law professor at New York University law school Melissa Murray told the Guardian that gay rights, access to contraceptives and even interracial marriages were threatened by being rooted in that same "right to privacy" on which Roe v. Wade is founded.
These are fairly recently established fundamental rights that have only been recognized only after years of painful battling. Their future might depend on whatever precedent will be created by overturning Roe v. Wade if the Supreme Court follows up with it as its final decision in two months' time.
Follow Newsweek's live blog for the latest updates on Roe v. Wade.
Update 5/3/22, 10:45 a.m. ET: This article was updated with more context.