Clarence Thomas Wife Texts Spark Calls for Probe Into Jan. 6 Case Handling
Seventeen advocacy groups are calling for a congressional investigation into Supreme Court Justice Clarence Thomas following revelations that his wife sought to have the 2020 election overturned.
The groups, which include left-leaning Indivisible and MoveOn Civic Action, requested the investigation in a letter Friday to the respective chairs of the House and Senate judiciary committees. The letter is part of growing scrutiny the conservative justice faces in response to reporting that his wife, Virginia Thomas, pressed a top Trump White House aide to refuse to concede the 2020 presidential election.
"These investigations should examine whether Justice Thomas' conduct was consistent with basic principles of judicial ethics, whether he violated federal law and his oath to 'impartially discharge and perform' his judicial duties, and what actions must be taken in response," reads the letter, addressed to Senator Dick Durbin and Representative Jerry Nadler.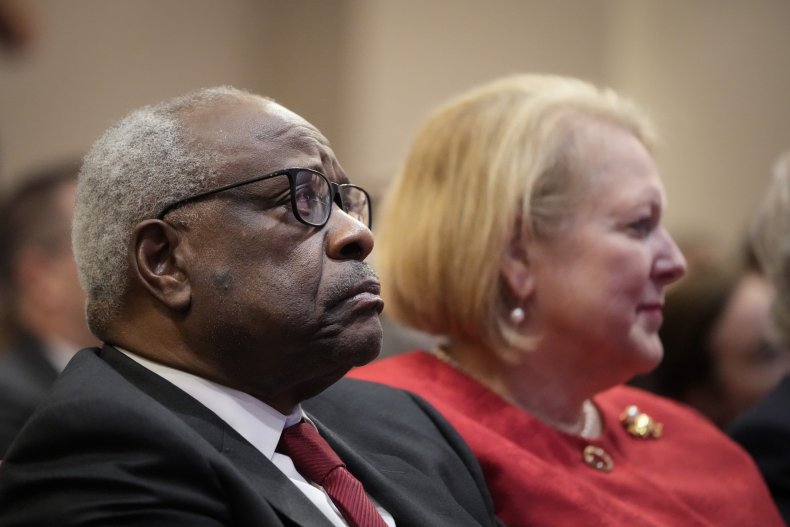 The letter argues that Thomas has already violated a federal statute that blocks justices from hearing cases where their "impartiality might reasonably be questioned" or their spouse has "an interest that could be substantially affected by the outcome of the proceeding."
Earlier this year, the Supreme Court declined to hear former President Donald Trump's request to block records from being released to the House committee investigating the January 6 insurrection.
The letter points out that Thomas was the only justice willing to hear the case (but provided no public explanation), and Virginia Thomas, who goes by Ginni, was a signatory to a letter castigating the January 6 committee. Clarence Thomas, the letter argues, violated the federal impartiality statute by not recusing himself from the case.
Earlier this month, The Washington Post and CBS published texts from Virginia Thomas to then-White House Chief of Staff Mark Meadows repeating baseless claims the 2020 election was stolen and other right-wing conspiracy theories. Virginia Thomas has previously stated she was present at the rally leading up to a mob storming the Capitol on January 6, but left early.
The letter, also signed by American Atheists and the League of Conservation Voters, points to how Justice Thomas has never recused himself from a case related to his wife's long-running political activities and initially failed to disclose her consulting fees.
"Public trust in the Court is already at an historic low," reads the letter. "Allowing Justice Thomas to avoid scrutiny will surely cause the American people's faith in our judicial system to deteriorate further — perhaps beyond repair."
Since the text messages were reported, Justice Thomas has faced growing pressure from Democratic lawmakers and others to recuse himself from future cases involving his wife's political activities and for an overhaul of the Court's ethics rules. Other have called for Thomas, the Court's longest-serving justice, to be impeached for not recusing himself earlier.
Newsweek has reached out to Justice Thomas, Durbin and Nadler for comment.