'Clash of Clans' June 2019 Update Released: 6th Builder & Balance - Patch Notes
The Clash of Clans June 2019 update is finally live, and it's full of new content. While Supercell hasn't released official patch notes by the time of publication, here's a recap of its features from the past two weeks of sneak peeks. Learn all there is to know about the Research Potion, Hog Glider, Builder Hall 9 and more.
Clash of Clans June 2019 Update Notes

Research Potion & the League Shop [More info Here]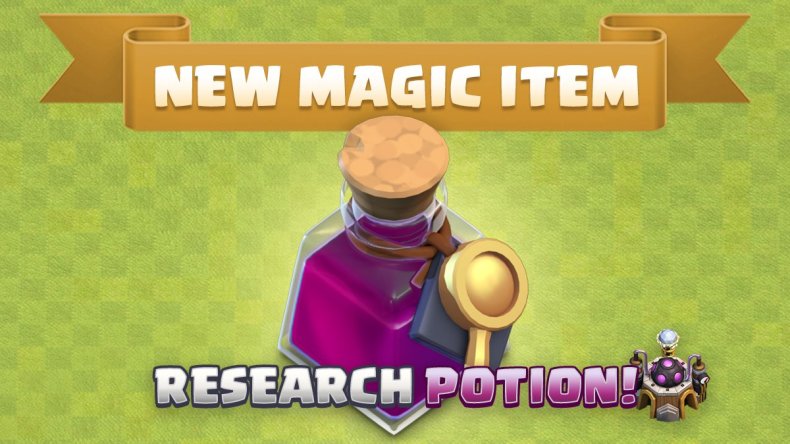 Research Potion
Speeds up Lab research 10x for one hour
Costs 20 League Medals
League Shop
Magic Hammer purchases get a seven-day cooldown timer
Price changes: Training Potions cost 10 League Medals and Builder Potions cost 30 League Medals
Builder Hall 9
Hog Glider: An air troop that stuns defenses from above then becomes a normal Hog Rider when it hits the ground.
Lava Launcher: A long-range defense that sets the ground on fire.
OTTO Hut

OTTO is now a secondary builder at the Builder Base. He's unlocked by completing quest-like activities at Builder Hall 9.
Since you have two Builders, the Master Builder can be moved to the Home Village if you want.
Home Village Training
There's a tutorial that holds your hand through the entire process.
A free play mode lets you experiment freely with an unlimited army and no extra assistance.
Operation Blue Skies - Reworked Legend League [More info here]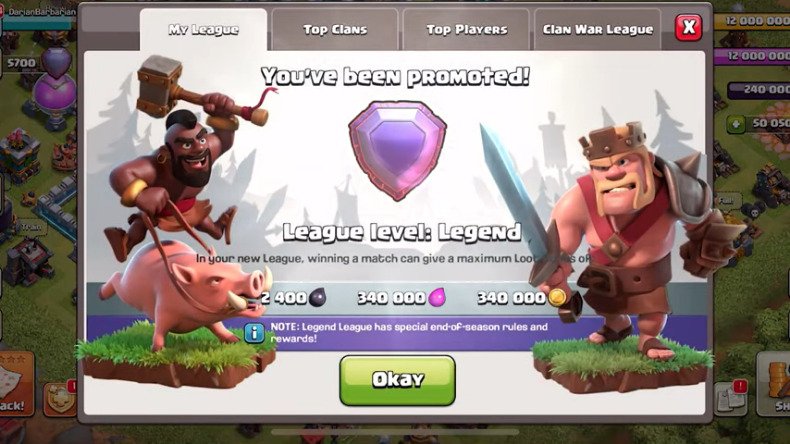 The Legend League is now an opt-in feature.
Each player launches up to eight attacks per day from a new menu.
Layouts and Clan castle defenses can be set in a Defense menu. These stay the same unless otherwise changed.
Shields can be purchased. When they are added or removed, the effect takes place on the next attack day.
Loot is offered in a static base amount in addition to your League Bonus and any Stars you may earn. This is similar to Clan Games.
Progress made in Legend League counts toward Clan Games and Season Challenges.
Levels and Balance
Town Hall 12
Heroes:
Barbarian King maximum level increased from 60 to 65
Archer Queen maximum level increased from 60 to 65
Grand Warden maximum level increased from 30 to 40
Troops:
Golem maximum level increased from eight to nine
Spells:
Rage Spell maximum level increased from five to six
Poison Spell maximum level increased from five to six
Skeleton Spell maximum level increased from five to six
Skeletons now have armor
EQ spell radius increases with level
Buildings:
Mortar maximum level increased from 11 to 12
All level 13 Walls are now upgradeable (that is, 50 additional Wall pieces)
Town Hall 11
Spells:
Earthquake Spell maximum level increased from four to five
Haste Spell maximum level increased from four to five
Home Village Balance
Hero Balancing
Grand Warden regeneration times have been decreased at all levels
Troop Balancing
Healer splash radius has been decreased from two tiles to 1.5 tiles
Golem death damage splash radius has been increased from 1.2 tiles to 1.5 tiles
Golem & Golemite Death Damage has been increased on levels five-eight
Spell Balancing
Earthquake Spell now affects buildings and Walls in a larger radius as you level it up: radius increases by 0.3 tiles per level.
Skeleton Spell now spawns armored Skeletons. When the armor gets destroyed they turn into regular Skeletons.
Number of Skeletons spawned has been reduced (to 10, 11, 12, 13, 14 respectively)
Defenses
Level 11 Mortar upgrade time reduced from 14 days to 12 days
Level 8 Wizard Tower DPS reduced from 48 to 45, and level 9 Wizard Tower DPS reduced from 54 to 50
Siege Machines
Battle Blimp HP increased from 2,500/3,000/3,500 to 3,000/3.500/4,000
* BUILDER BASE *
Wall Ring costs of Builder Base walls have been reduced. Now level 6-8 walls cost three/four/six instead of four/six/eight Wall Rings.
* MISC *
Giga Tesla upgrades, gear-ups and Builder Base army camp are now affected by the Builder Boost perks.
Shovel of Obstacles can now be used to move the Loot Cart.
New Challenge types
Layouts can now be shared via links.
While Clash of Clans' June 2019 update doesn't completely overhaul gameplay, it features several quality-of-life tweaks that make a huge difference. Adding the option for a sixth Builder, for example, lets players focus on their Home Village if that's something they prefer to prioritize. The Legend League menu, on the other hand, drastically improves matchmaking in Clan Wars for the game's best players. There is a bit more glitz and glamor on the Builder Hall side with a new troop and defense, even if those are just slight riffs on the characters we already know. In short, the Clash of ClansJune 2019 update is light on new features, but heavy on fan service. For those who play religiously, the game just got a whole lot more enjoyable and approachable.
Clash of Clans is available now on Android and iOS.
What are your thoughts on Clash of Clans' June 2019 update? Do these patch notes deliver on your expectations? Tell us in the comments section!