Leicester City: Can Claudio Ranieri Really Win the Champions League?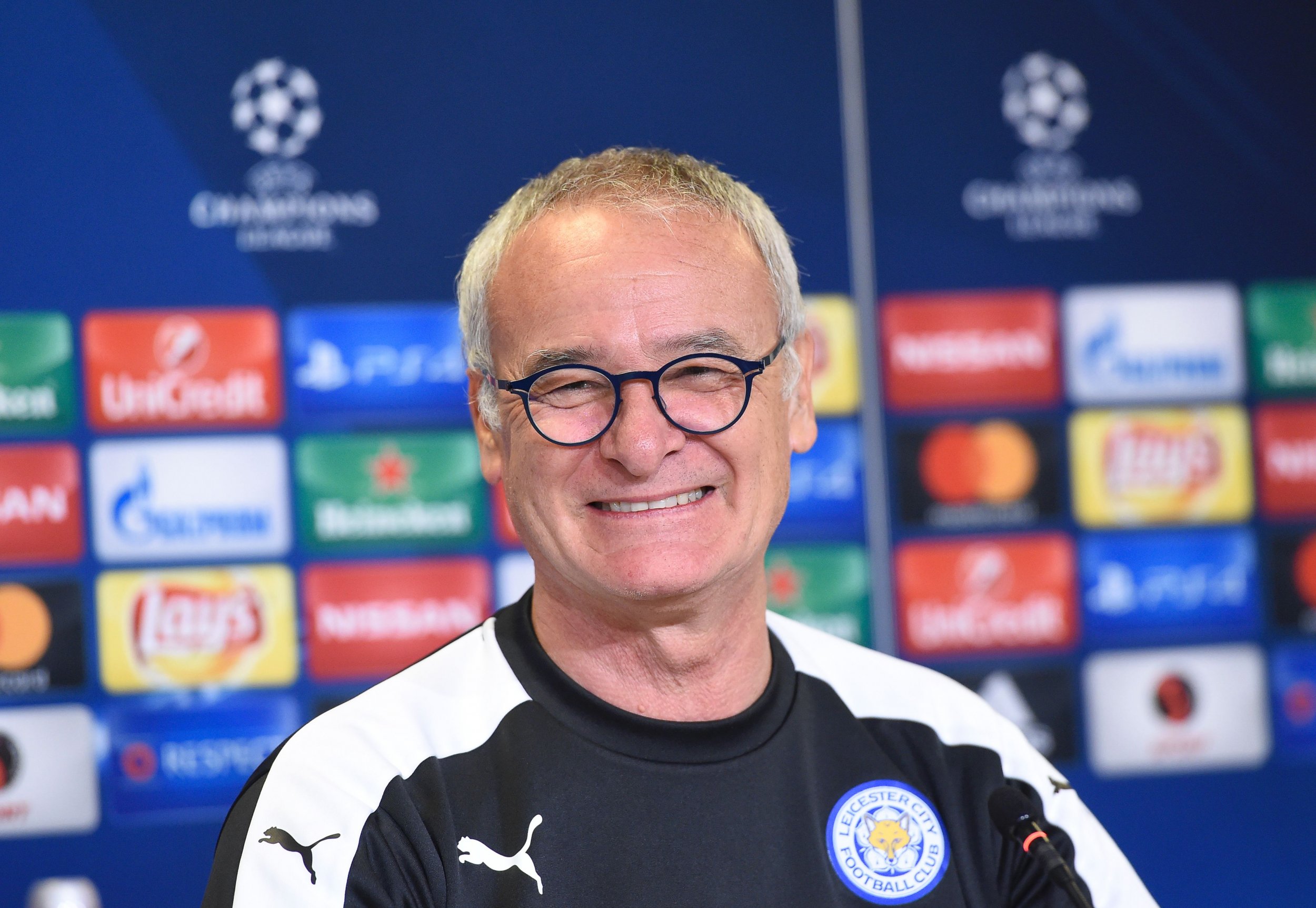 The most impressive team of the 2016-17 UEFA Champions League so far has not been Real Madrid, Barcelona or even Manchester City, despite the latter's statement-making win over the Catalan giant on Tuesday night.
You might have an argument for Atletico Madrid, sitting three points ahead of Bayern Munich in Group D. But, factoring in size of club and transfer spend, English Premier League champion Leicester City must be the season's biggest surprize so far.
If it sounds strange to call the Premier League title-holders a surprize, then consider that Leicester's title victory was itself one of the great sporting shocks.
Now, Claudio Ranieri's side sits atop Group G with a perfect record of three wins from three—one of three teams in the competition yet to concede a goal.
Can it really go all the way and win the Champions League? Newsweek weighs up the probabilities.
The element of chance
A 38-game season is meant to iron out moments of fortune, good and bad—the most consistent team, usually with the deepest squad, will always win the English Premier League.
That is part of what made Leicester City's title triumph so remarkable. Every time pundits and supporters expected them to stumble, Ranieri's team kept on trucking, right up until that final, memorable moment when Eden Hazard's equalizer against Tottenham meant the London side could not catch Leicester.
While the latter stages of the UEFA Champions League have become, almost exclusively, the preserve of Europe's elite teams—no one outside of England, Spain, Italy or Germany has won the competition since Porto under Jose Mourinho in 2004—knockout football worries wealthy teams because of the sense of unpredictability.
Getting out of the group stages is, arguably, the harder task—and with Leicester five points clear of FC Copenhagen ahead of their game against the Danes on Wednesday, that looks to be a formality.
Finishing top of the group should get Leicester an easier draw in the round of 16—perhaps against Benfica, currently second in Group B, or Sevilla, who are second in Group H. Then again, Bayern Munich, the current runner-up in Group D, would represent a nightmare scenario.
The central point, though, is this: Leicester's consistency won them the Premier League; now, in a more random environment, it has every chance of claiming European football's top prize.
Squad depth
Ranieri made additions to his squad in the summer transfer window with the Champions League in mind, and as the season has progressed so those investments have begun to bear fruit. Islam Slimani and Ahmed Musa both, vitally, have Champions League experience, with Sporting Lisbon and CSKA Moscow respectively.
Last season, Leicester leaned to a huge extent on the goals of Jamie Vardy, the creativity of Riyad Mahrez and the midfield industry of the now departed N'Golo Kante. While Kante has not been satisfactorily replaced, Musa and Slimani have lightened the scoring burden on Vardy, who has looked an imitation of last season's dynamic attacking force. If Leicester makes it out of the group stages, and then past the first knockout round, then injuries and fatigue will naturally begin to add up. That is where squad depth will come in handy.
Weaknesses of the usual suspects
It sounds strange, in the era of domination by the elite clubs, but this year's Champions League looks to be more open than most—in fact, a little like the Premier League Leicester won. Real Madrid will be there or thereabouts with their array of attacking talent; Barcelona will too—although, crucially, they look weaker than in previous seasons. Bayern Munich are under new management, with the vastly experienced Carlo Ancelotti, and may be the favorite of all those three. Manchester City will now be poking their nose into that group.
Paris Saint-Germain have a squad that are the envy of any in Europe, but have yet to work out how to win the Champions League, ditto Arsenal. Of the next tier, Atletico Madrid look best-placed from a tier also containing Juventus and Borussia Dortmund, struggling in the Bundesliga under Thomas Tuchel.
That makes nine "favorites", after which there is really no reason to place Leicester, one of the form teams of the competition so far, any lower. The European football landscape has changed - gone, for now, are the days when Manchester United and the two Milan clubs could expect, almost as a matter of right and lineage, to make it to the quarter-finals and beyond. While they slumber, at least for a season Leicester could occupy the vacuum.
Playing style
Leicester's relative struggles in the Premier League this season have come about as a confluence of two major factors. Firstly, as previously mentioned, Vardy and Mahrez have dropped off a level, and Kante has been lost. Secondly, league rivals have played Leicester more intelligently, pressing more effectively and exploiting its discomfort in possession.
It took an entire season, but Leicester in the Premier League may have regressed to the mean—an above average side with several outstanding individuals and a tremendous team dynamic that struggles against technically superior opponents.
In the Champions League, the story has been markedly different. Continental sides unused to Ranieri's all-action style have often been overwhelmed, not helped by the slower pace of the Danish and Portuguese leagues.
In the knockout rounds, against higher-quality opposition of the likes of Real Madrid, the element of surprize will be lessened. Indeed, Leicester may end up seeing so little of the ball against, say, Barcelona that it becomes all but impossible for them to win over two legs.
But the advantage of the unknown has worked for another English team in the not too distant past—remember Tottenham's run to the quarter-finals under Harry Redknapp in 2011 when both Inter and AC Milan were dispatched. And Leicester are arguably better organized than that Spurs team. Yet even taking into account all of the above, this would still be a triumph of greater miraculousness than the Premier League title victory. Leicester cannot win the Champions League. Can they?