Hillary Clinton's Strong Performance Dominates Democratic Debate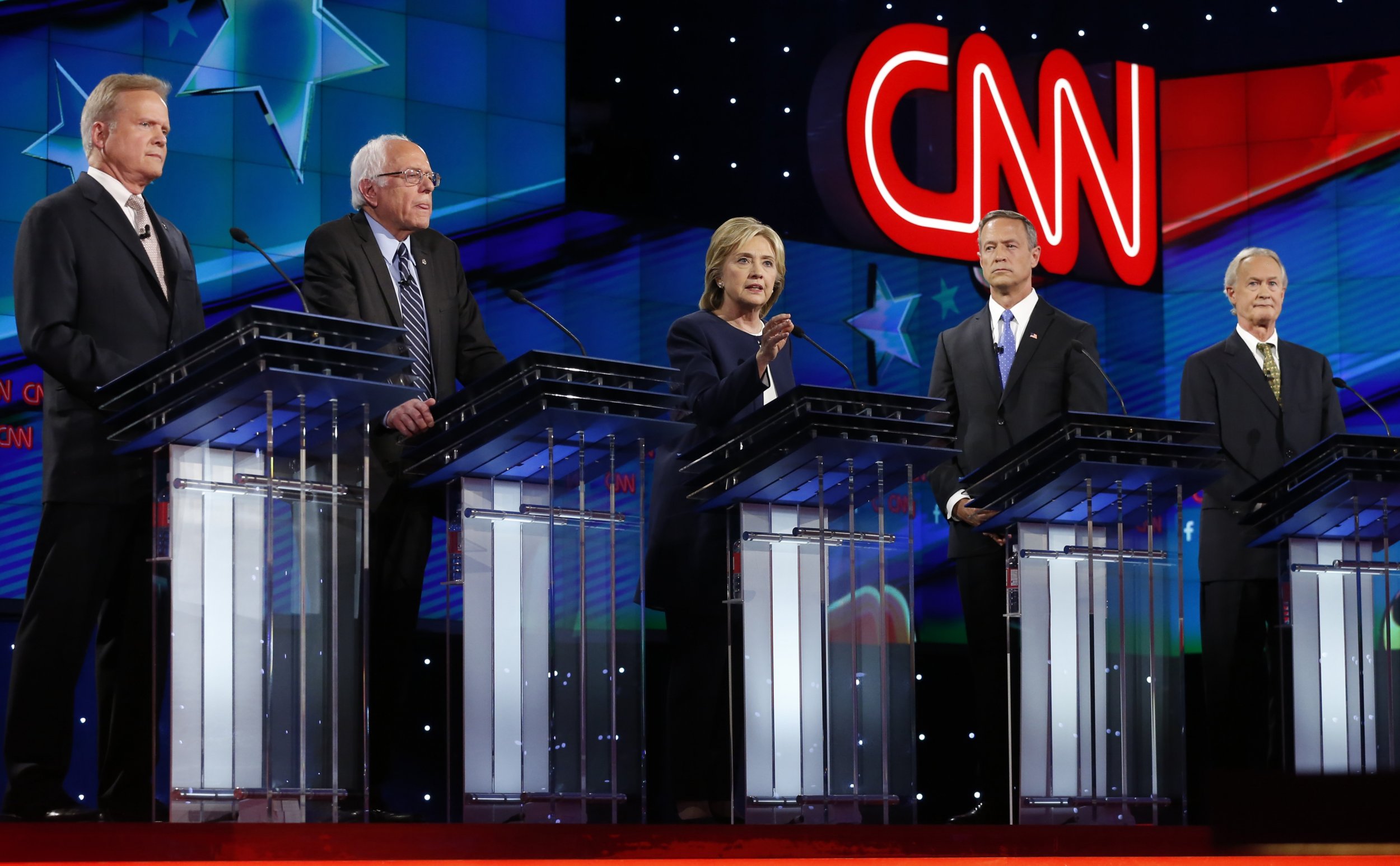 Hillary Clinton is a woman who's been in her share of debate fisticuffs. But she was unbowed and unbroken at Tuesday night's debate in Las Vegas—turning in a calm, confident performance in the first Democratic debate of the 2016 presidential race.
Clinton's opponents failed to land many punches. In an unlikely political turn, she even got an assist from her chief rival, Vermont Senator Bernie Sanders.
"Let me say something that may not be great politics, but I think the secretary's right," Sanders said to rising cheers after the Democratic front-runner fielded questions about her emails. Then, turning to Clinton, his voice rising, "The American people are sick and tired of hearing about your damn emails!... Let's talk about the real issues."
Actually, the line was probably great politics for Sanders, as Democrats overwhelmingly believe the email scandal is partisan. And so his line drew sustained applause and even got a handshake from Clinton. When former Rhode Island Governor Lincoln Chafee followed by suggesting that Clinton's use of private emails did raise legitimate questions about her judgment, CNN moderator Anderson Cooper asked Clinton if she wanted to respond. "No," she said with a smile, drawing more raucous cheers and laughter.
Related: The High Political Stakes in Las Vegas Explained
That remarkable genial spirit continued throughout the debate. Despite butting heads, there was little of the bickering among the five would-be nominees that has characterized the first two Republican debates, where the disagreements seemed much more personal. The Democrats on stage echoed their agreement on issues like criminal justice reform, the need for a law guaranteeing workers paid leave and the problem of inequality in America, and they did so in ways that were polite and respectful. They also took the opportunity to contrast themselves with the pugilistic Republicans.
On immigration, Clinton noted, "There is such a difference between everything you are hearing here on this stage and what you hear from Republicans." Former Maryland Governor Martin O'Malley followed up by knocking Donald Trump, the GOP front-runner, as "that carnival barker in the Republican Party."
Maintaining that same good-natured demeanor throughout most of the evening, Clinton remained unruffled even as the bonhomie among the candidates on stage occasionally evaporated. Sanders, Clinton and O'Malley tangled repeatedly over differences on things like gun control, foreign policy and financial reform. On most of the issues, Sanders and O'Malley lined up to Clinton's left, although Sanders took a hit on gun control when he was forced to defend his support of legal protections for gun manufacturers.
Related: Democratic Presidential Contenders Throw Down in Nevada
When it came to foreign affairs, Sanders offered no lifeline to Clinton, chiding her vote for the use of force in Iraq and calling the war "the worst foreign policy blunder in the history of this country."
"I say, without any joy in my heart, that much of what I thought would happen…did happen," Sanders said of Iraq. Clinton has since renounced that decision. And she was well-prepared to bat down any criticism, defending her judgment Tuesday night by invoking the man to whom she lost the 2008 Democratic race: Barack Obama, despite the fact that he too criticized her Iraq War vote.
"After the election, he asked me to be his secretary of state," Clinton pointed out. "He valued my judgment. I spent a lot of time with him in the situation room going over some very difficult issues."
Chart: How the Republican Presidential Debate Topics Compare With the Democratic Debate
When O'Malley criticized Clinton for supporting more muscular involvement in Syria, Clinton retorted by pointing out that O'Malley "endorsed me in 2008," when he was governor and she was running for president against Obama.
O'Malley came back to that comment later, when the debate turned to financial reform. "I was proud to support you eight years ago," he told Clinton, "but something has changed," specifically, the financial crisis. "We need to reinstate Glass-Steagall," O'Malley said.
Clinton argued that the Wall Street regulatory plan she recently rolled out "is more comprehensive and frankly it's tougher," than her opponents' because it deals with the so-called "shadow banking" sector—insurance companies and investment banks she said could be more of a threat to economic stability in the future. Cooper then asked Sanders what he thought of Clinton saying her financial plan was tougher than his. "Well, that's not true," Sanders said.
Sanders also was put on defense for his vote against a 2007 immigration reform bill. At one point, he was asked if Latinos, a demographic he has struggled to appeal to, can trust him on immigration going forward. The Vermont senator's explanation: "I voted against that piece of legislation because it had guest worker provisions in which the Southern Poverty Law center compared to semi-slavery."
Sanders also faced another task: convincing Democratic voters that he's not too extreme to be a legitimate presidential contender in a general election.
On that front, Cooper questioned him on whether he would be prepared to use force as commander in chief. "I am not a pacifist, Anderson," Sanders declared. "I supported the war in Afghanistan. I support airstrikes in Syria, what the president is trying to do."
For the duration of the two hours, it was O'Malley, Sanders and Clinton that dominated the dialogue. The two other candidates on stage, Chafee and former Virginia Senator Jim Webb, failed to leave much of an impression, as they have for much of the campaign. O'Malley has also lagged in the polls, but the national exposure from Tuesday's debate may give him a boost. There was not much to suggest, however, that the forum will shake up the dynamic of the race, which is dominated by Clinton and Sanders. But it certainly doesn't hurt Clinton's efforts to change the conversation from her emails.