Father of Toddler in Trump's Fake 'Racist Baby' Video Blasts 'Hate Agenda'
The father of a child featured in a mocked-up CNN report titled "terrified toddler runs from racist baby" posted to Twitter by Donald Trump has criticized the president's use of his video.
Trump shared an edited version of the footage that went viral last year of a black and white child running towards each other in the street and hugging, taken by Michael Cisneros.
In the altered version, a section where the black child is running from the white child is selected.
It has a mocked-up CNN chyron displayed over the screen, which includes the terrified toddler caption before switching to say "racist baby probably a Trump voter."
The screen fades to black before a title screen reads "what actually happened," at which point it shows the scene of the two children running to each other and hugging, with the song Close to You played over the top. In the original footage, the pair run up towards each other, hug, then run off again.
Cisneros, who took the original footage and whose son Maxwell is the boy Trump claimed was running away in the clip, has since shared Trump's tweet of the edited footage on Facebook and wrote: "PLEASE!!! SHARE THIS!!!! EVERYONE!!!! HE WILL NOT TURN THIS LOVING, BEAUTIFUL VIDEO TO FURTHER HIS HATE AGENDA."
In another post he said: "HE CAN NOT GET AWAY WITH THIS!!!"
Newsweek has contacted Cisneros for comment.
CNN has also responded to the clip from Trump, outlining how the original video was actually reported by the outlet.
A statement from CNN Communications, shared to Trump on Twitter, read: "CNN did cover this story - exactly as it happened. Just as we reported your positions on race (and poll numbers). We'll continue working with facts rather than tweeting fake videos that exploit innocent children. We invite you to do the same. Be better."
Alongside these comments was a link to a CNN story with the headline "These two toddlers are showing us what real-life besties look like."
This explained how the video was taken of toddlers Maxwell and Finnegan, who were both two year's old at the time, in New York.
At the time, Maxwell's father Cisneros told PIX11 News: "They just took off toward each other and I just got my phone out as quickly as possible, and just tried to record it.
"They are just too cute together."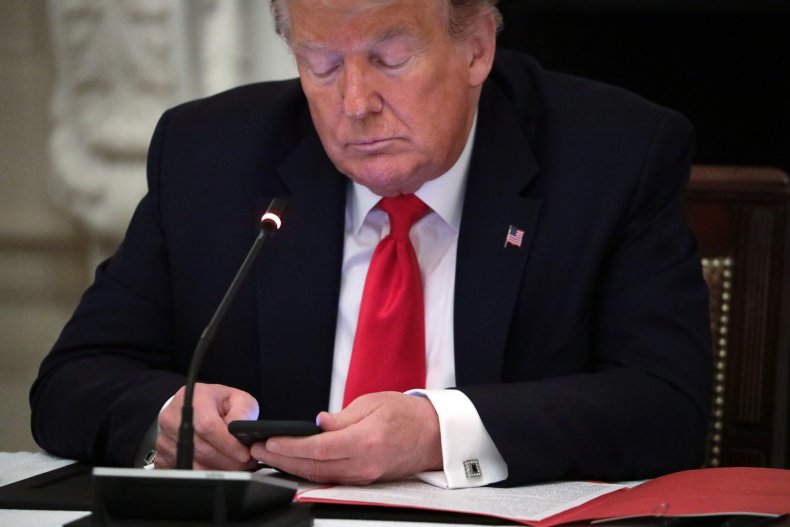 As well as the details from CNN, the post from Trump was also marked by Twitter as manipulated media, with a link posted under it directing to a page titled "Video being shared of CNN report on toddlers is doctored, journalists confirm."
In a statement shared with Newsweek, a Twitter spokesperson said: "This Tweet has been labeled per our synthetic and manipulated media policy to give people more context."
The president has previously had tweets marked on the platform, with an edited video of Democratic presidential candidate Joe Biden labeled manipulated media in March.
Trump has criticized Twitter for such editing, stating it was stifling free speech when it marked a post he wrote about mail-in voting with a link to further information on it, which said readers could "get the facts."
In May, Twitter restricted a tweet from the president which it said at the time violated its rules on "glorifying violence."
This had contained a message regarding unrest in Minneapolis, following the death of George Floyd, and said "when the looting starts, the shooting starts."
The platform blocked users from liking, sharing or replying to the post.
The president previously accused Twitter of attempting to "totally silence conservative voices." He also issued an executive order to increase regulation on social media platforms, which Twitter said was "reactionary and politicized."
In a statement shared with Newsweek, Tim Murtaugh, communications director for the Trump campaign, said: "The outrageous war on President Trump being waged by the Silicon Valley Mafia continues. The entire point of the video was to demonstrate how video can easily be manipulated by the media and others, so the labeling of the video as 'manipulated' comically confirms the whole premise. The joke is on Twitter."
A White House spokesperson told Newsweek: "If Twitter is not careful, it's going to have to label itself a 'manipulator.'"
Updated: Statements from Twitter, the White House and the Trump campaign have been added to this story.