CNN's Cuomo Brothers 'Blunder' Comes Back to Haunt Network Amid Nursing Home Scandal
CNN is facing criticism for its coverage of New York Gov. Andrew Cuomo amid his administration's handling of COVID-19 deaths at nursing homes, with experts saying that the network committed a "major blunder" by allowing Chris Cuomo to regularly interview his own brother on his show Cuomo Prime Time.
Earlier this year, CNN aired regular primetime banter between the New York governor and his brother, anchor Chris Cuomo. But has the network had its reputation damaged now that hindsight shows such lighthearted segments may have represented a conflict of interest that led to blinkered coverage of the politician?
Widely praised during the first months of the pandemic for his coronavirus response, Gov. Cuomo now faces fresh accusations that he held back data about nursing home deaths. More than 15,000 New Yorkers in care homes have died, nearly double the 8,500 fatalities that had been logged by the state's health department until late last month.
On Friday Andrew Cuomo defended his office's actions during the coronavirus pandemic.
"If anyone had the perfect answer to nursing home deaths, and if anyone tells you they do, they're lying," Cuomo said at a press briefing on February 21. "Because people are going to die in nursing homes today. If you have the perfect answer, then why will people die in nursing homes in this state, and every other state, in this country?"
His comments came after both Democrat and Republican state legislators spoke out against the governor, calling for his emergency powers to be stripped and an investigation to be opened over his handling of the pandemic.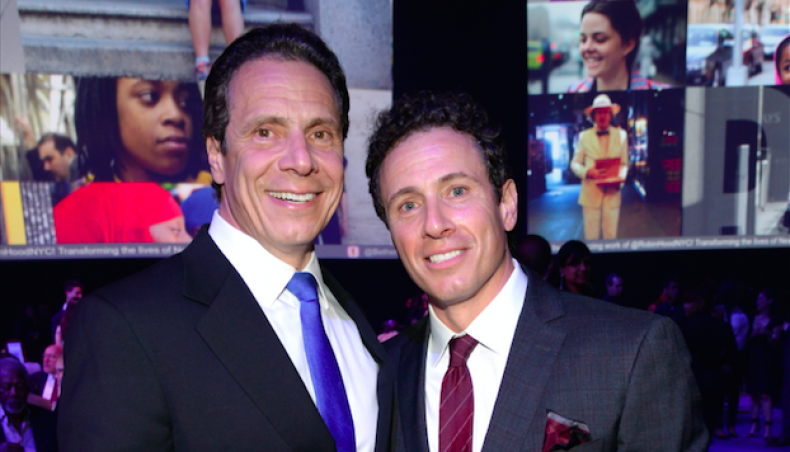 CNN confirmed it had reinstated a prohibition on Cuomo interviewing or doing stories about his brother that it had temporarily lifted last spring—the governor appeared on his brother's show nine times between March and June in 2020.
Eric Deggans, a media analyst for NBC News and MSNBC TV, critic for NPR and author of Race-Baiter, How the Media Wields Dangerous Words to Divide a Nation, told Newsweek he was "always uncomfortable with segments on Chris Cuomo's show last year where he was joking around with his brother Andrew while New York and the world were struggling through the early stages of the pandemic."
"I think Chris Cuomo's problem with his brother's growing political problems highlights why journalists are expected to have some measure of independence from people they cover," Deggens said. "It's not just about whether coverage is affected—though there are valid questions about that subject for CNN and Chris Cuomo. It's about the appearance of independence and the way visible conflicts of interest undermine a news outlet's credibility."
The author explained that it's obvious that keeping a critical eye is more difficult for an anchor whose sibling is a top lawmaker and believes that "Chris Cuomo should have distanced himself from his brother's activities and been honest with his viewers about why he was doing so."
He added: "As it stands, he is becoming a visible example of the difficulties news outlets face when they tolerate conflicts of interest in exchange for access."
Meanwhile, DePauw University professor and media critic Jeffrey McCall feels that the press establishment "made a mistake last spring by actively creating a narrative that Governor Cuomo was a national hero in the COVID challenge."
Speaking to Newsweek, McCall said CNN got on the Gov. Cuomo "bandwagon" as it fit with the network's Donald Trump programming strategy but "committed a major blunder from a journalism ethics standard in letting brother Chris go on night after night to interview his own brother."
"All major journalism codes of ethics warn specifically about conflicts of interest, and interviewing your brother for news purposes is a clear-cut violation of these professional codes," McCall explained.
The professor said another problem with the Cuomo brothers' routine was that they "mixed actual news with melodrama, family stories and comedic routines."
"In retrospect," he said, "this looks quite juvenile and unprofessional, especially given the nature of the recent revelations."
McCall maintains that CNN "should have known better" and the network's credibility is taking a hit now as a result.
Newsweek has contacted CNN for comment.
CNN previously explained their decision to allow Chris Cuomo to interview his brother was as a result of an "extraordinary time."
"The early months of the pandemic crisis were an extraordinary time," a CNN spokesperson told The Washington Post. "We felt that Chris speaking with his brother about the challenges of what millions of American families were struggling with was of significant human interest. As a result, we made an exception to a rule that we have had in place since 2013 which prevents Chris from interviewing and covering his brother, and that rule remains in place today."