Cuomo Defends His Administration's Role in Nursing Home Death Scandal: 'We Saved Tens of Thousands of Lives'
After a week of widespread criticism over his administration's nursing home death scandal, New York Governor Andrew Cuomo on Friday defended his office's actions during the coronavirus pandemic.
"If anyone had the perfect answer to nursing home deaths, and if anyone tells you they do, they're lying," Cuomo said at a press briefing. "Because people are going to die in nursing homes today. If you have the perfect answer, then why will people die in nursing homes in this state, and every other state, in this country?"
As the governor addressed the controversy, a visual aid read, "And we saved tens of thousands of lives. We went from the highest infection rate to one of the lowest. Those are the facts."
Cuomo said that after hearing from New York State Health Commissioner Howard Zucker, "you understand why these decisions were made and you understand why those decisions were right."
His comments came after state legislators from both parties rallied against the governor this week, calling for his emergency powers to be stripped and an investigation to be opened over his handling of the pandemic.
Cuomo's administration became heavily scrutinized after an investigation from New York Attorney General Letitia James found that the governor's office concealed the death toll in state nursing homes. James' report estimated that deaths in nursing homes and long-term-care facilities were more than 50 percent greater than the numbers released by the state.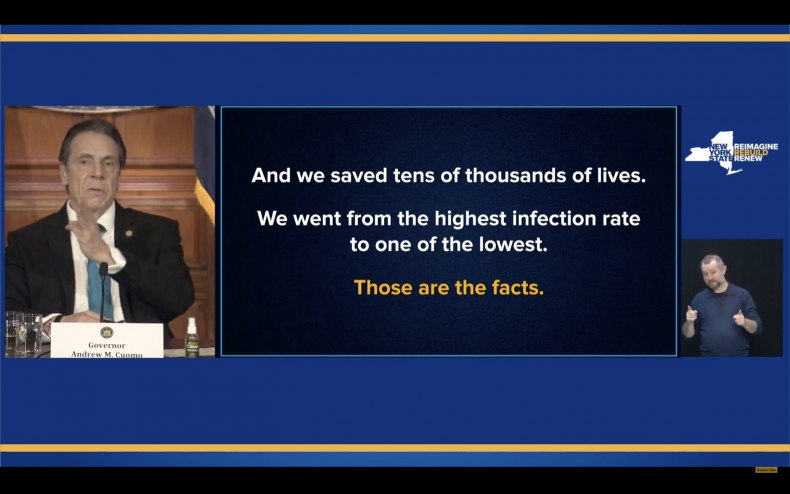 On Friday, Representative Alexandria Ocasio-Cortez of New York announced that she would join several other Democrats in calling for a full investigation.
"Thousands of vulnerable New Yorkers lost their lives in nursing homes throughout the pandemic," Ocasio-Cortez said in a statement previously sent to Newsweek. "Their loved ones and the public deserve answers and transparency from their elected leadership, and the secretary to the governor's remarks warrant a full investigation."
For months, Assemblyman Ron Kim had criticized Cuomo for his handling of the state's nursing homes during the pandemic. After Secretary to the Governor Melissa DeRosa recently admitted that the administration withheld nursing home data from the Legislature, Kim said it appeared that the governor was "trying to dodge having any incriminating evidence."
Shortly afterward, Kim said received a late-night call from Cuomo, in which the governor yelled at the assemblyman and threatened to ruin his career if he did not reissue a new statement.
"No man has ever spoken to me like that in my entire life," Kim told CNN on Wednesday.
The new allegations about a Cuomo cover-up have cast a shadow over next year's election. While the governor was hailed at the beginning of the pandemic for his response, the nursing home scandal has jeopardized his chances of winning re-election.
Cuomo, however, has said that he has learned his lesson and is ready for the next pandemic.
"People died in hospitals and nursing homes. We must learn the lesson and be better prepared for the next pandemic because, my friends, there will be another pandemic," Cuomo said Friday.
"There was SARS. There was MERS. There was Ebola. We ignored it. We didn't learn from it, and then COVID happened and the house collapsed," he continued. "MERS and SARS were also coronaviruses. COVID is the third coronavirus. But we didn't learn after MERS and SARS. We have to learn after this one, and we have to make the changes."
Newsweek reached out to Kim's office for comment but did not hear back before publication.