Andrew Cuomo's Re-election Chances Plummet With Bookmaker Amid Nursing Home Scandal
New York Governor Andrew Cuomo's chances of re-election next year are down sharply amid intense scrutiny of his handling of data on COVID deaths in nursing homes, a bookmaker has said.
Cuomo, whose COVID-19 task force is facing a federal probe into underreporting of deaths at nursing homes and assisted living facilities in New York, is also contending with threats from state lawmakers to strip him of the power to issue emergency orders.
UK bookmaker Betfair said the Democrat's chances of winning the election in November 2022 had plummeted to 50 percent on Friday, down 38 percentage points in a week.
A spokesperson for the betting company said: "Odds gave Andrew Cuomo an 88 percent chance of re-election last Friday, but his chances have drifted to 50 percent following a difficult week."
The U.S. Department of Justice has been trying to determine whether New York officials deliberately manipulated data regarding deaths in nursing homes, AP reported.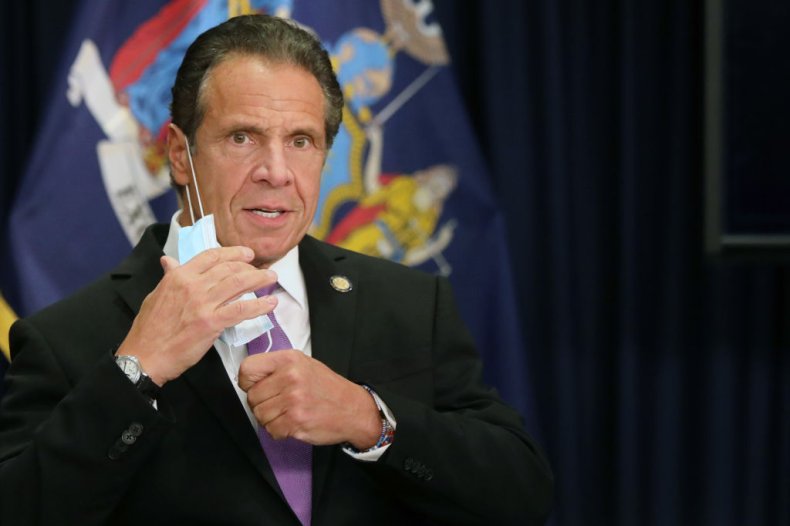 This comes after Cuomo's administration revealed in recent weeks that 15,000 care home residents had died of COVID-19 during the pandemic, almost double the 8,500 previously disclosed.
Cuomo has denied that the state covered up deaths, but acknowledged his team should have reacted faster to release the data.
"No excuses. I accept responsibility for that," he said.
Cuomo, who has been governor since 2011, has previously said he hopes to run for a fourth term. His father Mario Cuomo was also governor of New York for three terms, from 1983 to 1994.
On Friday the governor's team was engulfed in fresh controversy when a senior doctor denied a claim that he was one of Cuomo's chief health advisers.
"I've had one five-minute conversation my entire life with Governor Cuomo," Dr. Michael Osterholm said in an interview with PBS' Firing Line.
Osterholm's comments came after Cuomo's top aides told Democratic lawmakers that the governor spoke with the doctor on a regular basis.
Earlier this week Democratic New York Assembly member Ron Kim and eight of his colleagues wrote a letter asking other assembly members to support a proposal to strip Cuomo of his pandemic-related executive powers.
That followed a February 12 statement issued by more than a dozen Democratic New York state senators, which also proposed that Cuomo be stripped of those powers.
"It is clear that the expanded emergency powers to the governor are no longer appropriate," the statement said. "Without exception, the New York State Constitution calls for the legislature to govern as a co-equal branch of government."