CNN anchor Chris Cuomo has been banned from covering his brother, Democratic New York Governor Andrew Cuomo, as a federal probe begin investigating allegations that Andrew Cuomo hid data about COVID-19 occurrences in state nursing homes.
Throughout the pandemic, Chris Cuomo hosted his brother numerous times on his CNN program, Cuomo Prime Time, in order to discuss COVID-19 issues in New York. The state was initially the epicenter of the nation's coronavirus outbreak. Now, Andrew Cuomo's administration is under fire for underreporting the numbers of COVID-positive patients placed into statewide nursing homes and for underreporting the COVID-related deaths in those homes as well.
Chris Cuomo's primetime interviews were widely derided because they largely did not get into the substance of New York's COVID response, but rather discussed personal matters. The interviews were widely viewed as part of a pattern of building up the governor's image as a hero of the pandemic, while thousands died under his orders. At one point, Chris Cuomo told his brother that he was "wowed by what he did, and more importantly, I'm wowed by how you did it." He also admitted he could not be objective about his brother's actions amid the pandemic.
CNN explained their decision to allow Chris Cuomo's to interview his brother as a result of an "extraordinary time."
"The early months of the pandemic crisis were an extraordinary time," a CNN spokesperson told the publication. "We felt that Chris speaking with his brother about the challenges of what millions of American families were struggling with was of significant human interest. As a result, we made an exception to a rule that we have had in place since 2013 which prevents Chris from interviewing and covering his brother, and that rule remains in place today."
Federal investigators are now looking into Andrew Cuomo's actions. Additionally, New York state legislators have accused the governor of obstruction of justice and called for him to be stripped of his broad pandemic-related executive powers. CNN has reinstated a rule keeping anchor Chris Cuomo from interviewing or covering any stories related to his brother, The Washington Post reported. The news network added that it has covered the recent news developments involving Andrew Cuomo "extensively."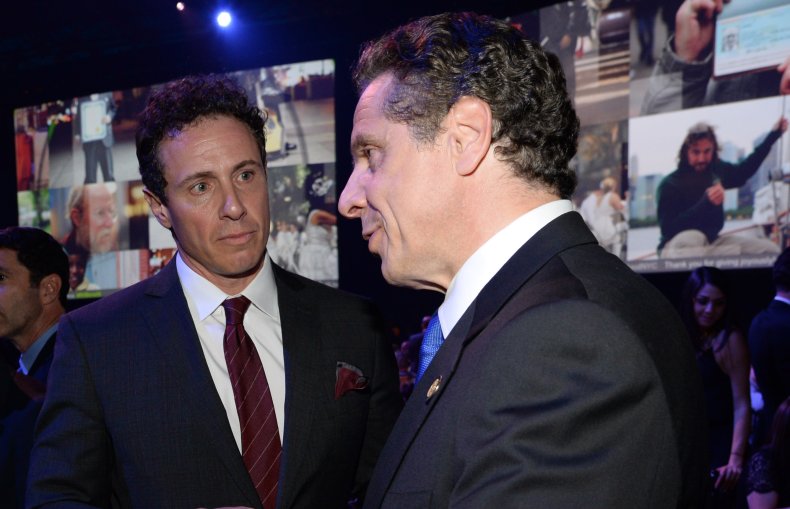 Last week, newly released records from the New York health department revealed that Cuomo's administration had underreported the number of recovering COVID-19 patients placed by hospitals back into nursing homes. The administration had initially reported that only 6,327 such patients had been placed back into nursing home care. The number was closer to 9,056—a 40 percent increase.
Additionally, the Cuomo administration also revealed that the number of COVID-19 deaths in state long-time care facilities was over 15,000, nearly 43 percent more than the 8,500 previously reported by state officials, the Associated Press reported.
In a private virtual meeting with state legislators held last week, Andrew Cuomo's top aide, Melissa DeRosa, admitted that the state hadn't released its full COVID-19 death count of state nursing home residents last August over fears that then-President Donald Trump would use the information to launch a Department of Justice investigation against Andrew Cuomo.
After New York State Assemblymember Ron Kim publicly criticized Andrew Cuomo's handling of the nursing home deaths in The New York Post, Kim claimed that the governor called his home and threatened to "destroy him." Andrew Cuomo's senior adviser Rich Azzopardi has called Kim's assertion "false."
On Tuesday, Kim and eight other Democratic New York legislators wrote a letter asking other assemblymembers to support a proposal to strip Andrew Cuomo of his pandemic-related executive powers.
The letter followed a February 12 statement issued by 14 Democratic New York state senators also proposing that Cuomo be stripped of his pandemic-related executive powers.
Newsweek contacted Chris Cuomo for comment.