NYC Mayor Bill de Blasio Refers to Andrew Cuomo as a Bully When Asked About Nursing Home Scandal
New York City Mayor Bill de Blasio referred to New York Governor Andrew Cuomo as a bully in an interview Thursday morning.
Cuomo's "bullying" is "nothing new," de Blasio said to anchor Mika Brzezinski on MSNBC's Morning Joe Thursday morning. Brzezinski asked de Blasio to corroborate a reported phone call in which Cuomo called state Assemblyman Ron Kim of Queens and yelled at him about a comment Kim made to the New York Post regarding a recent revelation his administration concealed data on COVID-19-related deaths in nursing homes.
"Have you ever heard of anything like that from Governor Cuomo?" Brzezinski asked of the phone call. De Blasio replied it was a "sad thing to say" but confirmed "a lot of people in New York state have received those phone calls."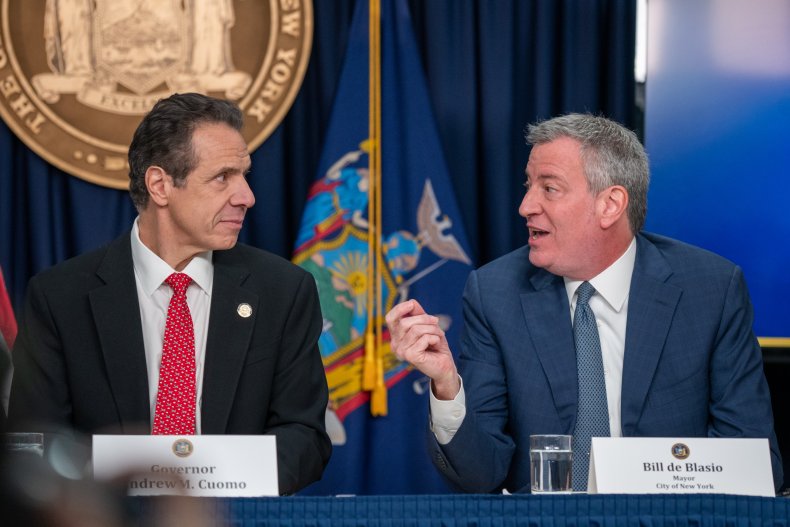 Cuomo and Kim have competed to get their side of the concealed data scandal heard.
Kim was one of the Democratic state lawmakers on Zoom when Cuomo's top aide, Melissa DeRosa, admitted the administration had not provided the data as requested by Donald Trump's Department of Justice (DOJ) inquiry. She said Cuomo's office "froze" at the request and held back the information in order to avoid a "giant political football."
Kim subsequently provided a comment to the Post in which he said: "They admitted that they were trying to dodge having any incriminating evidence that might put the administration or the [Health Department] in further trouble with the Department of Justice."
Cuomo's office provided Newsweek with a transcript of a press conference Cuomo gave on Wednesday, when he said he was surprised at Kim's "negative" comment to the Post regarding the meeting with DeRosa because the lawmaker initially reacted positively.
Cuomo told reporters that on the phone call Kim reportedly said the Post reporter "refused" to correct his statement about the meeting. Cuomo said he then "suggested" that Kim call the Post reporter back and provide a "corrected" comment. Kim reportedly agreed to do this.
"So much for Mr. Kim's credibility, and I said to him on the phone, 'You know, there is still integrity and honor and decency in politics,' but that's that for Mr. Kim," Cuomo said on Wednesday.
Alternatively, according to Kim's statement, an irate Cuomo called him and lead the conversation by asking, "Are you an honorable man?"
Cuomo yelled at Kim on the phone and demanded that Kim change his comment on the meeting to say that he misinterpreted DeRosa and the reason the data was concealed was because the offices was busy preparing it for the DOJ, according to The New York Times.
Kim subsequently led the release of a letter with other lawmakers accusing Cuomo of "intentional obstruction of justice" for hiding the nursing home data and Cuomo has accused Kim of potentially illegal political practices.
Senior Adviser to Cuomo Rich Azzopardi released a statement on Wednesday accusing Kim of "lying" about the phone call, stating "at no time did anyone threaten to 'destroy' anyone."
De Blasio said he believed Kim's account of the phone call and said it's "very sad."
"No public servant, no person, who's telling the truth should be treated that way," the mayor added. The "threats" and "belittling" aren't new to Cuomo's way of leadership, De Blasio said, adding that Cuomo's requests to a state lawmaker to change a statement to the press wasn't unheard of behavior for the governor.
"I've heard that, and I know a lot of other people in this state have heard that."
Newsweek has reached out to Cuomo's office for comment.