Cuomo Accuses State Rep Ron Kim of Taking Illegal Donations After Nursing Home Scandal Criticism
New York Governor Andrew Cuomo made allegations Wednesday that state Assemblyman Ron Kim, who has attacked his administration over the nursing home deaths controversy, has engaged in questionable political practices.
The governor accused the assemblyman of switching sides on a 2015 law Kim created to regulate nail salons, according to a transcript provided to Newsweek of the comments the governor made at a press conference. Cuomo alleged that Kim, a Queens Democrat, "flipped 180 degrees" on his own law after businesses in "his community" were upset by the regulation, which protected nail salon workers from things like dangerous chemicals and wage theft.
"He actually used his lobbying firm to lobby on behalf of the business owners...then raised money from those business owners and continues to do so," Cuomo said. "I believe it's unethical if not illegal."
Cuomo referred to Kim's actions as "pay to play," a term used to describe corrupt behavior previous officials in his administration have been fired for. "I believe it's a continuing racket because he's still doing it," the governor said.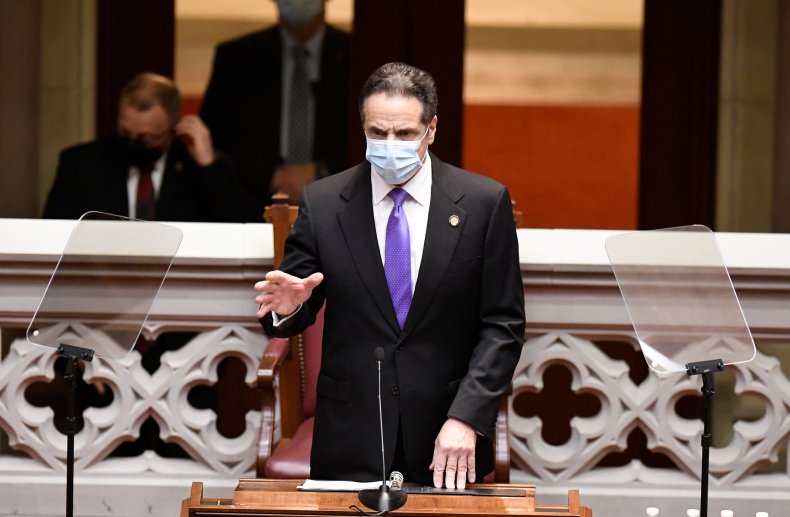 Cuomo's heated press conference came after a letter was published by the New York Post in which Kim accused Cuomo of "intentional obstruction of justice" for concealing data on the number of COVID-19-related deaths in state nursing homes. Cuomo has denied there was any obstruction of justice.
The undisclosed nursing home data, which was requested by Donald Trump's Department of Justice, came to light last week when a top Cuomo aide admitted the administration's mistake on a Zoom call with Democratic state lawmakers, including Kim. The aide, Melissa DeRosa, said in a statement last week that Cuomo's administration "froze" when the DOJ requested the data.
The governor's office reportedly held back the information from the Trump administration to prevent its actions from being turned into a "giant political football."
But the governor's actions appear to be having political effects nonetheless.
The day after DeRosa's disclosure, Kim told the Post that her comments sounded as if "they admitted that they were trying to dodge having any incriminating evidence that might put the administration or the [Health Department] in further trouble with the Department of Justice."
Cuomo reportedly called Kim at home the next day, promising to "destroy" him and reveal how "bad of a person" the assemblyman was, according to a statement from Kim cited by The New York Times.
On Wednesday, Cuomo told reporters of his surprise at the negative coverage in the Post, because Kim had said "positive things" after the meeting with DeRosa.
"[Kim] told me 'the Post has misquoted me and I called the Post reporter and she refused to correct it,'" the governor said. He added that he then suggested that Kim give a "corrected" comment to the Post.
However, Kim's statement on the scandal claims the governor asked him to adjust his account to say that he had misinterpreted DeRosa and that she told lawmakers the data was concealed because Cuomo's office was already busy processing it for the DOJ, according to the Times. Kim did not end up changing his comment to the Post.
"So much for Mr. Kim's credibility, and I said to him on the phone, 'You know, there is still integrity and honor and decency in politics,' but that's that for Mr. Kim," Cuomo said.
"The governor can personally attack me all he wants in an effort to distract us from his incompetent management," Kim said in a new statement on Wednesday. "But these facts are not going away, because they are the facts and are unacceptable."
Along with nine other state lawmakers, Kim has asked the state Legislature to strip the governor of emergency powers Cuomo was given last March for handling the state's coronavirus response.
In a March executive order, Cuomo ordered that nursing homes could not reject patients for admission based on a "confirmed or suspected" diagnosis of coronavirus infection. This meant that nursing homes had to accept patients who tested positive for the virus.
Cuomo denied on Wednesday the March order "brought COVID" to nursing homes, saying his administration followed recommendations from the Trump administration.
"We followed the [Centers for Disease Control and Prevention] and [Centers for Medicare and Medicaid Services], so if you want to say it was wrong, then you have to say Trump was wrong, and the CDC and CMS. My health experts don't believe it was wrong, and we've gone through all the facts several times," the governor said.
The governor told reporters on Wednesday his relationship with Kim was "long and hostile."
Newsweek reached out to Kim's office for comment but did not hear back before publication. Cuomo's office sent Newsweek a transcript of his press conference when asked for comment.