CNN Faces Calls to Fire Don Lemon Over Jussie Smollett's Court Testimony
Don Lemon is facing scrutiny, after Jussie Smollett testified that the CNN anchor sent him a text message to warn him that police didn't believe his allegations about having been the victim of a racist and homophobic attack.
Former Empire star Smollett is currently standing trial amid accusations he orchestrated his own attack on the streets of Chicago back in 2019, during which he alleged that two men poured bleach on him and tied a noose around his neck.
In a Chicago courtroom on Monday, the actor testified that Lemon contacted him to relay the message that the Chicago Police Department did not believe his account of what had happened on the night in question.
While Lemon has yet to address that particular part of Smollett's testimony on the air, the development has sparked outrage among a number of conservative commentators, who have called on CNN to dismiss the newsman over the allegations.
Alt-right activist Jack Posobiec pulled up a tweet from February 2019, which stated that Lemon had been texting Smollett "every day" since the alleged attack, as he added: "Today we found out Don Lemon was helping Jussie obstruct justice."
"More activism by an 'anchor' at CNN," wrote The Hill columnist Joe Concha. "The network needs to now address this publicly as well. These texts from Lemon to Smollett came during an active high-profile investigation. CNN mum thus far."
Conservative political commentator and author Nick Adams also chimed in on the matter, tweeting: "If Don Lemon tipped off Jussie Smollett about police investigating the hate crime hoax, CNN should fire him immediately!"
"After Jussie Smollett's testimony that Don Lemon tipped him off to the Chicago PD not believing his story... he should be the next to get tanked from CNN," wrote comedian and author Tim Young.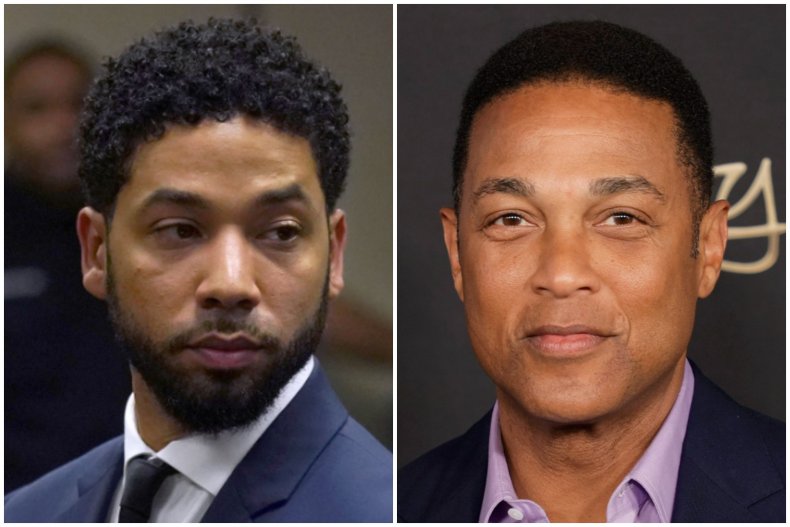 Nicholas Fondacaro, deputy managing editor of the Media Research Center, a nonprofit conservative watchdog, shared a video clip from Lemon's CNN show, which aired hours after the testimony.
"At 10-to-midnight,@DonLemon and @OmarJimenez finally discuss the Jussie Smollett trial," wrote Fondacaro. "But neither 'journalist' mentioned how Smollett testified under oath that Lemon tipped him off to police skepticism of his hoax claims. The whole segment lasted 5 minutes and 7 seconds."
Christian conservative writer Carmine Sabia also weighed in on the matter, opining: "Jussie Smollett has admitted that CNN anchor Don Lemon warned him that police were suspicious of his story. CNN does not have journalists. It has activists. Time for @DonLemon to follow @ChrisCuomo."
Lemon's former colleague Chris Cuomo was dismissed by CNN on Saturday after it was reported that he had attempted to intervene and aid his brother, former New York Governor Andrew Cuomo, as he faced dozens of sexual assault allegations.
At the time that the attack allegations first came to light, Lemon informed viewers that the story was of "personal" significance to him as he and the actor were acquaintances. He also shared that he had been in regular contact with Smollett.
However, while Lemon stated that Smollett is "innocent until proven guilty," he added that the actor and musician will have "squandered the good will of a whole lot of people" if it transpired that his account was untrue.
"He even lied to a lot of people... including me. And that's not cool," Lemon had said, per Fox News. "He squandered the good will of very high-profile people who one day may be running this country like Kamala Harris and Cory Booker and people like President Trump."
Newsweek has contacted representative of CNN and Lemon for comment.
Smollett has been accused of paying brothers Abimbola and Olabinjo Osundairo $3,500 to help stage the alleged attack. The actor's defense team has claimed that the brothers asked for $1 million each to not testify that the alleged attack was a hoax.
The star is charged with six counts of felony disorderly conduct for making what prosecutors say was a false police report.
Should he be found guilty of the class 4 felony, Smollett faces up to three years in prison, though legal analysts have projected that he is more likely to receive a community service order.