Jussie Smollett Defense Rests After Actor Claims Attack Was 'No Hoax' During Cross Examination
The defense for Jussie Smollett rested on Tuesday after the embattled actor said that the disputed attack on him in 2019 was "no hoax."
Closing arguments in the case will be given in court on Wednesday morning. The jury will then receive its instructions and begin deliberations.
Smollett is charged with six counts of disorderly conduct for filing false police reports, all of which he has pleaded not guilty to, having maintained his innocence throughout his prolonged legal battle. If found guilty, the former Empire star faces up to three years in prison.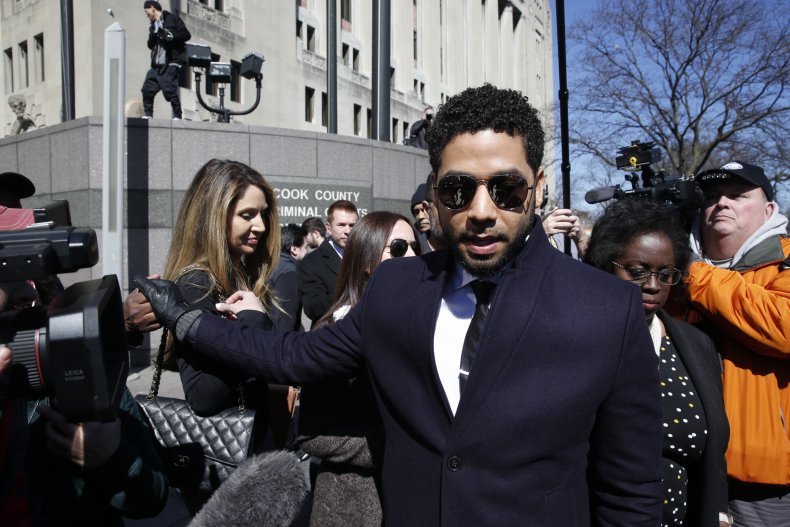 On Monday and Tuesday, Smollett, 39, took the stand to speak in his own defense. He stuck to his account of the alleged attack, expressed distrust for the police, and called the prosecution's key witnesses "liars."
Smollett, a gay Black man, alleged in January 2019 that he had been attacked on a cold night in Chicago by two men who made racist and homophobic comments. These men, who Smollett said appeared to be supporters of former President Donald Trump, allegedly dumped bleach on the actor and put a noose around his neck.
Police eventually began to suspect that Smollett had, in fact, orchestrated the incident to garner sympathetic media attention. To this end, he is accused of paying associates, Abimbola and Olabinjo Osundairo, $3,500 to help carry out the scheme.
The Osundairo brothers were the key witnesses for the prosecution, backing the allegations that the attack was a hoax planned by Smollett. Abimbola Osundairo, in particular, testified that he thought going along with the plan would help bolster his acting career.
Smollett's defense has insisted that he is the "real victim" in the case and cast doubt on the Osundairo brothers' motivations during the trial. On Tuesday, while being cross-examined, Smollett said that "there was no hoax" and called assertions that he told the brothers where to be on the night of the attack a "bold-face lie."
He also claimed that the brothers approached him at one point asking for $2 million to "go away," meaning that they would allegedly tell "the truth that you were never involved in any sort of hoax." Smollett said that he was never contacted directly with this offer by the two, but rather by their "lawyer or agent or agency." No money was ever paid out for this purpose.
Prosecutor Dan Webb called for Smollett payoff claims to be stricken from the record. Judge James Linn said that it was too late in the process to do so and left it to the jury to decide how much weight to give the actor's claims.