It's no secret the Trump White House is not the biggest fan of CNN, to put it lightly, sometimes even banning its reporters from attending events after asking questions the president didn't like or refusing to answer the outlet because they are "fake news."
So, following a report that Trump threw a tantrum over First Lady Melania Trump's TV being tuned in to "Fake News" CNN aboard Air Force One, the network saw the opportunity to jab back.
"Thanks for watching, [Melania]!" CNN's public relations Twitter account said while linking to a CNN story of Melania's spokesperson saying the first lady will watch "any channel she wants."
The president caused "a bit of a stir" aboard Air Force One after discovering his wife's TV was not set to his preferred conservative news channel, Fox News, going against Trump's own rule requiring the TVs be set to Fox at the start of each trip, according to emails between White House officials obtained by The New York Times.
The day after that report, Melania's spokeswoman, Stephanie Grisham, said she watches "any channel she wants," and refused to comment on newly surfaced recordings of the president and his former lawyer.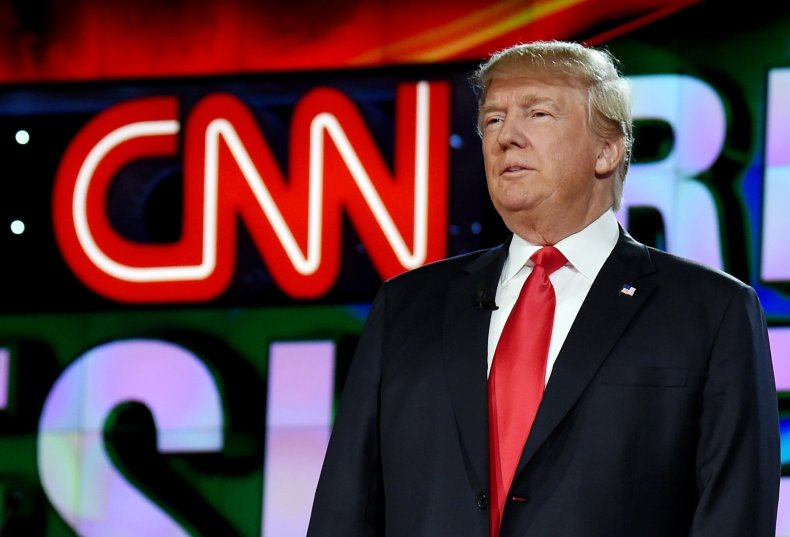 In an email to Newsweek Wednesday, Grisham said there were more important things to be worried about when it comes to the first lady.
"Did you know that every 15 minutes a baby is born with NAS? Maybe you'd like to talk about the 160,000 kids who skip school every day for fear of being bullied, or that 280,000 students are physically attacked in schools every month," Grisham said, referring to Melania's Nashville trip Tuesday to promote her "Be Best" initiative to help children.
"Seems kind of silly to worry about what channel she watches on TV (any channel she wants, by the way)," Grisham added, "Or if she heard some recording on the news."
All this comes as CNN obtained a secretly taped conversation Tuesday between Trump and his former personal attorney Michael Cohen, who is currently under federal investigation. Cohen, who recorded the conversation in the run-up to the 2016 election discussed with Trump how they would possibly buy the rights to a Playboy model's story about an alleged affair she had with Trump a decade earlier.
Shortly after CNN White House pool reporter Kaitlan Collins asked the president about the Cohen tapes at a Wednesday press event, she was "dis-invited" by the White House to attend a later open press event being held in the Rose Garden.
Various media outlets, including Trump's favorite TV network, Fox News, released statements supporting Collins, pointing to the dangerous precedent it sets to bar members of the free press from such events. White House press secretary Sarah Sanders said any other reporter from CNN could attend the event, just not Collins.
"At the conclusion of the press event in the Oval Office, a reporter shouted questions and refused to leave despite repeatedly being asked to do so," Sanders said in a statement, adding that the administration "[supports] a free press."
In the past, the White House has claimed a CNN reporter "disrespected" Trump by trying to ask him a question, the head of the president's 2020 re-election campaign called for revoking a CNN chief White House correspondent's press credentials over questions called out to Trump and North Korea's Kim Jong Un, while the president has continued to repeatedly call the network "fake news."