CNN's Jake Tapper Confronts Pat Toomey on GOP Resistance to Jan. 6 House Committee
CNN host Jake Tapper confronted Pennsylvania Senator Pat Toomey about the Republican Party's resistance to the House committee investigating the deadly January 6 Capitol riot.
On State of the Union Sunday, Tapper asked the Republican senator on why there are not many in the GOP who want to treat the matter as a priority.
"Why do you think so few in your party, the Republican Party, seem to want to take this seriously and get to the bottom of happened on Jan. 6?" he asked.
Toomey, who said he would retire at the end of his term ahead of the 2022 midterms, said Republicans including himself do want to get to the bottom of what happened, citing his support for a bipartisan Senate commission, which was ultimately filibustered by Republicans.
Toomey said he would want the committee to be bipartisan in its composition of members and staff, but "this exercise in the House was not meant to be that."
"Here's the bottom line, Jake," he said. "We have a lot of investigations underway now. There are Senate committees that have completed some. There are others still in progress. We have many criminal investigations."
Toomey then said it is "politically to the advantage of Democrats to try to keep this issue in the forefront," saying a "purely partisan commission" would "drive a political message."
Tapper pushed back against Toomey, asking "what does it say about your party that an investigation into a violent insurrection would reflect poorly upon it?"
"I think it is a constant reminder about a terrible episode in our history, at which Donald Trump was at the heart of, rather than looking at the policies of the current president," Toomey responded.
He said the debate ahead of the 2022 midterms should be centered around President Joe Biden's policies, rather the January 6 riot.
Toomey also received pushback on Twitter from Pennsylvania State Representative Malcolm Kenyatta, a Democrat running to replace him.
"Pennsylvania deserves a Senator who doesn't 'both sides' a violent insurrection," Kenyatta wrote.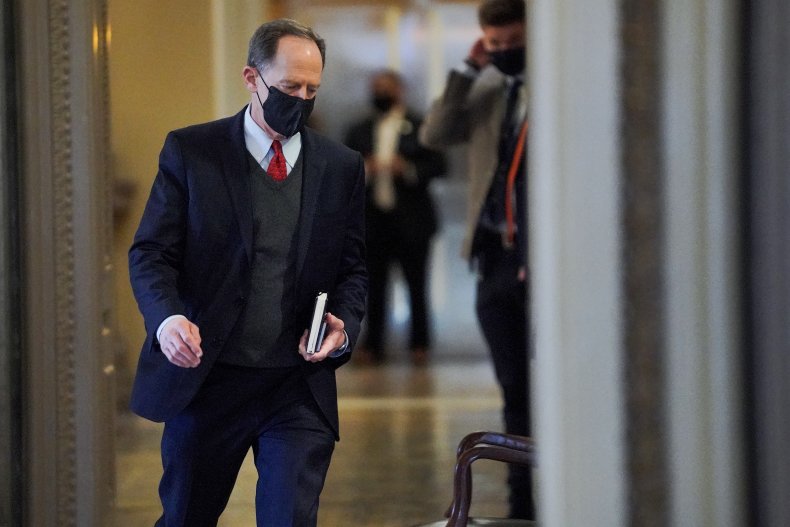 Toomey was one of seven Republicans to vote to convict former President Donald Trump following the insurrection. In a February statement explaining his vote, Toomey said Trump "summoned thousands to Washington, D.C. and inflamed their passions by repeating disproven allegations about widespread fraud."
"He urged the mob to march on the Capitol for the explicit purpose of preventing Congress and the Vice President from formally certifying the results of the presidential election. All of this to hold on to power despite having legitimately lost," the statement read.
Following his vote, Toomey received criticism from Republicans in swing-state Pennsylvania, among them the chair of the GOP in Washington County.