GOP County Chair Blasts Pat Toomey Vote: 'We Did Not Send Him There to Do the Right Thing'
The chair of the Republican Party in Washington County, Pennsylvania has strongly criticized Senator Pat Toomey (R-PA) for voting to convict former President Donald Trump.
David Ball told local CBS affiliate KDKA on Monday that state Republicans had sent Toomey to Washington to represent them and argued that he should have toed the party line.
"We did not send him there to vote his conscience. We did not send him there to do the right thing or whatever he said he was doing," Ball said. "We sent him there to represent us."
Toomey was one of just seven Republicans to vote with Democrats to convict Trump last week.
The final vote was 57 in favor of conviction and 43 to acquit, falling short of the two-thirds majority required.
"This is a matter of magnitude beyond a simple up or down vote on some trade policy or something," said Westmoreland County GOP chair Bill Bretz during Monday's KDKA segment. He was appearing with Ball to discuss the matter.
Toomey, who will retire from the Senate in 2022, explained his decision in a statement. He said he had done what he believed was right. Ball's comment on "the right thing" seems to suggest he had read Toomey's statement.
"As a result of President Trump's actions, for the first time in American history, the transfer of presidential power was not peaceful," Toomey wrote, referring to the deadly riot at the Capitol on January 6 that left five people dead.
"I did what I thought was right and I would certainly like to think that regardless of my political circumstances or whether I was running for office again or not I would do the same thing," he said.
"It was really the accumulation of the weight of all the evidence I think overwhelmingly argued in favor of conviction," Toomey said.
However, the senator also had some praise for Trump even as he voted to convict him and suggested that Republicans need to be able to distinguish between the former president's successes and his actions following the November election.
"The fact that the president did stand up to and against some bad policies and some bad trends—those things can be true and it can also be true that his behavior after the election became completely unacceptable," he said.
Local Republican Parties in Washington and Westmoreland counties plan to formally censure Toomey. Many other GOP groups across the country have passed motions of censure against elected Republicans who voted to impeach or convict Trump, with more expected.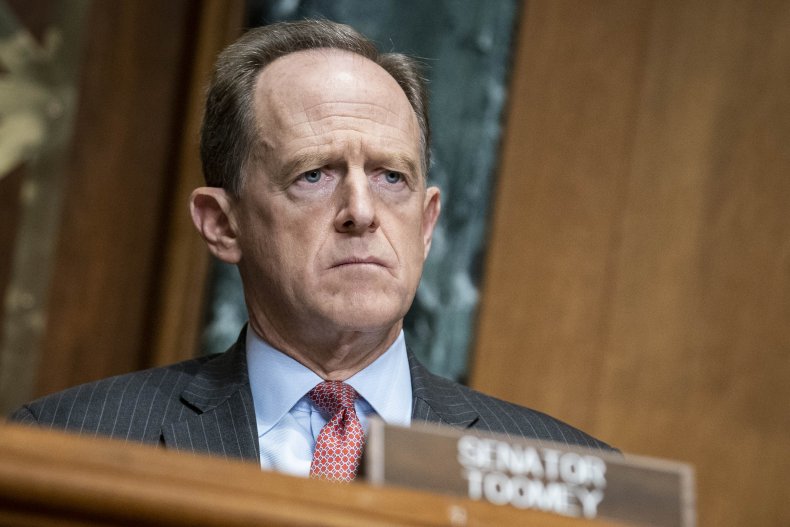 Correction, 2/16/21, 10:40 ET: The final vote tally of the impeachment trial was corrected to 57-43, including that seven Republicans voted to convict.