Co-Pilot Killed in Jump From Plane During Emergency Landing: Report
A co-pilot died after reportedly jumping from an aircraft as it was making an emergency landing last week.
The report originates from two Federal Aviation Administration (FAA) employees working at Raleigh-Durham International Airport in North Carolina, according to a report from WRAL News published on Tuesday. On Friday, the employees told a Raleigh-Wake County 911 dispatcher that, according to a pilot, the co-pilot who was killed jumped from a CASA 212-200 aircraft as it made an emergency landing at the airport at around 2:30 p.m. ET.
"This is from Raleigh airport," one of the FAA employees said in a recording of the 13-minute 911 call obtained by WRAL News. "We have a pilot who was inbound to the field. His co-pilot jumped out of the aircraft. He made impact to the ground and here are the coordinates."
Following the landing, a search commenced for the co-pilot, 23-year-old Charles Hew Crooks. His dead body was later found in the backyard of a residence in the town of Fuquay-Varina, North Carolina, at around 7 p.m. Officers conducting the search were flagged down by a neighbor who reported hearing a suspicious noise from the property earlier in the day.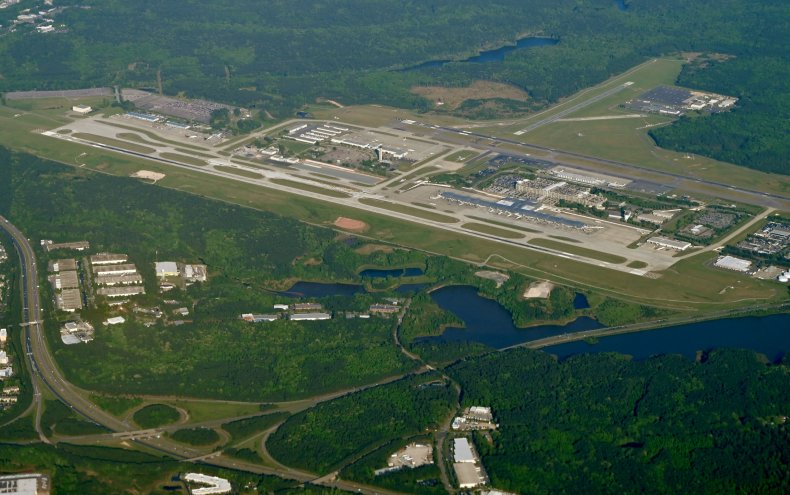 "I guess at this point in time, all we can do is a recovery," one of the employees said during the 911 call. "I know. I don't know. This is the craziest thing ever."
On the recording, it was said that the co-pilot had jumped from the plane without any sort of parachute or harness, making his survival unlikely.
"I am sure the pilot is going to be shaken up," one of the FAA employees said. "I have no idea. He literally just said, 'My pilot just jumped out.'"
In the wake of the landing and Crooks' death, the FAA initially led the investigation into the incident. On Tuesday, the probe was handed over to the National Transportation Safety Board (NTSB). The RDU Airport Police Department conducted an interview with the pilot, whose identity has not been disclosed to the public. The interview material has since been turned over to the FAA and NTSB.
Details about why the craft needed to make an emergency landing are slim at the moment. Preliminary information released by the NTSB indicated that the craft seemingly had considerable damage to its fuselage and landing gear, WRAL reported. The full scope of the investigation has yet to be determined.
Newsweek has reached out to the NTSB for comment.
The Aircraft Owners and Pilots Association reports that flights in the U.S. have a 0.06 percent fatality rate for precautionary landings, the safer classification of emergency landings occurring when a pilot suspects a danger risk. Forced landings, by contrast, see fatalities over 1,600 times more often.