'Cobra Kai' Season 3: Showrunners Confirm That This Major Character Won't Appear
When Cobra Kai returns with its third season on January 1, fans with notice someone missing from the cast.
Nichole Brown, who plays Aisha in the Netflix series, won't be in Cobra Kai Season 3. The young actress broke the news back in 2019, but TVLine had the opportunity to recently speak with executive producers and co-showrunners Jon Hurwitz and Josh Heald, to confirm Aisha's absence.
"We love Aisha and we love Nichole Brown," Hurwitz said. "Certain characters we loved in Season 1 didn't appear at all in Season 2, like Kyler, Yasmine and Louie. Before the season, we told Nichole the same thing we told those actors: that just because a character doesn't appear for a period of time doesn't mean they've left the universe, that they can't return again. We love that character, and perhaps we'll see her again one day."
Heald added: "We have a long story left to tell. We tend to look at the show in a very long view, where entrances and exits are impactful and important. Sometimes people need to exit to make their [re-entry] a little bit different and bigger."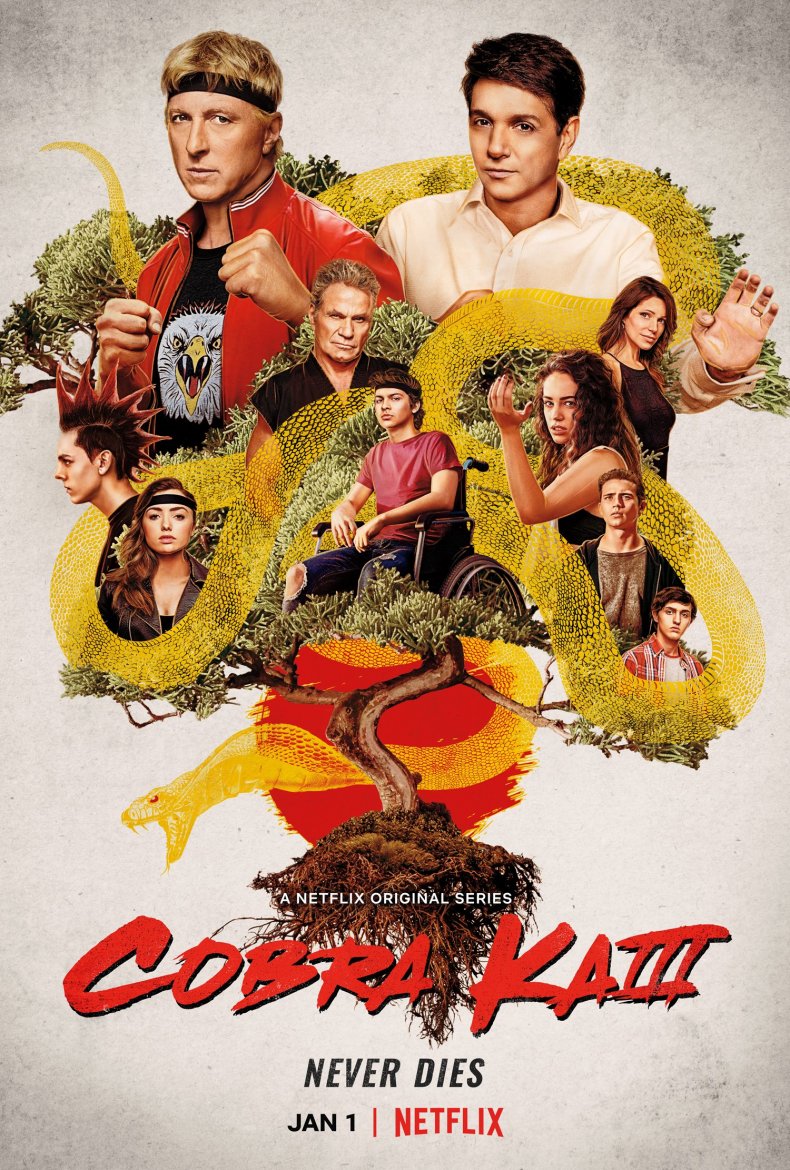 According to TVLine, Aisha's absence will be explained in the first episode of the third season.
News of Aisha being absent from Cobra Kai broke in September 2019 when Nichole Brown posted an Instagram story informing fans that she wouldn't be in the upcoming third season. She wrote, "Officially NOT in Season 3 of #CobraKai... Unfortunate, but thank you for the opportunity and time I had on the show."
In the TVLine interview, Hurwitz reiterates how some characters who were missing in Season 2 will be coming back in this third installment. The trailer that was released earlier this month confirms that Kyler (Joe Seo) will return as one of the new Cobra Kai recruits.
This season will also see the return of Kumiko (Tamlyn Tomita) and Chozen (Yuji Okumoto) from 1986's The Karate Kid Part II.
However, Aisha's absence in Season 3 does leave a big hole in the story that the series can hopefully—at least temporarily—fill. Aisha was the childhood friend of Samantha LaRusso (Mary Mouser) before the two became estranged at the start of Season 1.
Aisha also became the second-ever student of Johnny Lawrence (William Zabka), after Miguel (Xolo Maridueña), and she was a key member of Cobra Kai's recruiting efforts in the first two seasons.
All 10 episodes of Cobra Kai Season 3 are scheduled to premiere on Netflix on Friday, January 1.
What do you think of Aisha's absence this season? Let us know your thoughts in the comments section.