Cobra Kai Season 3, Episode 10 brings the season to an end on "December 19," with the Netflix series staging a karate fight for the ages across the whole of the Miyagi-Do dojo. While the kids battle it out, however, the adults are reconnecting following the return of Ali Mills (played by Elisabeth Shue). The biggest news from the finale, however, is its cliffhanger, which develops an ultimatum to John Kreese (Martin Kove) that is sure to inform Season 4, which according to ProductionWeekly is due to start filming in early 2021.
What happened at the end of Cobra Kai Season 3
WARNING: The following contains spoilers for the entirety of Cobra Kai Season 3, Episode 10, "December 19"
After our latest glimpse into the Vietnam experiences of Kreese (as it turns out, war is a pretty horrible place to be), the finale deals a red herring to viewers. After Daniel LaRusso (Ralph Macchio) sees Ali at a holiday party, Johnny (William Zabka) overhears them talking and we think that we are going to get a replay of the love triangle that was at the heart of The Karate Kid, especially as Ali is now divorced.
What actually happens is a little different. LaRusso clearly has no interest romantically in Ali, especially as wife Amanda (Courtney Henggeler) is also at the party. Johnny, LaRusso, Ali and Amanda all have dinner together, which mostly sees them catching Ali up on the many plot twists and turns of the last few seasons, while she seems surprised that so much drama can be found out of grown men doing karate, something viewers may have thought about watching the season.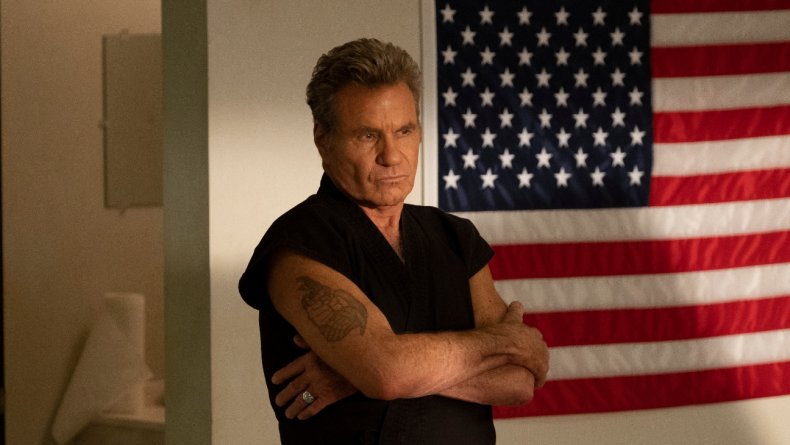 Though there is no romance between Ali and either of the adult leads, there is some flirtation between Ali and Johnny that suggest that the pair could rekindle their romance if Shue decides to extend her two-episode arc.
While the adults are all getting along, the kids have other plans. Sam (Mary Mouser) and Demitri (Gianni Decenzo) are trying to get Miyagi-Do and Eagle Fang to work together to defeat Kreese and his Cobra Kai band of miniature maniacs.
Just as the pair have teamed up, creating a group presumably known as Miyagi Fang, the Cobra Kai kids attack, throwing poor Bert (Owen Morgan) through a window. Cue a battle all across LaRusso's home. Luckily, this time, no one gets thrown off a stairway – though Miguel gets some injuries that are far from recommended for someone who recently fractured their spine.
Particularly, two plotlines are resolved in the fracas that destroys most of the LaRussos' hard-earned glass goods. Hawk (Jacob Bertrand) finally sees the light and apologies to Demetri for his actions over the last two seasons. Tory (Peyton List), meanwhile, is decked in a skeleton hoodie like all good Karate Kid villains, and has it out for Sam. Coming at her with nunchucks, the fight is only broken up after everyone else has stopped scraping.
Their feud is far from over. Tory tells Sam that it is far from over, suggesting that one of the big battles in Cobra Kai Season 4 will be between the pair. She seems to have fully drunk the Cobra Kai Kool-Aid, so expect her to be fully on Team Kreese in the next season.
Also on Team Kreese will be Robby (Tanner Buchanan), seen training at the Cobra Kai dojo. Kreese offers Johnny the chance to join them and he refuses.
It turns out his allegiances are elsewhere, after three seasons, the inevitable happens and Johnny and LaRusso join forces, but not before Johnny has a karate battle with first Kreese then his own son, Robby. Then LaRusso has his own karate battle with the septuagenarian, and is about to deal the knockout blow when Sam stops him.
Instead, Kreese makes a deal, if his dojo loses the All-Valley, he will leave town. What Kreese wants if he wins is not revealed, but is sure to be at the heart of Season 4.
This battle is likely to play out across the entirety of Cobra Kai Season 4, and the battle lines are very much set, Sam, Miguel and Hawk of Miyagi Fang with LaRusso and Johnny on one side versus Robby and Tory on the other with Kreese. Exactly who the winner will be is sure to be revealed in the next season.
Cobra Kai Seasons 1 to 3 are streaming now on Netflix.