'Cobra Kai' Season 3 Trailer: Fans Spot Clue that Hints at Ali Mills Return
Cobra Kai Season 3 is coming to Netflix on January 8, 2021, and the streamer has now released the full trailer for The Karate Kid spin-off.
Though that promo may have seen Johnny Lawrence (William Zabka) and Daniel LaRusso (Ralph Macchio) team up and Miguel (Xolo Maridueña) wake up, but it was missing one cast members who Karate Kid fans were certain would return—Elisabeth Shue as the one-time love interest for both LaRusso and Lawrence, Ali Mills.
The last season ended by hinting that Ali Mills (Elisabeth Shue) was set to return in the new episodes after she sent a Facebook friend request to Johnny, but she is nowhere to be seen in the trailer.
This, of course, does not mean that she will not be in Season 3. Her absence from the trailer could be the show hiding a major reveal, with Lawrence and LaRusso's old girlfriend returning to mix things up just as the pair were starting to get on after the promo teases them working together to take on John Kreese (Martin Kove).
In fact, some fans have picked out a particular moment from the Cobra Kai Season 3 trailer that they are sure hints at Ali's return. Towards the end of a trailer, Lawrence is seen in a white suit, waiting in what seems like a romantic location, framed with fronds of fairy lights that are very The Bachelor.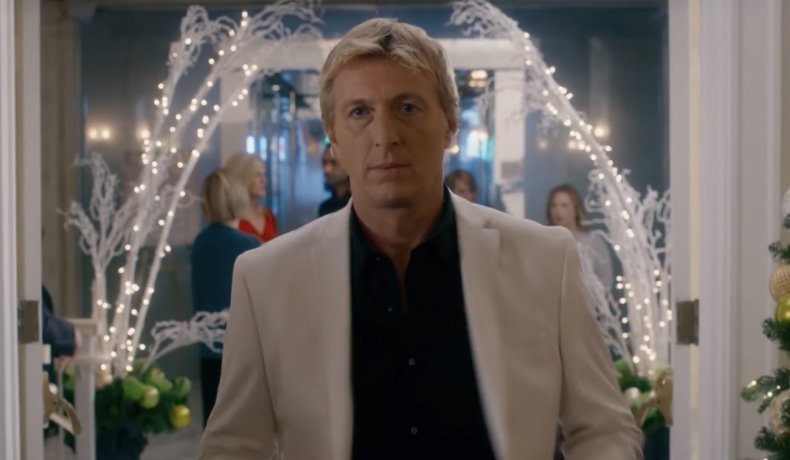 Writing on Twitter, many fans have interpreted this scene as a moment where Johnny is waiting for Ali to show up IRL after they reconnected on social media. One user summed up a lot of fan theories, for example, when they wrote, "Wow the Cobra Kai trailer Face! Kumiko returns and Johnny was in a suit at the end. High school reunion or maybe the country club with Ali."
Other reactions included:
"Is so obvious Ali is coming back even if she is not on the trailer..that last shot to Johnny on that party is like a sealed deal for me."
"Could this be the moment Johnny encounters ALI for the 1st time in 36 years???"
"No Ali in the trailer for Cobra Kai S3. I'm guessing she'll be a surprise later in the season?"
Elisabeth Shue has previously expressed an interest in coming back. She told ET Canada, for example: "I have seen it [the show] and I thought it was really well done. I'm thinking about it [making an appearance]."
Though Shue is not confirmed for Season 3, two familiar faces from the movies are returning, joining the ever-growing list of Karate Kid actors who have appeared in Cobra Kai. As previously teased in interviews by Macchio, Cobra Kai Season 3 is taking a hint from The Karate Kid Part II, with LaRusso heading back to Japan to play homage to his former sensei Mr. Miyagi (the late Pat Morita).
The return to Miyagi's home also allows the show the chance to have two characters return from the movie sequel. In the trailer, Tamlyn Tomita is seen as Kumiko, one-time girlfriend of LaRusso and the niece of Miyagi's childhood girlfriend. Also glimpsed is Yuji Okumoto as Chozen, LaRusso's rival in Karate Kid Part II.
Cobra Kai Season 3 is released on Friday, January 8, 2020 on Netflix.