Cobra Kai may have existed as a YouTube original since 2018, but it was when it came to Netflix in 2020 that the show became a genuine phenomenon, becoming one of the 20 most-watched series on the streamer in the world. What brought people to the show was the fact that it was a Karate Kid spin-off, but what kept them watching was just how good it was.
Those first two seasons manage to sidestep the potential cheesiness of a show about grown men obsessed with karate by having a genuine heart, with its new characters just as well developed as those it inherited from the '80s movies.
The end of Season 2 then ended with a strong series of cliffhangers. A mass brawl in the school lead to Miguel (Xolo Maridueña) with major spinal injuries that mean he may never walk again, caused by Robby (Tanner Buchanan) who then goes on the run. John Kreese (Martin Kove), meanwhile, has taken control of the dojo, while Johnny (William Zabka) receives a friend request from one-time girlfriend Ali Mills (Elisabeth Shue. No spoilers here about whether she appears in Season 3 or not).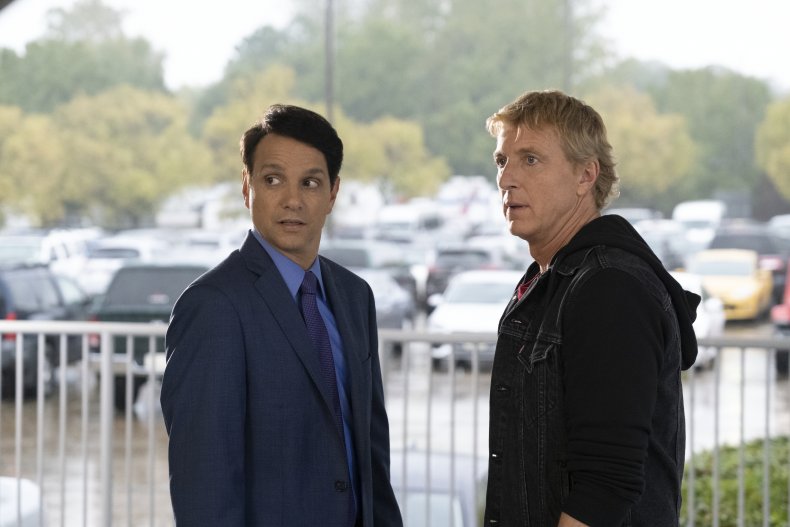 The problem with Cobra Kai Season 3 is that it takes nearly the entire season to tie up all of these plot threads, meaning that the Netflix show's latest set of episodes never have time to create a momentum of their own.
Trying to clear up all those cliffhangers leaves the action of Season 3 feeling fragmented, with the characters having to go on various missions that never come together. Johnny and Daniel (Ralph Macchio) try to find Robbie, Johnny tries to help Miguel deal with his injuries. Kreese turns the Cobra Kai students into miniature psychopaths, while flashbacks to Vietnam give the villain the traumatic backstory that few asked for. This, plus many more that some may consider plot spoilers.
With some many plots up in the air, none of them are given enough time to breathe, leaving to some of the most important feeling rushed. Miguel's recovery in particular sees him go from completely paraplegic to recovered in seemingly record time, thanks to what can only be described as a deus ex Dee Snyder.
In fact, it is telling that the best of the plots is completely new to Season 3. Daniel's trip to Japan, following in the footsteps of his pilgrimage in Karate Kid Part II, is a perfect example of how to do nostalgia right, with familiar faces returning but the story heading in new directions. The season could have been improved by spending more time in the land of the rising sun rather than just endlessly shuffling the deck of who is doing karate where and in which dojo back in L.A.
This is the other problem with Cobra Kai Season 3. With most of the main characters already having switched dojos at least once, there are reduced dramatic stakes when they have their latest falling out with their sensei. Same goes for the big battles of the show, which just seem to rehash the epic final high school battle in Season 2—turns out there are only so many times you can enjoy teens beating the living crap out of each other. At times in the show, we are all Daniel's long-suffering wife Amanda (Courtney Henggeler, who remains a highlight of the show), rolling our eyes at how much drama all this karate is causing.
The show seems to accept that it has been spinning its wheels, however, by the end of the season, which ends with only one big cliffhanger that gives the show a sense of purpose if and when it gets a Season 4. Hopefully the show can be back to its best if Netflix decides to give it another shot.
Cobra Kai Seasons 1 to 3 are streaming now on Netflix.