'Cobra Kai': Will Terry Silver Return for Season 4?
Cobra Kai has never been a show afraid of bringing back characters from the movies it spun off from, and it seems that Season 4 on Netflix will continue this trend with an appearance from a Karate Kid Part III actor. At the end of the current season, we see John Kreese (played by Martin Kove) call an old Vietnam War buddy known as Twig (Nick Marini), better known as Terry Silver (Thomas Ian Griffith).
A quick recap for those who have not seen the third Karate Kid movie in a while: In that movie, we learn that the Cobra Kai dojo was founded and bankrolled by Silver, a billionaire businessman (and toxic waste dumper) who is indebted to Kreese thanks to their shared war experiences.
In Cobra Kai Season 3, we learn what exactly happened in Vietnam between Kreese and "Twig," a soldier who grows up to be the Silver viewers saw in Karate Kid Part III. In one episode, we see Twig and Kreese as prisoners in the Asian country. These prisoners are forced to fight to the death above a snake pit, and when Twig is selected to fight next, Kreese steps in.
What Twig then says to Kreese and says, "I owe you, man. You saved my ass. Anything you need, I'm there for you. Your whole life." As the Cobra Kai Season 3 finale then cuts to Kreese's call, this suggests that it is the man he once called Twig is on the other line, and Kreese is about to call in another favor.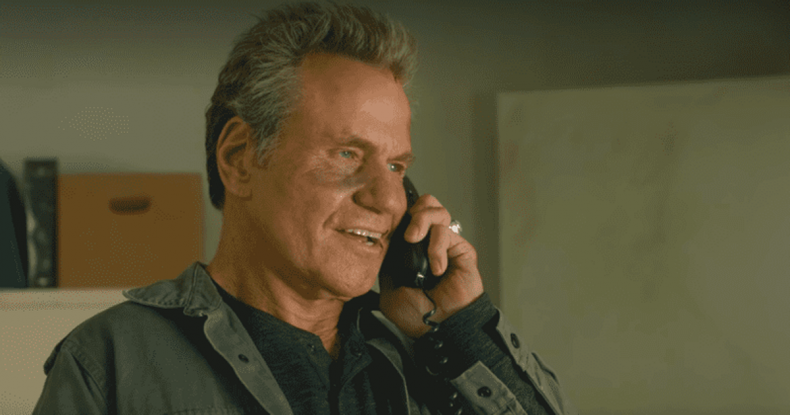 If this is the case, then this could have big implications for Season 4. With Kreese making a pact with Johnny Lawrence (William Zabka) and Daniel LaRusso (Ralph Macchio) that he will leave town if the pair's dojo beat Cobra Kai in the All-Valley Karate Tournament, he seems to be bringing some dirty money to help him—perhaps with state-of-the-art training equipment, or perhaps with some paid ringers.
The makers of Cobra Kai, however, have not confirmed whether Terry Silver is set to return. Speaking to Entertainment Weekly, John Hurwitz said: "At the end of the season, you saw Kreese make a phone call. You could guess who might've been on the other end of that call based off of the photo that he was looking at there. But we can't really speak to how Terry Silver would respond to that call—or whoever was on the other end of the line would respond to that call. I think you'll have to see if that character returns in Season 4."
Executive producer Hayden Schlossberg, meanwhile, told iO9: "Listen, we're hardcore fans of all the movies. And let's just put it this way. We spend time giving Terry Silver a back story in Season 3. You get to see the past Terry Silver. We treat all these characters from those original movies like they're really important in the universe.
"And we don't want to say anything official yet about Season 4 right now but Kreese looks at a photo of young Terry Silver and he dials a number and makes a phone call. And you could imagine who's on the other end. So we're not making any official statements but, hypothetically, there's a lot of interesting soap opera left to tell that we can't wait to tell."
Cobra Kai Season 4 is coming soon to Netflix.