Coca-Cola, Delta, JPMorgan Among Companies Declining to Sign Statement Opposing New Voting Laws
Hundreds of companies signed onto a new statement Wednesday to oppose "discriminatory legislation" that would make it harder for people to vote in the U.S., but notably absent from the list were Coca-Cola, Delta Air Lines, Home Depot and JPMorgan Chase.
The statement, which comes amid controversial new voting law restrictions proposed by Republican lawmakers in nearly every state, was organized by Kenneth Chenault, a former chairman and CEO of American Express, and Kenneth Frazier, the chairman and CEO of Merck.
After restrictive new laws were implemented in Georgia, Chenault and Frazier led a group of Black executives last month to call on companies to oppose similar voting law proposals across the country.
"It should be clear that there is overwhelming support in corporate America for the principle of voting rights," Chenault said in a statement, according to the New York Times.
"Throughout our history, corporations have spoken up on different issues," Chenault added. "It's absolutely the responsibility of companies to speak up, particularly on something as fundamental as the right to vote."
The Wednesday statement, titled "We Stand For Democracy" with signatures from hundreds of corporations and business executives, appeared in ads in The New York Times and Washington Post.
However, a number of companies declined to add their name to the list.
According to the Times, some Georgia-based companies that did not add their names had previously received blowback for earlier political statements and did not feel the need to speak out again.
Others, including Home Depot and JPMorgan Chase, said Wednesday that they have already signaled their opposition to voting rights restrictions.
In a statement given to Newsweek, a spokesperson for Home Depot said: "We've decided that the most appropriate approach for us to take is to continue to underscore our belief that all elections should be accessible, fair and secure and support broad voter participation, and to continue to work to ensure our associates in Georgia and across the country have the information and resources to vote."
Jamie Dimon, chairman and CEO of JPMorgan Chase, was one of the first business leaders to publicly declare his opposition to voting restrictions and his support for Black Lives Matter last month, the Times reported.
"We believe voting must be accessible and equitable. We regularly encourage our employees to exercise their fundamental right to vote, and we stand against efforts that may prevent them from being able to do so. We are a stronger country when every citizen has a voice and a vote," Dimon told CNN in March.
On Wednesday, a spokesperson for the company told Newsweek: "We publicly made our own strong statement last month about the critical importance of every citizen being able to exercise their fundamental right to vote."
Coca-Cola and Delta also condemned Georgia's voting law last month when it initially passed but didn't add their names to the Wednesday list.
"Our focus has been on meeting and collaborating with local groups, and we have spoken up in support of the foundational right to vote. We will continue to assess how we can best support voting rights and access in Georgia and across the country," Coca-Cola said in a statement to Newsweek on Wednesday.
"We believe the best way to make progress now is for everyone to come together to listen, respectfully share concerns and collaborate on a path forward. We remain open to productive conversations with advocacy groups and lawmakers who may have differing views. It's time to find common ground. In the end, we all want the same thing—free and fair elections, the cornerstone of our democracy," the company added.
Delta Air Lines declined to comment on Wednesday, but shared a statement with Newsweek in which CEO Ed Bastian said earlier this month that Georgia's new voting law was "unacceptable," and that it "does not match Delta's values."
"The right to vote is sacred. It is fundamental to our democracy and those rights not only need to be protected, but easily facilitated in a safe and secure manner," he added.
Maurice Schweitzer, a professor at the Wharton School of Business at the University of Pennsylvania, told Newsweek previously that the show of solidarity from business leaders against voting law restrictions could have a positive payoff for companies.
"Executives are taking a stand and engaging in politics in a way that will upset some people but will excite others," Schweitzer said. "We are expecting corporate leaders to be social and moral leaders and I think they're going to do well as a result."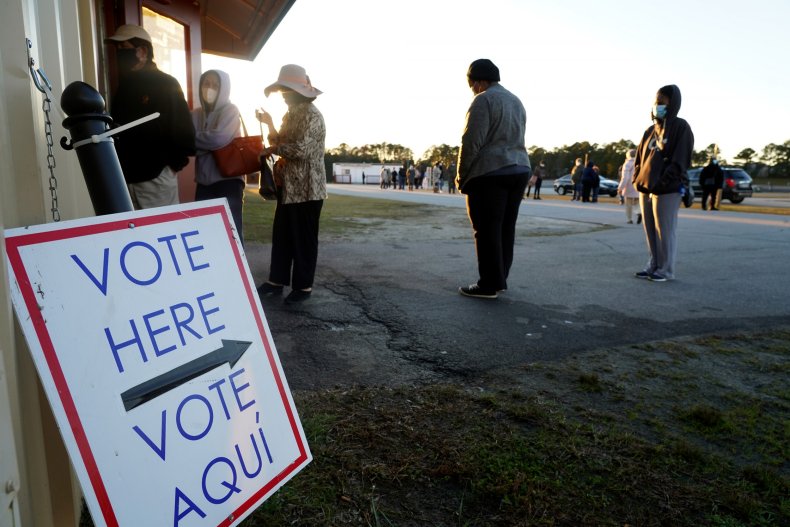 This article has been updated with additional statements from Coca-Cola and Delta.