Numerous companies across the U.S. have spoken out against the new voting bill in Georgia.
Georgia Governor Brian Kemp signed the bill, SB202, last week after it was passed in the state's Republican-led Legislature. The bill came in response to widespread claims of voter fraud, despite officials in Georgia and across the nation saying there was no evidence of such fraud in the 2020 election.
The new law limits the number of mail ballot drop boxes in the state; lessens the time residents have to request an absentee ballot; requires residents to provide a photo ID when casting their mail-in ballot; and makes it a misdemeanor to give "money or gifts," as well as "food and drink," to voters waiting in line.
Additionally, the law takes some authority away from the secretary of state and local election officials in Georgia. Instead, the Legislature will elect the chair of the election board (instead of appointment by the secretary of state) and replace election officials with its own appointees.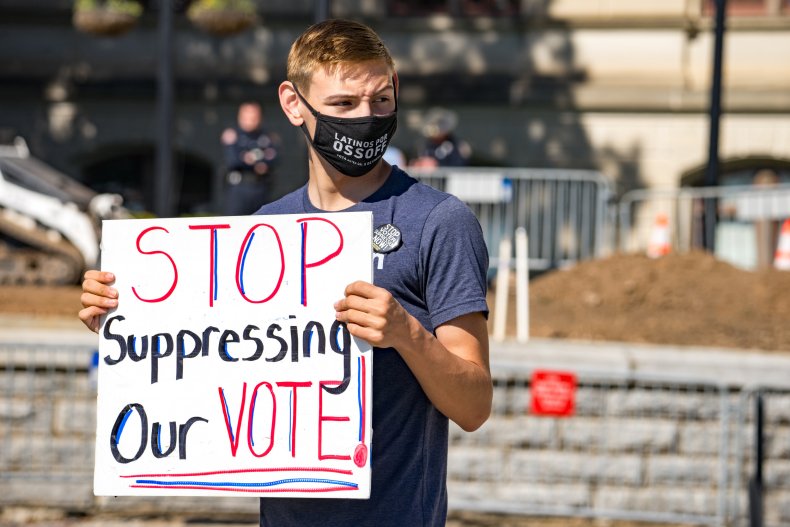 Shortly after the bill was signed, it was met with criticism from many sources, including several high-profile companies that have issued statements against it.
On Wednesday, Ed Bastian, CEO of Atlanta-based Delta Air Lines, issued a memo calling the bill "unacceptable."
"We had some success in eliminating the most suppressive tactics that some had proposed. However, I need to make it crystal clear that the final bill is unacceptable and does not match Delta's values," Bastian wrote.
He added that "the right to vote is sacred," and that "it's evident that the bill includes provisions that will make it harder for many underrepresented voters, particularly Black voters, to exercise their constitutional right to elect their representatives. That is wrong."
Alfredo Rivera, the CEO of Coca-Cola, which is headquartered in Atlanta, issued a similar statement on Monday. After discussing the bill with Georgia businesses, "we opposed measures that would seek to diminish or restrict voter access and we advocated for broad access, voter convenience, election integrity and political neutrality," he wrote. "Anything that inhibits these principles can lead to voter suppression."
On Wednesday, Kenneth Frazier, CEO of New Jersey-based pharmaceutical company Merck, posted a statement on Twitter that said, "There is no more fundamental right than the right to vote.... We all have an obligation to stand up against racism and other forms of discrimination whenever we see them."
In a statement sent to Axios on Thursday, Apple CEO Tim Cook said that his company "believes that, thanks in part to the power of technology, it ought to be easier than ever for every eligible citizen to exercise their right to vote."
According to CNBC, Facebook said that the social media platform opposes "efforts to make it harder for people to vote," speaking in response to the new law in Georgia.
In a statement to Newsweek, a spokesperson for Home Depot, which is headquartered in Atlanta, wrote, "We believe that all elections should be accessible, fair and secure and support broad voter participation. We'll continue to work to ensure our associates, both in Georgia and across the country, have the information and resources to vote."
Two professional sports teams in Georgia, the Atlanta Falcons and Atlanta Hawks, also issued statements opposing the voting law. In a statement posted to Twitter, Hawks principal owner Tony Ressler wrote that the team remains "committed to endorsing steps that promote equality and encourage participation by all who seek to cast a ballot."
Similarly, Falcons owner and Chairman Arthur Blank wrote, "Every voice and every vote matters and should be heard through our democratic process in Georgia. The right to vote is simply sacred. We should be working to make voting easier, not harder, for every eligible citizen.... Our businesses and family foundation will continue to actively support efforts that advance voting access for the citizens of Georgia and across the nation."
Other companies that have issued statements against the voting law are asset manager BlackRock, JPMorgan Chase, American Express, Citigroup, Google, Porsche North America, UPS, Microsoft, Aflac, Bank of America, Cisco and Viacom CBS.
In a statement to Newsweek Wednesday, Kemp expressed his support for the law and directly criticized the comments from Delta Air Lines' Bastian.
"Throughout the legislative process, we spoke directly with Delta representatives numerous times. We worked alongside legislative leadership to expand voting opportunities for Georgians, while also taking steps to further secure the ballot box," Kemp wrote.
"Today's statement by Delta CEO Ed Bastian stands in stark contrast to our conversations with the company, ignores the content of the new law, and unfortunately continues to spread the same false attacks being repeated by partisan activists. The truth is, the Election Integrity Act expands voting access and protects the sanctity and security of the ballot box," the governor said.
Newsweek reached out to Kemp on Thursday for further comment but did not receive a response in time for publication.