Coke Daniels Delighted That 'Karen' Movie is Being Compared to 'Get Out'
Director Coke Daniels has been left thrilled by comparisons of his upcoming film Karen to Jordan Peele's Get Out.
The film producer, who also wrote the script for his latest venture, responded to widespread social media conversation surrounding the film.
Following the release of Karen's trailer, viewers took to social media to raise questions over the similarities between the movie and Peele's 2017 hit.
Many users were quick to brand the film a knockoff, while others blasted it for failing to achieve the subtleties and nuances Get Out does.
However, it appears Daniels has taken the comparison as a form of flattery.
In an Instagram post, he shared a screenshot of Peele's name trending on Twitter, with the caption: "Trending on Twitter!! Keep comparing Karen to Get Out! We'll receive that!"
Daniels then added a string of emojis—including the rocket and fire icons.
The film first gained traction online when viewers began sharing the trailer, which shows the story of a racist white woman set on terrorizing her new Black neighbors.
As the trailer for Karen went viral, users hit out at Hollywood directors for attempting to "steal Jordan Peele's formula."
Get Out followed the journey of a Black man who embarks on a journey to meet his white girlfriend's family. It quickly becomes apparent to him that his partner's family harbors a dark obsession with preying on Black people.
Other users also accused the story of sidelining the trauma of the Black characters, rather than making them central focus like Peele's project does.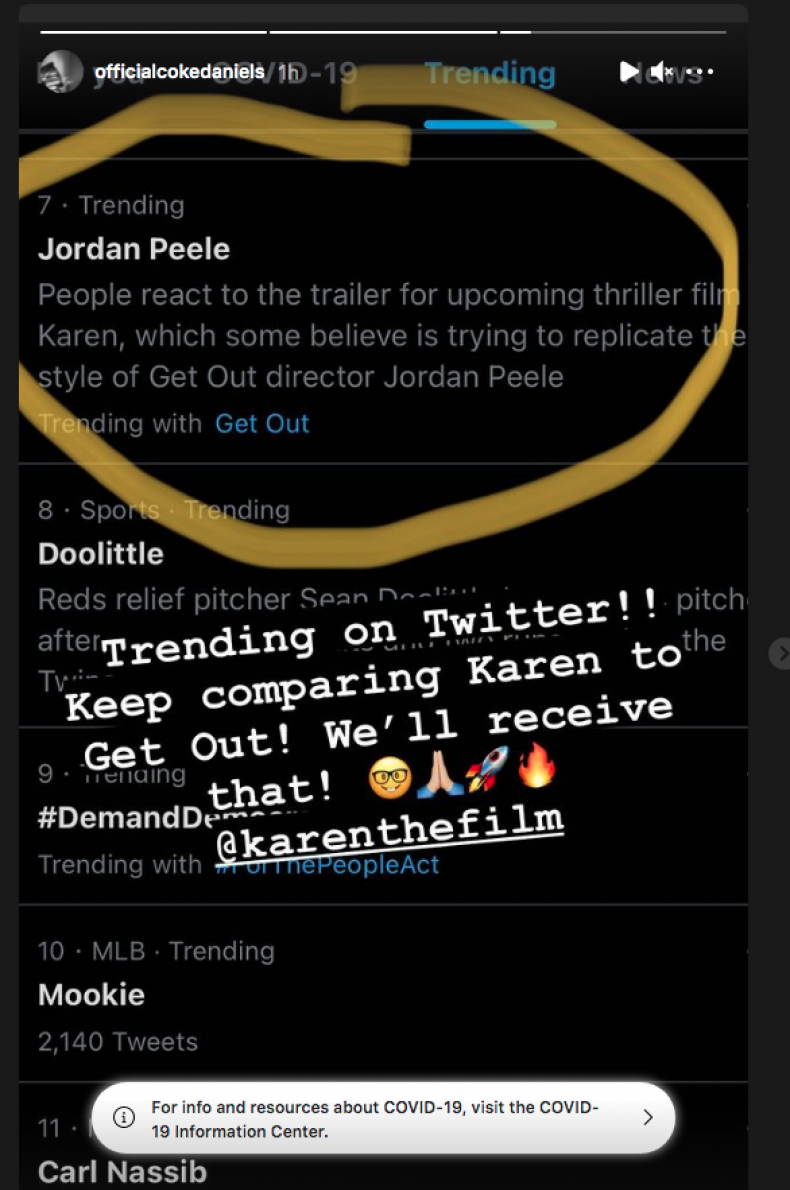 The name Karen is widely used online as a reference to entitled—and often racist—white women.
The film sees Orange Is The New Black actress Taryn Manning in the leading role as Karen with Saints & Sinners star Jasmine Burke, and The Watch producer Cory Hardrict as Malik and Imani, the new neighbors.
Daniels teased an insight into the film last year in an Instagram post, in which he said the film features "heavy social commentary." The producer added that he felt the film was a necessary story.
In 2020, he wrote: "With the cold hearted murders of George Floyd, Breonna Taylor and Ahmaud Arbery (to name a few) I felt it was necessary at this point for me to use my voice to speak truth to power and move the conversations forward as it relates to social injustices, racism and the litany of other inequalities people of color are faced with daily in this country."
Despite Daniels welcoming the comparisons, the film has a lot to live up to, as Get Out opened to global critical acclaim and even bagged an Oscar for best screenplay—as well as a slate of other Academy Awards nods.
The director has not yet announced a release date for Karen.