Colin Kaepernick Stats: The NFL Star's College and High School Sporting Career in Numbers
Colin Kaepernick is famed for his successful (albeit brief) NFL career. But, as new Netflix series Colin in Black and White highlights, his sporting abilities were impressive long before he entered the national arena.
Not only did Kaepernick—who was raised in California by his adoptive parents Rick and Teresa—show promise in football, he was also on his high school basketball and baseball teams. In fact, Kaepernick was such a successful baseball player that he was drafted by the Chicago Cubs in 2009. Despite the offer, he decided to instead pursue a football career at college.
While he has since become known as the former quarterback for the San Francisco 49ers who first took the knee in protest against systemic racism, some may have forgotten how prolific an athlete he was during high school and college, and, indeed, his NFL years.
Here's a detailed summary of Kaepernick's sporting career in numbers.
Colin Kaepernick's high school baseball career
Kaepernick's baseball talents were so impressive, he actually received more scholarship offers to play baseball at college than he did football scholarships.
He started getting national attention for his performances for John H. Pitman High School in Turlock, California. He gained a reputation as a fierce pitcher with his fastball reaching 94 mph.
During his junior and senior years he had a 1.38 ERA in 146 2/3 innings. Across 59 games he scored .179 strikeouts against 67 walks, while opponents hit just .167 against him.
He was handy with a bat, too, holding a .318 batting average and a .398 on-base percentage. He also hit one home run with 24 runs batted in, and secured 56 hits across the 59 games.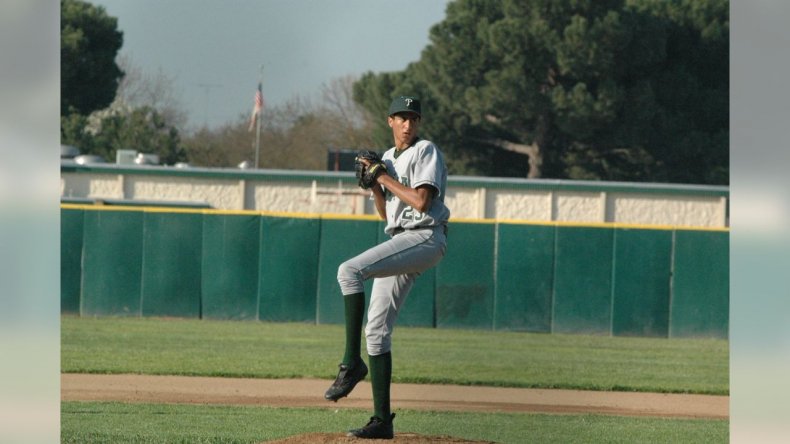 Despite his success, he chose to accept the one football offer he received from college, leaving his baseball career behind.
It's also worth noting that Kaepernick was on his high school basketball team, and averaged just under 14 points per game in his final two years.
Colin Kaepernick's high school football career
Kaepernick's athletic abilities continued to develop in high school and by his junior and senior years. Not content with just being on the baseball and basketball teams, he was also the school's starting quarterback.
Across his final two years, he secured 3,005 passing yards and 38 touchdowns for Pitman High School.
Kaepernick received most of his athletic accolades from baseball, and even received offers to play at Notre Dame, Tennessee, and Arizona State universities, but his heart was set on playing football.
He earned a football scholarship at the University of Nevada.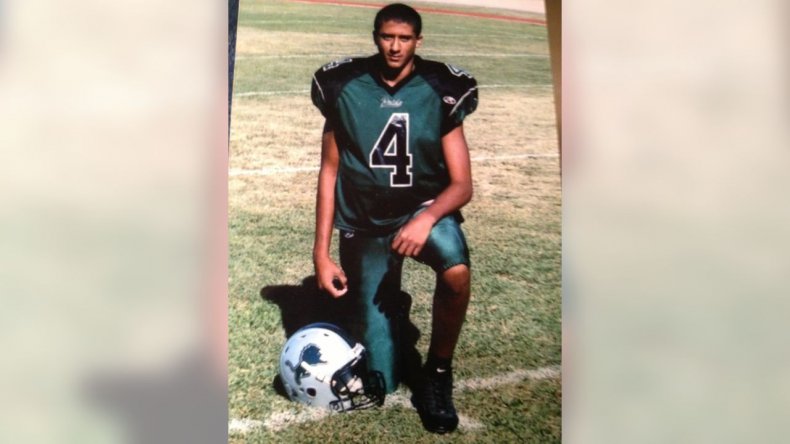 Colin Kaepernick's college football career
Kaepernick spent four years with the Wolf Pack at the University of Nevada.
He started his first year in 2007 as a back-up quarterback but still played 11 games in his first season. Individually he enjoyed a generally successful start to life on the team, despite it being an indifferent season for the Wolf Pack who ended 6–7. He finished with a 58.7% completion percentage, creating 19 passing touchdowns with just three interceptions and 2,175 passing yards.
As a sophomore he became the starting quarterback and improved the Wolf Pack's fortunes slightly, ending the season 7–6. Across the 2008 season he recorded 2,849 passing yards, threw 22 passing touchdowns with seven interceptions while he also secured 1,130 rushing yards and scored 17 rushing touchdowns. At that time he became just the fifth player in NCAA history to pass for 2,000 yards and rush for 1,000 or more yards in a single season.
He played in the Humanitarian Bowl securing 370 passing yards, three passing touchdowns with two interceptions, 15 rushing yards and one rushing touchdown. Despite ending on the losing team he earned the game's MVP award. At the end of the season he was named first team All-WAC quarterback.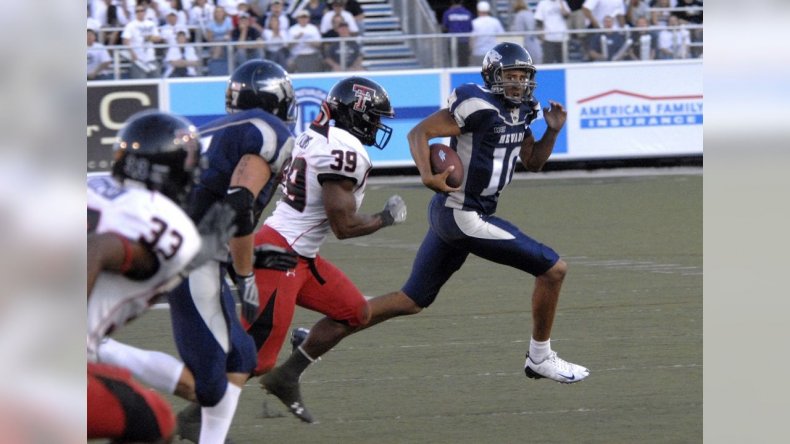 In 2009, Kaepernick was recognized for his throwing abilities and selected in the 43rd round of the MLB draft by the Chicago Cubs, but he decided to stay in Nevada and play college football.
During his junior year he was named second-team All-WAC quarterback. He finished the year with 2,052 passing yards, 20 passing touchdowns, 6 interceptions 1,183 rushing yards and 16 rushing touchdowns. Despite the slight decrease in numbers, the fortunes of the Wolf Pack changed drastically, as they finished 7–1 in the conference and 8–5 overall, second behind the undefeated Boise State.
Kaepernick cemented his legacy at the University of Nevada by sharing the WAC title with Boise State, whom they beat in November 2010, ending their 24-game winning streak. Kaepernick continued to break records in his final year as he finished with 3,022 passing yards, 21 passing touchdowns, eight interceptions, 1,206 rushing yards and 20 rushing touchdowns. The Wolf Pack finished 13–1 overall that season.
In total across his time at Nevada, Kaepernick threw for 10,098 yards and 82 touchdowns against just 24 interceptions. He also rushed for 4,118 yards and 59 touchdowns. He became the first player in Division I history to throw for 10,000 yards and rush for 4,000 yards in a career.
On top of all of this, Kaepernick maintained a 4.0 GPA during his college years and graduated in 2011 with a degree in business management.
Colin Kaepernick's draft to the NFL
Kaepernick was eventually drafted in the second round as the fourth pick, making him 36th overall, by the San Francisco 49ers. He started his NFL career playing backup to Alex Smith, and managed game time across just three games.
He became starting quarterback in 2012 and he remained so until his controversial exit from the 49ers in 2016. He made the play-offs with the team twice and finished on the losing side of the thrilling 2014 Super Bowl against the Baltimore Ravens.
Since leaving the 49ers in 2016, Kaepernick has yet to be signed by another team in the NFL.
Colin in Black and White is available to stream on Netflix now.