Colin Kaepernick Net Worth: How Much Will Nike Deal Pay?
Colin Kaepernick has hit the headlines again after being unveiled as the face of Nike's campaign to celebrate the 30th anniversary of its "Just Do It" motto.
Kaepernick signed with Nike in 2011 but the company has not used him in the last two years, since he rose to prominence in 2016 when he opted to kneel rather than stand during the national anthem as an act of silent protest against social and racial injustice.
The sporting apparel giant kept the Wisconsin native on its endorsement roster even after he dropped out of the NFL. Kaepernick entered free agency in 2017 and wasn't given a tryout, which has led him to file a lawsuit against the 32 NFL owners, accusing them of colluding to prevent him from returning to the league.
The terms of the deal between Nike and Kaepernick—whose wealth was estimated to be $22 million in 2016—have not been disclosed, but the Oregon-based giant is renowned for offering lucrative endorsements to its testimonials.
Yahoo's NFL reporter Charles Robinson claimed Kaepernick will have his own branded line of gear including shoes, shirts, jerseys and more. He also says that Kaepernick's deal is a "star" deal worth millions per year and includes royalties on sales.
Robinson also added that while Kaepernick has been a Nike athlete since 2011, the current deal was negotiated by Kaepernick's new legal representation, with Nike springng into action after realizing a number of rivals were interested in Kaepernick.
Of the four athletes who feature along with the 30-year-old in the "Just Do It" campaign—Le Bron James, Serena Williams, Shaquem Griffin and Odell Beckham Jr.—three are among the company's icons.
In May 2016, LeBron's associates Maverick Carter told GQ that the three-time NBA champion's lifetime deal with Nike was worth over $1 billion.
Last year NiceKicks.Com reported Beckham Jr. had signed a contract worth $5 million a year for five years with the swoosh. ESPN indicated the deal would pay Beckham Jr. almost two times as much as Nike had ever paid any other NFL player before.
Williams was ranked by Forbes as the world's highest-paid female athlete in 2017, after amassing some $27 million in prize money and commercial endorsements.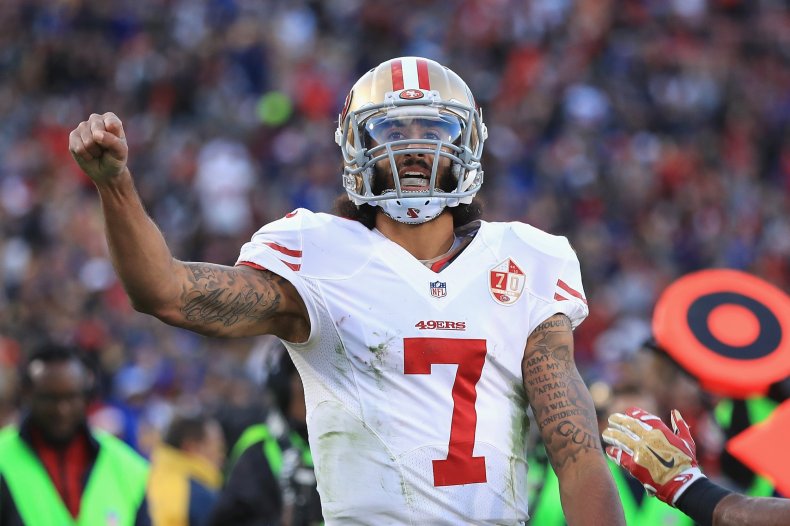 Kaepernick's deal with Nike has surely proved a smoother ride than the one he signed with the 49ers in 2014. Fresh from leading the franchise to two consecutive NFC championship games and Super Bowl XLVII, the quarterback penned a seven-year deal worth $126 million.
Despite initial reports the deal included a guaranteed $61 million, according to Business Insider, Kaepernick only received approximately $39.4 million, roughly 31 percent of the amount that was initially touted.
The deal did include a $12.3 million signing bonus but it also gave the 49ers the chance to cut the quarterback without owing him any money after the first year of the contract. It then emerged than the $61 million in guaranteed money was only guaranteed in the event of the quarterback suffering a career-ending injury.
During the 2016 season, Kaepernick restructured his deal with the 49ers and eventually opted out of his contract in March 2017, in a bid to explore his free agency options after fearing the 49ers were going to cut him.
However, he has been without a team ever since and last week it was confirmed his lawsuit against the NFL will go to a trial.