Colin Kaepernick Viral Video Leads Navy SEALs to Cut Ties to Museum
On Monday, the commander of the Navy SEALS said the military unit will no longer work with National Navy SEAL Museum, a Florida-based non-profit, after the release of a viral video showing the museum conducting a K-9 demonstration at a 2019 fundraiser event in which attack dogs were sicced upon a man wearing a Colin Kaepernick football jersey.
Kaepernick is a former NFL player whose 2017 on-field kneeling protest against police brutality compelled the NFL on May 23, 2018 to announce its intention to fine any players who don't stand on-field or stay in the locker room during the national anthem. In 2020, the NFL reversed this policy.
Republican President Donald Trump has repeatedly claimed that such protests are disrespectful to the nation and others have erroneously claimed that such protests dishonor the military.
In one of the viral videos, armed men in camouflage uniforms sic four dogs onto a man wearing Kaepernick's San Francisco 49ers jersey on top of protective equipment. In a second video, the dogs bite at the man as he lays on the ground. When a person carrying a rifle instructs the man to turn over, the man in Kaepernick's jersey says, "Oh, man, I will stand," a possible joke referencing Kaepernick's decision not to stand during the national anthem.
Videos of the museum-related K-9 demonstration quickly went viral, racking up nearly 7 million views after they went online last Sunday. While some commenters considered the video proof of systemic racism targeting pro-Black protesters, others enjoyed the video, citing what they considered as Kaepernick's "disrespect" of the armed forces.
Newsweek contacted the National Navy SEAL Museum for comment.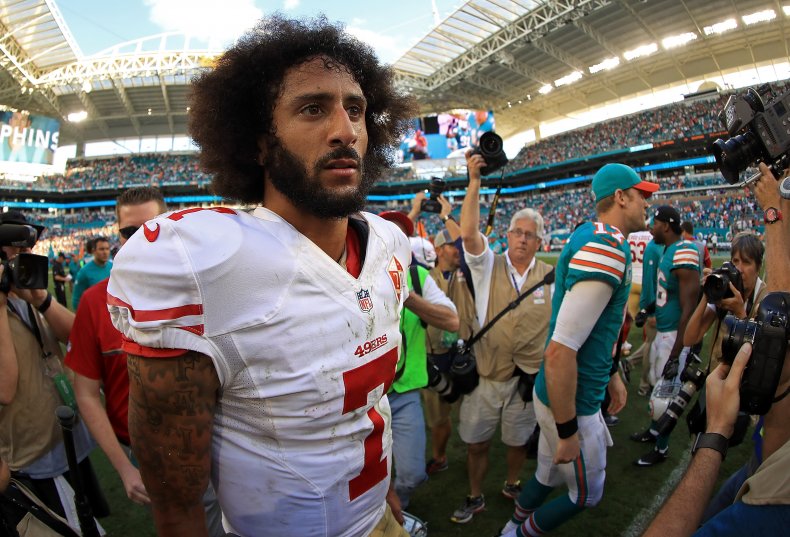 "While the museum is an independent non-profit organization and the participants were contracted employees from outside the (Department of Defense), in many ways, these facts are irrelevant. We have been inextricably linked to this organization that represents our history," Rear Admiral Collin Green wrote in an email to his forces, according to Navy Times.
"We may not have contributed to the misperception in this case, but we suffer from it and will not allow it to continue. Each and every one of us serves to protect our fellow Americans—ALL Americans. Even the perception that our commitment to serving the men and women of this nation is applied unevenly is destructive," Green continued.
"We will revisit our relationship with the Museum when I am convinced that they have made the necessary changes to ensure this type of behavior does not happen again," he concluded.