After a four-year investigation, Colombia arrested 27 individuals connected to a liquid cocaine smuggling cartel that transferred the illicit drug to the United States, Canada and Europe.
Known as Morfhox, the crime ring would recruit individuals—including older adults and Venezuelan citizens—to consume capsules containing liquid cocaine to carry them internally to destinations abroad, a press release from the Colombian Attorney General's Office explained. The organization would use similar recruitment methods to ensure that payments in dollars and euros were then returned to Colombia.
Eight people responsible for the logistical operations were captured, leaving the cartel unable to function, according to the attorney general's statement. One individual was also arrested for a homicide committed by the criminal group and 18 others were detained on money laundering charges. The prosecutor's office also confiscated 46 properties, four commercial enterprises and 12 vehicles used in Morfhox's money laundering and drug transfer operations.
The high-profile bust comes a week after a U.N. report drew attention to Colombia's record-breaking cocaine production. Despite years of government efforts to curb the illicit industry, about 423,000 acres of land—an increase of 17 percent over 2016—were used last year to grow coca, the plant whose leaf is the main ingredient of the drug. According to the report's estimates, enough coca was grown to produce 1,520 tons of cocaine, an increase of 31 percent from 2016.
With the release of the new report, Colombian President Iván Duque Márquez, who took office last month, vowed that his government would implement a new strategy to address the illicit drug trade.
"Our goal in the next four years is to have concrete results," Duque told journalists, Reuters reported. "So we can at least eradicate more than 70 percent of what we have today."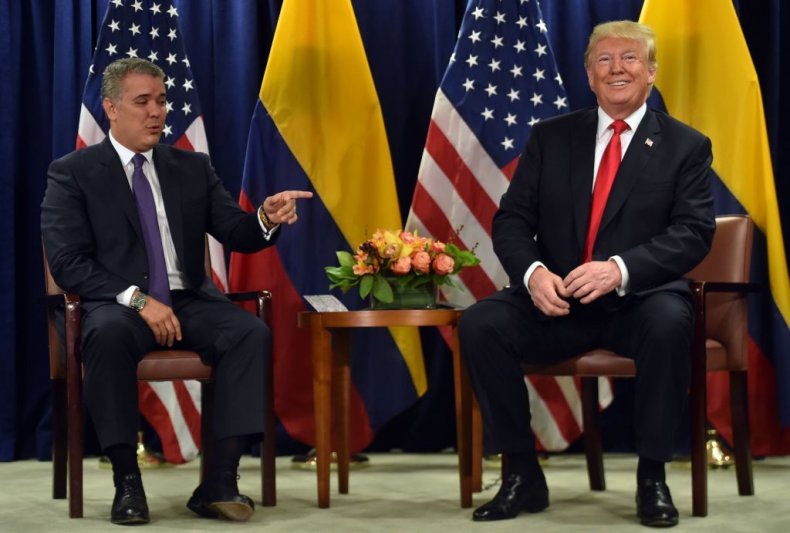 This week, Colombia, along with 129 other countries signed a new drug policy document, in an initiative led by Washington. President Donald Trump and Duque have both touted the significance of the agreement.
"Yesterday, 130 countries signed this amazing declaration. So we're not going to drop the towel," Duque said ahead of a bilateral meeting with Trump on Tuesday. "And we want to continue the efforts against illegal drugs. It's not only prevention but it's also dismantling the cartels," he added.
But analysts have questioned the relevance of the document, calling it "problematic."
Hannah Hetzer, senior international policy manager for the New York–based research group Drug Policy Alliance, told The Independent that the document is "not legitimate." She said that the Trump administration has "ignored the advice" of the scientific and medical communities, which have put forward solutions to address overdose and addiction problems. Hetzer suggested that presenting the document served as a mere "photo op," saying that Trump has done little to address the opioid crisis in the U.S.