Colorado Governor Jared Polis has invited Disney to relocate to Colorado after Florida Governor Ron DeSantis' "socialist attacks" on the company.
"Florida's authoritarian socialist attacks on the private sector are driving businesses away," Polis tweeted on Tuesday. "In CO, we don't meddle in affairs of companies like @Disney or @Twitter."
Polis then made his pitch for a new theme park in Colorado. "Hey Disney we're ready for Mountain Disneyland," he continued—a statement DeSantis's office told Newsweek was "an odd invitation."
Polis' remarks come after DeSantis called on Florida lawmakers to dissolve Walt Disney World's 55-year-old special status, which allows the theme park to self-govern its own special district.
It is the latest development in the ongoing feud between the Florida governor and Disney after the media giant publicly opposed the state's recently passed parental rights bill, which critics have dubbed the "Don't Say Gay" bill.
The bill, which DeSantis signed into law last month, prohibits the classroom discussion of sexual orientation and gender identity from kindergarten through the third grade.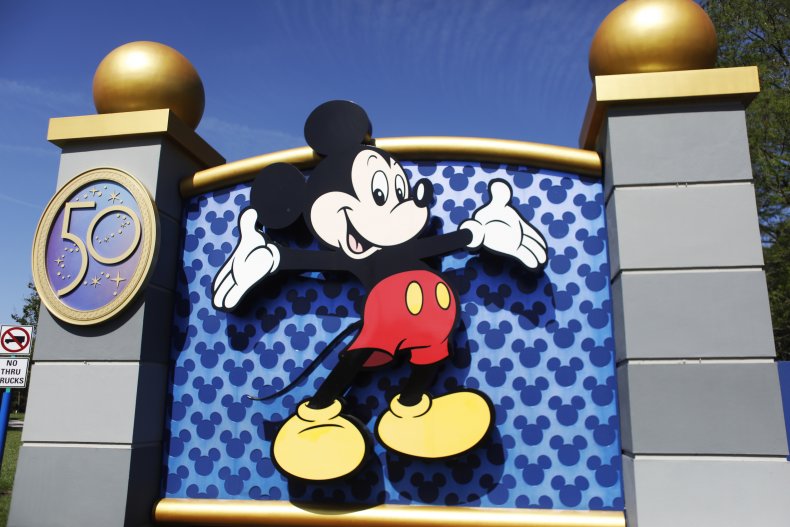 On Wednesday, Florida's Republican-controlled senate voted 23 to 16 in favor of stripping Disney of the status that grants the company authority over its massive Florida property. The special districts in question include Reedy Creek Improvement District, which covers Walt Disney World, and were established in 1967.
House Republicans are also expected to approve the move, which would take effect June 1, 2023.
Polis said that Colorado would happily welcome Disney should the company want to pack its bags and move to the west coast.
"We will grant Mickey and Minnie full asylum in Colorado," Polis tweeted.
"It's an odd invitation, as Twitter and Disney's headquarters are both currently in California. But, we will not get into an argument with Governor Polis over this – critics will say what they will," DeSantis' press secretary Christina Pushaw wrote to Newsweek.
Polis is not the only governor to have weighed in on the dispute between DeSantis and Disney.
California Governor Gavin Newsom also criticized DeSantis, calling his proposal "the move of an authoritarian regime."
"THIS is what 'business friendly' means? We protect free speech in California. We help our businesses grow, thrive, and invent the future," Newsom tweeted on Tuesday. "Punishing businesses for speaking out against hatred is the move of an authoritarian regime."
DeSantis also announced plans to prevent billionaire Elon Musk from taking over Twitter on Tuesday, saying he was "going to be looking at ways the state of Florida potentially can be holding these Twitter board of directors accountable for breaching their fiduciary duty."
Polis also invited Twitter to launch headquarters in Colorado, regardless of "whoever your owners are."
The social media giant is currently headquartered in San Fransisco but has offices in both Miami and Boulder, Colorado.
Newsweek reached out to Disney and Twitter for comment.
Update 4/20/22 5:01 p.m. ET: This story was updated with Pushaw's comments.
Correction 4/21/22 10:38 a.m. ET: An earlier version of this story said the change would take effect June 1, 3023.