Colorado Senator to Draft Bill Allowing Stricter Gun Laws in Cities Than State After Boulder Shooting
The day after a shooting at a Boulder, Colorado, supermarket killed 10 people, a state senator said he is drafting a bill would repeal a 2003 law that prevents city gun laws from superseding state gun laws.
"Accelerated" discussions are occurring in the state legislature over repealing the 2003 law, State Senate Majority Leader Steve Fenberg said to the Denver Post. This bill would allow the city to set its own terms on guns, but repealing the law wouldn't mean Boulder creating gun laws less strict than those of the state, Fenberg said.
The law Fenberg holds in question provides that "a local government may not enact an ordinance, regulation, or other law that prohibits the sale, purchase, or possession of a firearm that a person may lawfully sell, purchase, or possess under state or federal law. Any such ordinance, regulation, or other law enacted by a local government prior to March 18, 2003, is void and unenforceable."
The bill is still in the draft process, Fenberg confirmed to Newsweek, and there is no official language on repealing the law at this time.
"We started looking into this right after the court ruling came out last week about Boulder's assault weapons ban, and there's still more work to do before it's introduced," Fenberg said.
The Democratic state lawmaker's move to repeal the 2003 law comes after Ahmad Al Aliwi Alissa, 21, opened fire with a Ruger AR-556, killing 10 shoppers at the King Soopers supermarket Monday afternoon. The killings occurred just days after the city's assault-weapon ban was blocked by a judge under the 2003 law.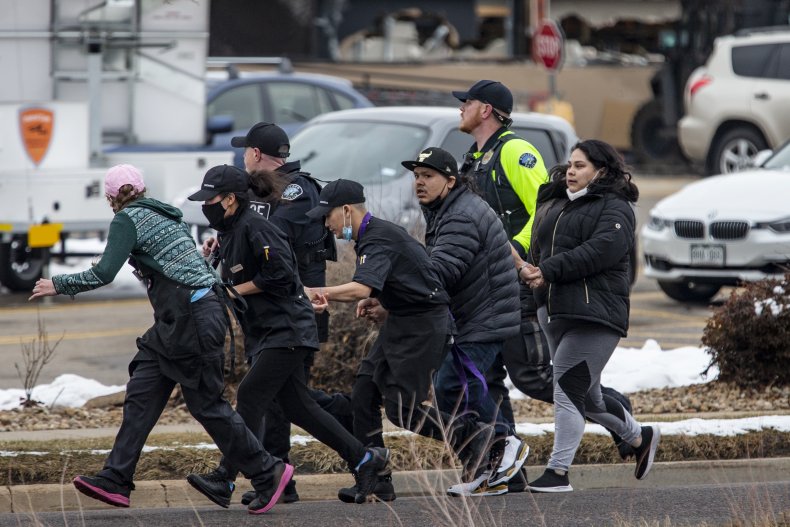 Leaders in the city of Boulder passed a ban of assault-style weapons nearly three years ago in order to prevent another mass shooting from occurring, the Associated Press reported. But in a lawsuit just days ago backed by the National Rifle Association (NRA), a judge ruled that local officials could not make up their own gun laws which supersede state laws, ultimately blocking the city's assault-weapon ban.
"I didn't know how relevant and timely it was until yesterday," Fenberg said to the Post. "It's not like if the city of Boulder had had that ban in effect, that this wouldn't have happened. But it doesn't mean it's not a relevant conversation and tool that communities should have."
Over 40 states in the U.S. have similar preemption laws like the 2003 measure, sometimes charging severe fines to local officials if they set their own gun policies. Supporters of the NRA's suit raised concerns that allowing cities to draft their own laws could create a confusing web of different rules across the state. The NRA has rebuked repealing the 2003 law, stating it was counter-productive, according to the Associated Press. Counter arguments uphold that preemption laws intimidate local officials from creating their own policies.
"At a minimum, communities should have a say in how to best keep their people safe," Fenberg said. "There isn't one single solution to this crisis, but I don't accept that as an excuse to do nothing. Many say it's too soon to talk about policy, but for these 10 innocent people, it's clearly far too late. We can't shy away from having hard conversations that could lead to preventing the next tragedy."
Fenberg's action in response to the shooting contrasts with that of GOP Rep. Lauren Boebert of Colorado and shows how partisan the issue is in that state. Boebert condemned the shooting but received rebukes for active support of looser restrictions on guns. She posted to tweeted she was "praying" for the police and implored, "God be with us as we make sense of this senseless violence."
Fenberg said that the "vast majority" of Coloradans believe it's "more than reasonable" to allow local governments to pass local ordinances on guns "to protect their community."
"It's incredibly infuriating," Fenberg said of the shooting to host Brian Williams on MSNBC Tuesday. He added that Colorado has been working on gun law reform "quite a bit," but urged President Joe Biden and Congress to use their powers rather than "thoughts and prayers" to "think long and hard" about the fact that this is a time for policy-making.
"What we really need is national legislation if we're going to have the most meaningful impact on gun violence," Fenberg said. "Short of that, we need comprehensive protections at a state level. However, that doesn't mean we shouldn't do everything in our power to prevent further tragedies at the local level if we can."
Update: This story has been updated to include comments from Fenberg.