As Colorado's Lauren Boebert Condemns Shooting, Critics Flag Her Relationship with Guns
Representative Lauren Boebert from Colorado, renowned as one of Congress' most ardent Second Amendment supporters, has been criticized for her comments following a mass shooting at a supermarket in her state.
A police officer was among ten people who were killed when a gunman opened fire at the King Soopers grocery market in Boulder, about 28 miles northwest of Denver, on Monday, in the second mass shooting in the U.S. in a week.
Boebert, who represents the state's third congressional district, tweeted: "As we continue to hear the news coming out of Boulder, I'm praying for the police, first responders, and those affected by this tragedy. May God be with us as we make sense of this senseless violence, and may we unify and not divide during this time."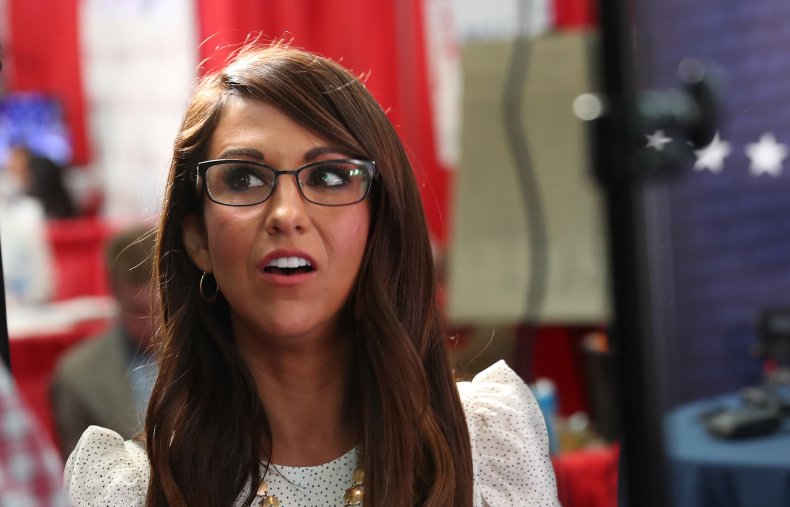 But a number of Twitter users pointed to her vocal support for gun rights as part of the problem. She has hinted that she carries a gun to work, and once appeared at a virtual committee meeting in front of a gun display.
Scientist and lecturer, Trish Zornio, replied to her tweet with the message: "People like you are directly responsible for MY friends, MY family & MY community being put in harms way. You're literally killing ppl."
Jeremy Danner tweeted: "Congresswoman whose identity is based on carrying a gun on her thigh says what?"
The writer, Alissa Walker, wrote: "Interesting that you of all people can't make sense of this."
Author Kurt Eichenweld tweeted: "Maybe if people like you would treat guns with respect and not use as props to 'show' toughness by implying you're willing to shoot political opponents, your words would have meaning. Real gun owners know people like you feed violence by your infantile gun fetishism & recklessness."
Writer and comedian Mike Drucker tweeted: "The violence wasn't senseless. In fact, this is exactly what you've been fighting for. If anything, I'd think this makes complete sense to you, the person who helped this happen and will keep fighting to make sure it keeps happening."
Former tennis star Martina Navratilova tweeted: "I don't think God wants us to have all those guns. Right , pro lifer Lauren?!?" referring to her strong anti-abortion stance.
Newsweek has contacted Boebert's office for comment.
After the shooting, police detained an injured, shirtless suspect but have given no motive for the attack. Boulder police chief Maris Herold said that an investigation was underway and would take "no less than five days to complete."
"I want to reassure the community that they are safe," she said, also revealing that the officer killed was Eric Talley, a 51-year-old who had been with the Boulder police department since 2010.
The graphic below provided by Statista outlines gun ownership in the U.S. over the last five decades.