Atlanta Shooting Suspect's Church Expels Him, Says He Has 'Depraved Mind'
The church that counted the suspect in the Atlanta area spa shootings as a member of its congregation has expelled him, calling the attacks the result of a "sinful heart and depraved mind."
In a lengthy statement posted on its website, the Crabapple First Baptist Church in Milton, Georgia disavowed 21-year-old Robert Aaron Long.
Long has been charged with eight counts of murder and one count of aggravated assault.
On its website, the church said it had completed the process of removing Long from its membership because it "can no longer affirm that he is truly a regenerate believer in Jesus Christ."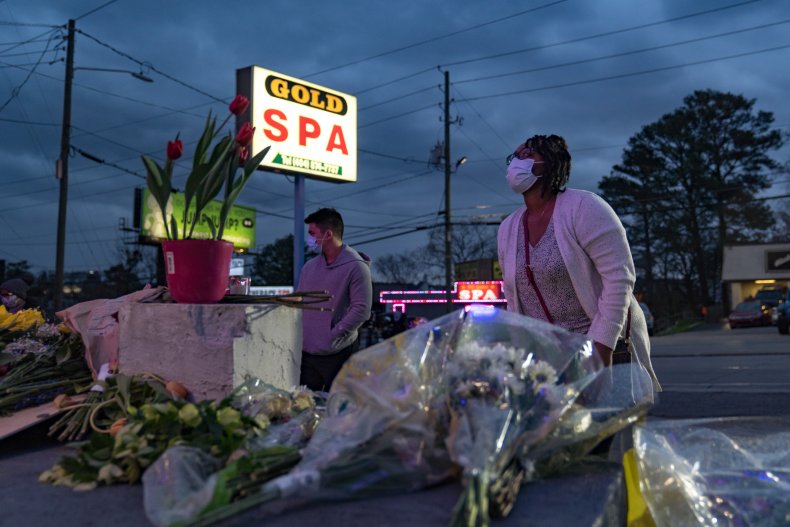 The Washington Post reported that church members voted to expel Long following an hour-long service dedicated to the victims of the shootings on Sunday.
In the immediate aftermath of the shootings, the church had issued only a brief statement that didn't mention Long. It also shut down its website and social media accounts. In the statement, the church said it did so out of an "abundance of caution" to protect the safety of its members.
The church and its congregants were "absolutely distraught" when they learned the alleged gunman was a member, the statement said, adding that Long's family have belonged to the church for many years.
"We watched Aaron grow up and accepted him into church membership when he made his own profession of faith in Jesus Christ," it said. "These unthinkable and egregious murders directly contradict his own confession of faith in Jesus and the gospel."
It continued: "Aaron's actions are antithetical to everything that we believe and teach as a church. In the strongest possible terms, we condemn the actions of Aaron Long as well as his stated reasons for carrying out this wicked plan."
Authorities have said they are still working to determine what prompted Long to carry out the shootings.
At a news conference last week, law enforcement officials said he had told them the attacks were not racially motivated. Instead, Long claimed to have a "sex addiction" and the shootings were a way to eliminate temptation.
Those remarks caused an immediate outcry, given the suspect appeared to have targeted Asian-owned spas and six of the victims were women of Asian descent.
Crabapple First Baptist Church said "no blame" can be placed on the victims and that Long alone is "responsible for his evil actions and desires."
The church's statement added: "These actions are the result of a sinful heart and depraved mind for which Aaron is completely responsible."
The church said it does not teach that acts of violence are acceptable against "certain ethnicities or against women" and said it categorically rejects the idea that that women are responsible for men's sexual sin against them.
"We repudiate any and all forms of misogyny and racism," it said.
"We categorically reject the idea that violence is appropriate, regardless of one's issues or motivations. Murder, especially, is a heinous evil and grievous sin. We also explicitly denounce any and all forms of hatred or violence against Asians or Asian-Americans."
The church added that it would continue to pray for the families of the victims and that it deeply regrets "the fear and pain Asian-Americans are experiencing as a result of Aaron's inexcusable actions."
The church also said it has been cooperating with law enforcement and members are praying for "both earthly justice and divine justice."