Church Robert Aaron Long Attended Removes Social Media in Wake of Atlanta Massage Parlor Shootings
The Southern Baptist church attended by the Atlanta-area mass shooting suspect Robert Aaron Long took down its social media and website in the wake of the attacks that left eight people dead on Tuesday evening.
Long, 21, was a member of the Crabapple First Baptist Church in Milton, Georgia, and screenshots of since-deleted social media posts suggest he was re-baptized there about three years ago. There is no evidence to suggest that the church was involved in any way with Long's decision to allegedly carry out the killings.
In a statement, elders of the church expressed grief over the violence.
"We are grieved to hear the tragic news about the multiple deaths in the Atlanta area. We are heartbroken for all involved," they said in a statement emailed to Newsweek. "We grieve for the victims and their families, and we continue to pray for them. Moreover, we are distraught for the Long family and continue to pray for them as well." The statement was first reported by Heavy.
As of Wednesday morning, Crabapple First Baptist Church's Facebook and Twitter pages were no longer online. An Instagram page for the church was set to private, and its website was no longer available without private login information.
Newsweek reached out to the church by phone for further comment, but did not immediately receive a response.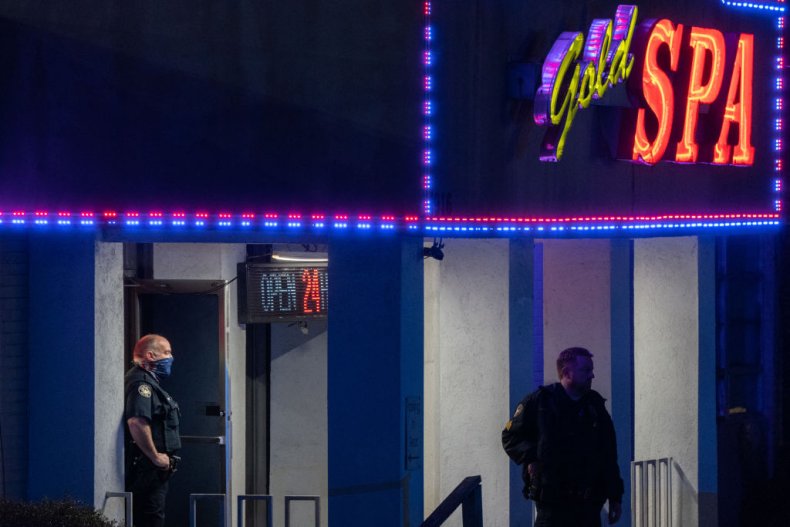 The Daily Beast reported on a 2018 video of Long talking about his Christian experience, which was previously posted to the church's Facebook.
"As many of you may remember, when I was 8 years old I thought I was becoming a Christian, and got baptized during that time. And I remember a lot of the reason for that is a lot of my friends in my Sunday school class were doing that," Long reportedly said in the clip. "And after that time, there wasn't any fruit from the root that is our salvation."
Long went on to compare his personal spiritual journey to that of the "Prodigal Son" from a parable told by Jesus in the Gospel of Luke in the New Testament of the Bible. In that story, a son takes his inheritance, leaves his family, and lives a life of "sin." After losing everything, the son returns to be welcomed home by his father.
"And by the grace of God, I was able to draw the connection there and realize this is a story between what happened with me and God. I ran away living completely for myself, and he still wants me, and so that's when I was saved," Long said in the video.
The eight victims from the shootings included six Asian women, leading to widespread speculation that they constituted a racially motivated hate crime. The shootings took place at Young's Asian Massage, Aromatherapy Spa and Gold Spa. Police said Long may have previously frequented the businesses.
Georgia's Cherokee County Sheriff's Office Captain Jay Baker said Long admitted to the shootings but claimed they were connected to a "sex addiction," not racially motivated.
"He does claim that it was not racially motivated. He apparently has an issue, what he considers a sex addiction and sees these locations as something that allows him to—to go to these places and it's a temptation for him that he wanted to eliminate," Baker said during a Wednesday morning press conference. "Like I said, it's still early on [in the investigation] but those were comments that he made."
Atlanta Mayor Keisha Lance Bottoms said Wednesday that Long was headed toward Florida to possibly carry out more killings. She added, "this could have been worse."
This article has been updated with a statement from the leaders of Crabapple First Baptist Church.