Papa John's Sponsorship: Here Are Companies, Teams That Cut Ties After After John Schnatter Used N-Word
Companies, groups, sports teams and universities are ditching Papa John's pizza after the company's founder was found to have used the n-word on a conference call.
In the wake of the scandal, John Schnatter, otherwise known as Papa John, stepped down as chairman of the company. He'd stepped down as CEO at the beginning of the year, after a tumultuous time for the company.
Forbes broke the news that Schnatter, in a May conference call while responding to a question about the NFL protests, said "Colonel Sanders" called black people the n-word, while lamenting he never faced consequences for that.
Schnatter had apologized but continued to defend himself.
"It wasn't a slur. It was a session on strategy and media planning and training, and I repeated something that somebody else said, and said we're not going to say that," Schnatter told CNN. "We don't use that kind of language and vocabulary. And sure, it got taken out of context, and sure, it got twisted, but that doesn't matter. I hurt people's feelings. That's what matters here. And for that I'm sorry."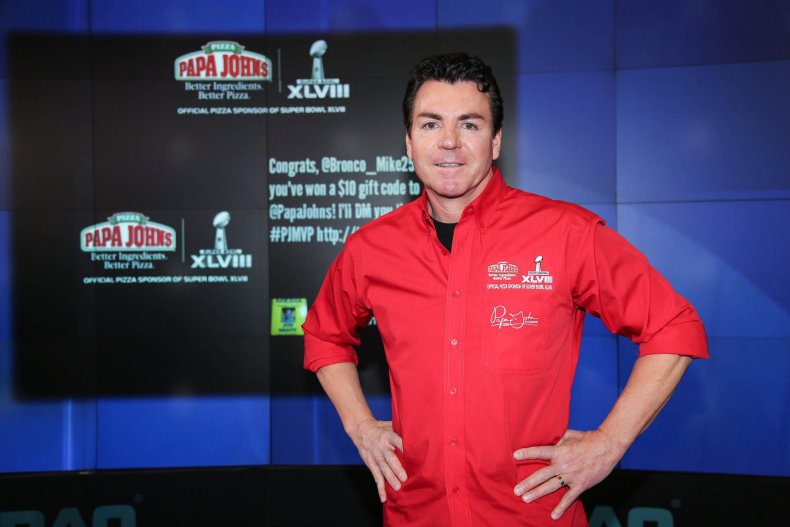 While Schnatter is no longer the chairman of Papa John's, he still owns about 30 percent of the company's shares.
A number of companies, sports teams, sports leagues, universities and groups have broken their partnership with Papa John's amid the news that the founder used the n-word in a call. Here's a list:
-New York Yankees: suspended relationship
-Baltimore Orioles: suspended relationship
-Miami Marlins: suspended relationship
-Tampa Bay Rays: suspended relationship
-Major League Baseball: suspended "Papa Slam" promotion
-Kansas City Royals: suspended promotions
-Washington Nationals: suspended relationship
-Minnesota Twins: indefinitely suspended relationship
-Texas Rangers : canceled promotion indefinitely
-Seattle Mariners: suspended relationship
-AMB Sports and Entertainment (Atlanta Falcons, Atlanta United, Mercedes-Benz Stadium): suspended relationship
-Atlanta Braves: suspended relationship
-University of Louisville: Schnatter left the school's board of trustees, and the university changed the name of the football stadium from Papa John's Cardinal Stadium to Cardinal Stadium
-Jeffersonville, Indiana: Schnatter's hometown returned a $400,000 donation for a new gymnasium
-Seattle Seahawks: ended partnership
-Morehouse College: ended campus dining business relationship
-University of Kentucky: discontinued financial relationship with Schnatter and will no longer be recognized by their school of business and economics
-PR agency Olson Engage: severed ties with Papa John's
-FC Dallas: suspended promotion
-Orlando Magic: suspended partnership
SaveSave