Congressman Ruben Gallego Says He Might Battle Arizona Senator Kyrsten Sinema in Primary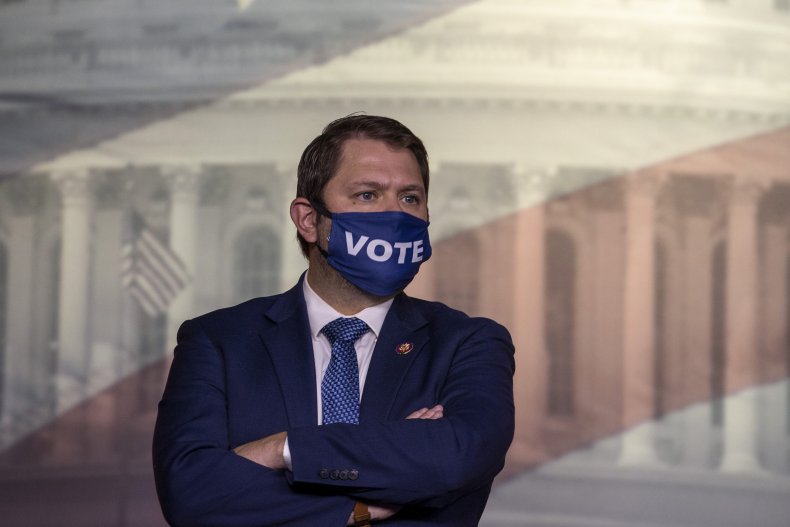 Representative Ruben Gallego (D-Ariz.) refused to rule out a 2024 Democratic primary challenge against Senator Kyrsten Sinema (D-Ariz.) this week as she faced heavy criticism for refusing to support changing Senate filibuster rules.
Serious efforts to draft Gallego as a progressive challenger to Sinema began last year. While Gallego has not committed to running against her, he has hinted at his potential candidacy as Democratic furor aimed at both Sinema and Senator Joe Manchin (D-W.Va.) increased over their refusal to back filibuster reform to pass voting rights legislation.
"I'm not going to make that determination right now; the citizens of Arizona will make that determination," Gallego said in response to a question about facing off against Sinema during an MSNBC interview on Tuesday.
"My issue is that she is ignoring the will of her voters," he continued. "She hasn't had a town hall for 3 1/2 years; she's avoiding really talking to Arizonans about what is going on and why she is continuing this obstructionism."
Gallego told CNN last week that he was "focusing on" his 2022 House re-election campaign while noting that a 2024 challenge to Sinema remained a possibility.
"I never say no to the future," said Gallego. "Right now, you hear a lot of Arizonans that are very unhappy with the fact that [Sinema] is blocking voting rights legislation."
"So, I'll keep my ears open, I'll continue to have my public meetings—something that she should try to do once in a while—and then I'll make a determination after 2022," he added.
Sinema and Manchin, who have become frequent Democratic obstacles to passing much of President Joe Biden's agenda, were the only members of the president's party to join forces with Republicans in voting against altering the Senate's filibuster rules to require a "talking filibuster" for voting rights bills on Wednesday.
Republicans had blocked advancement of the John Lewis Voting Rights Advancement Act and the Freedom to Vote Act shortly before the filibuster reform failure. While Sinema's vote against the filibuster rules change was expected, it quickly provoked anger from many on the left.
A number of Sinema's former campaign donors including abortion rights organizations withdrew their endorsements, while her former aide Erika Andiola said that she was "so ashamed to have worked for" Sinema while she served in the House and was "ready to support the primary challenger" for her Senate seat.
Senator Bernie Sanders (I-Vt.) also lashed out at the vote and indicated that he might support a challenger to Sinema's seat. The progressive 2016 and 2020 Democratic candidate for president said that both Sinema and Manchin had "undermined" Biden's agenda and "can expect to find primary challenges."
Last year, the Nuestro PAC began its "Run Ruben Run" effort, specifically lobbying Gallego to challenge Sinema. The group's founder, Sanders 2020 campaign veteran Chuck Rocha, told Newsweek that the group had already secured $1 million in commitments by September. A friend of Gallego told Newsweek at the time that he had "serious interest" in running against Sinema.
The Primary Sinema PAC is also working to defeat Sinema with a Democratic primary challenge, although the first-term senator has not yet officially announced that she will be seeking a second term.
Newsweek reached out to the offices of Sinema and Gallego for comment.