Congressman Sean Casten's 17-Year-Old Daughter Dies
Representative Sean Casten announced on Monday that his 17-year-old daughter, Gwen Casten, had passed away after police responded to a call at the family home in Downers Grove, Illinois.
Casten is a Democrat who represents Illinois' 6th district and his official Twitter account shared the tragic news. It did not provide details about his daughter's death.
"This morning, Congressman Casten's beloved daughter, Gwen (17), passed away," the tweet said. "The Casten family requests privacy, and we will be issuing no further comment during this heartbreaking time."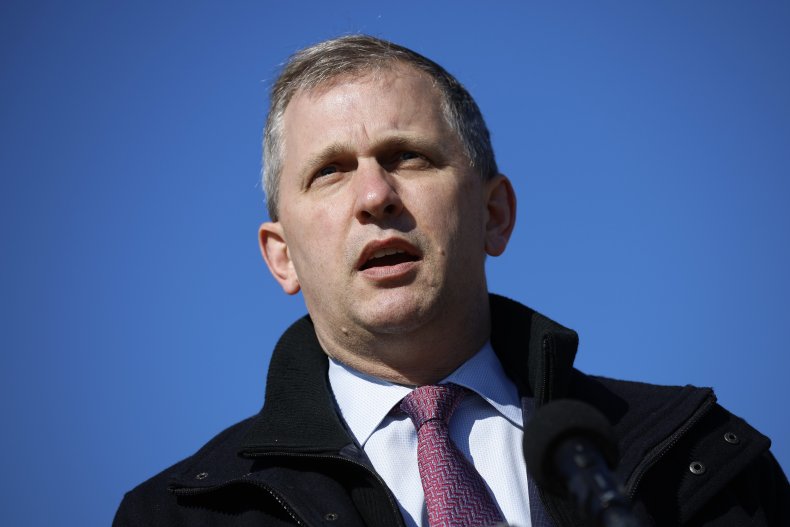 Police attended Casten's home at 6:48 a.m CT (7:48 a.m. ET) on Monday and found the 17-year-old unresponsive, according to Downers Grove police. Police said that the first responders determined that Gwen Casten had passed away.
The DuPage County Coroner's office also attended the scene and an investigation is underway into Gwen Casten's cause of death.
In February, Representative Casten's campaign Twitter account shared a photo of the congressman with his daughter and noted that this would have been the first year she could vote. Gwen was pictured holding a petition.
"It's a big year in the Casten household! Sean's daughter will be voting in her first election and was able to sign the petition for her dad," the tweet said.
Casten is seeking a third term in Congress but Illinois' 6th district has been newly redrawn. As a result, he is facing incumbent Democratic Representative Marie Newman, who currently represents the state's 3rd district, in the Democratic primary, as well as Charles Hughes, who works in operation tech.
"My heart breaks for the Casten family for the devastating loss of their daughter. My prayers are with Sean, Kara, and the entire Casten family," Newman tweeted on Monday.
Casten and his wife Kara are the parents of two daughters.
Newman's campaign said it would suspend all comparative campaign advertising "immediately," according to a report from The Chicago Sun-Times.

The Democratic primary in the newly redrawn 6th district will take place on June 28, while early voting began on May 19. Both Casten and Newman won significant victories in the 2020 congressional elections.
Casten won 52.8 percent of the vote in the former 6th district, while Newman won 56.4 percent in the former 3rd district.
Both Democrats are running in the new 6th district as it includes areas from both their former districts, such as Downers Grove and DuPage County in Casten's old district and southwestern Cook County in Newman's old district.
According to poll tracker FiveThirtyEight, the partisan lean of the new 6th district is Democrat +6, meaning whichever Democratic candidate wins the primary is highly likely to win in November's general election.