'Miracle' Conjoined Twins Born Fused at Chest 'Constantly Hug Each Other'
The parents of conjoined twins born in March have described their six-week-old daughters as "miracles."
Annabelle and Isabelle Bateson were born at the University College Hospital, London, to Hannah and Dan Bateson from County Antrim in the northeast of Northern Ireland.
The baby girls are joined from the chest to the pelvis and share a liver, a bladder, and a bowel, but have separate hearts, The Irish News reported. Hannah Bateson said the twins "constantly hug each other," adding: "They're miracles. Miracles is the word we have used from the day we found out we were having them."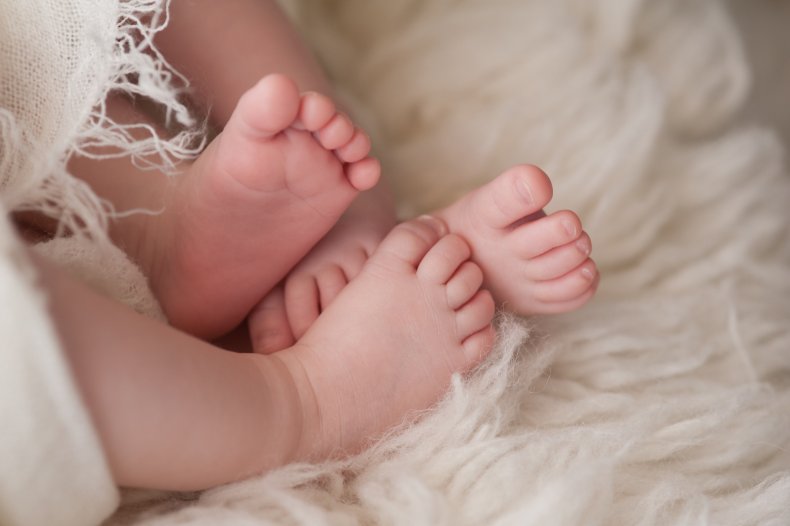 The Bateson's initially discovered their daughters were different during a 12-week scan. Hannah Bateson told UTV: "I think a normal feeling is to feel very nervous going to scans, especially first pregnancies but we were both committed to the pregnancy.
"You felt in limbo because we knew they were conjoined but we knew so little about the information, of the extent of the conjoin."
She went on to say that hearing her daughters' first cries "was like the weight of the world had been lifted off your shoulders. It was a relief and you felt that relief throughout the whole team. That relief was just unbelievable."
Surgery to separate Annabelle and Isabelle Bateson will begin next month. Following the separation they will have one leg and one prosthetic leg each, according to their mother who said they will face ongoing surgeries for the rest of their lives.
She said: "We'll be coming back here for the next 18 years—which is a very scary thing to say but if we're coming back for the next 18 years, it means the girls survived."
The Children's Hospital of Philadelphia says that conjoined twins occur once in around every 50,000 to 60,000 births, stating that approximately 70 percent of conjoined twins are female.
The Mayo Clinic says that conjoined twins develop when an embryo during the early stages of pregnancy only partially separates to form two individuals. This means that the two fetuses which develop from this embryo will remain physically connected.
According to The Children's Hospital of Philadelphia, 75 percent of conjoined twins are joined at the chest or upper abdomen lying face to face and sharing organs, as is the case with Annabelle and Isabelle Bateson. Of other conjoined twins, 23 percent are joined at the hips or legs, and just 2 percent of conjoined twins are joined at the head.
The Children's Hospital of Philadelphia has successfully separated 28 sets of conjoined twins, and the hospital has also cared for many conjoined twins who could not be surgically separated, usually because they share a heart.