Angry Monster Tiger Muskie Caught by Connecticut Fisherman
A Connecticut fisherman has shocked social media users by catching two enormous tiger muskies in the state's Lake Lillinonah.
Measuring 41 inches and 42 inches, respectively, the two fish were released after being caught by Oxford resident Joe Rivas. The former was caught earlier this month, with the 42-inch one caught a couple of weeks later.
The tiger muskie, also known as the tiger muskellunge, is a large carnivorous fish that is a member of the pike family. Specifically, the fish is a sterile cross between the northern pike and the muskellunge.
The fish has a long, cylindrical-shaped body and a prominent snout. The average size of the fish varies with age, but mature adults can grow to between 34 and 48 inches and weigh more than 30 pounds, according to the Washington Department of Fish and Wildlife (WDFW).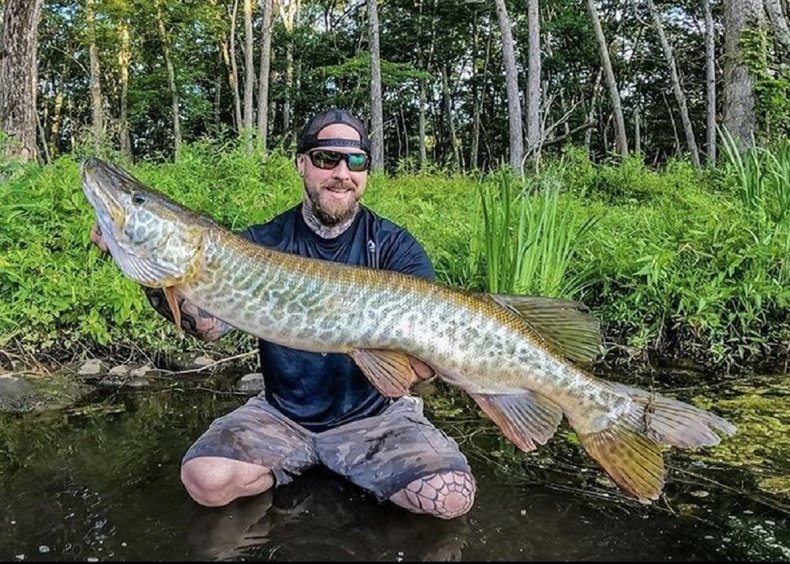 Tiger muskies have a reputation for being difficult to catch and have earned the nickname "fish of a thousand casts," the WDFW says. The fish tend to hunt other large fish, like the northern pikeminnow, and anglers sometimes have to use large lures to catch them.
On July 28, the Connecticut Fish and Wildlife shared an image of Rivas holding one of the tiger muskies he'd just caught, highlighting just how big the fish are.
"How's your summer fishing going?" the wildlife department wrote in a Facebook post. "Thanks to Joe for sharing this photo of an impressive tiger muskie he recently caught."
People took to the comments section to remark on the size of the catch.
"I don't want to swim anywhere anymore," one Facebook user wrote. "What a monster!" wrote another.
Speaking to Danbury newspaper the News-Times, Rivas described the fish as "angry" and said his adrenaline "went through the roof" when he realized what he had caught.
Despite releasing the fish, Rivas said he was planning to have a taxidermist make a replica of the 41-inch one he caught, which he said was "the fish of a lifetime." That particular fish weighed in at 26 pounds, the News-Times reported, while the 42-inch one was not weighed.
Despite the huge size of the fish Rivas caught, it's not a world record for tiger muskies. According to the website ModernMuskieRecords.org, the world record tiger muskie was a 44-pound, 4-ounce fish caught in Idaho by Ed Kalinowski.
Meanwhile the longest catch and release freshwater fish caught in Connecticut was a 45.75-inch northern pike. It was caught in the Housatonic River in Falls Village by David Jones in 2009, according to the Connecticut Department of Energy and Environmental Protection.