Twitter Account Linked to Connor Betts Suggests Dayton Shooter Was Democrat-Supporting Satanist: 'I Want Socialism, and I'll Not Wait for the Idiots'
A now-deleted Twitter account that appears to belong to the Dayton shooter Connor Betts suggests the 24-year-old was a Democrat-supporting, gun-loving Satanist.
It follows other reports suggesting that Betts was known as a violent misogynist who once as a high school student compiled a list of girls to rape.
Police in Ohio are still searching for a motive as to why Betts shot and killed nine people, including his own sister, and injured 27 others at the Ned Peppers Bar on Sunday night.
Betts died within a minute of starting his massacre, shot dead by armed officers who raced to the scene in Dayton's Oregon Historic District.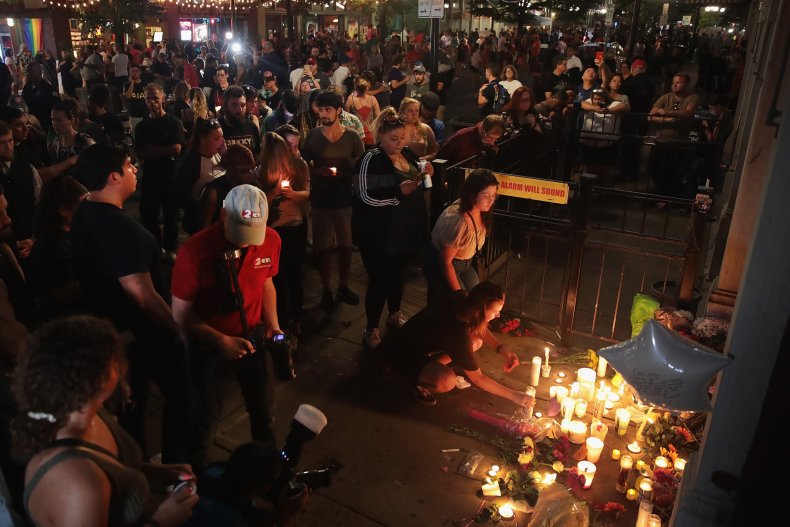 An anonymous Twitter account with the username @iamthespookster did not use Betts's name, but had posted selfies of a man who looks very similar and had the same distinctive tattoo.
The account, which had 301 followers, is now suspended by Twitter. Its bio read: "he/him / anime fan / metalhead / leftist / i'm going to hell and i'm not coming back" and the account made references to Satan.
According to Heavy, the account posted about the user's love of guns but also criticized Ohio's Sen. Rob Portman, a Republican, for his response to Florida's Parkland shooting.
Moreover, it tweeted calling southern border migrant detention centers "concentration camps"—echoing the language of progressive Democratic Rep. Alexandria Ocasio-Cortez—and urged: "Cut the fences down. Slice ICE tires. Throw bolt cutters over the fences."
The graphic below, provided by Statista, illustrates the number of people killed by firearms in America in the past five years.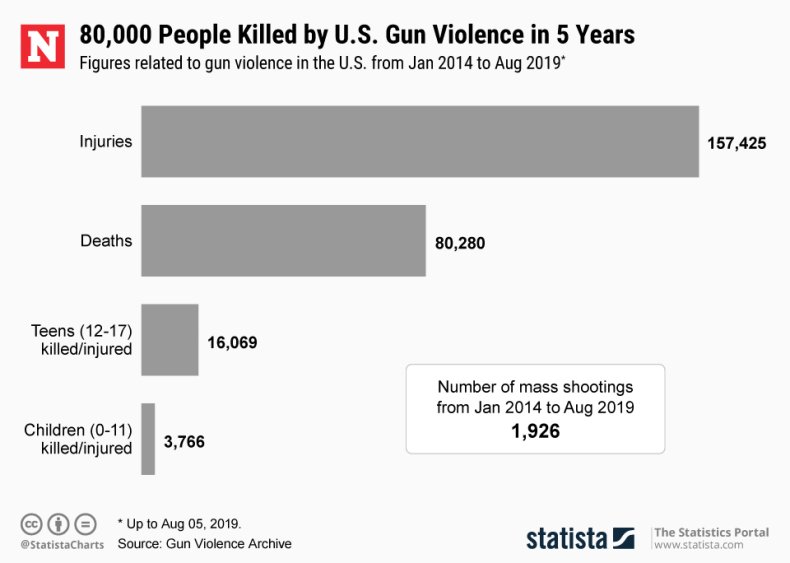 The account also expressed support for Massachusetts Sen. Elizabeth Warren, a candidate in the Democratic Party's 2020 primary, and had previously urged people to "vote blue."
One other tweet read: "I want socialism, and i'll not wait for the idiots to finally come round to understanding."
According to Vice, Betts was a singer in a metal band that played "goregrind" or "pornogrind" music, which is "known for sexually violent, death-obsessed lyrics and dehumanizing imagery depicting women."
Associated Press reported that Betts was suspended from high school for compiling a "hit list" and a "rape list" of other students who were targets for violence.
"Most people avoided him," a male former student at the same school as Betts told AP. "He would say shocking things just to get a reaction. He enjoyed making people feel scared."
The Twitter account had followed closely the shooting in El Paso, Texas, just a day before Betts launched his own gun attack.
Patrick Crusius, 21, is accused of entering a Walmart and killing 22 people, including children, in what appears to be a white supremacist terror attack. Police arrested him on Saturday.
Crusius posted a manifesto online before entering the store. It expressed hatred of Hispanic immigrants and used the same "invasion" rhetoric as President Donald Trump.
Fox News host Sean Hannity sought to downplay the political significance of either shooting after Trump's critics accused the president of inciting violence with his anti-immigrant stances.
"Clearly, while the shooter in Dayton and the shooter in El Paso had different ideologies, opposite political beliefs, they were both hate-filled psychopaths," Hannity said Monday night.
"This should be a time for mourning, prayer. We've got to help these families. This is not the time for political grandstanding and even fundraising. Really?
"Minutes after the attack, minutes, the media mob, Democrats raced to politicize these acts of violence.
"Raced to blame President Trump. Of course, but they are silent on the Politics of the Dayton shooter. What does that tell you? Does that not speak volumes?"