Conservative commentator Glenn Beck says "wokeism," not conservativism, is dividing Americans, calling the social justice ideology a "cult" to which half the country belongs.
Beck made the remarks in a video posted to Twitter Monday, saying it was time to call out "wokeism." The nationally syndicated talk show host follows other voices who have used the term "woke" as a culture war rallying cry to undermine their political opponents or stances in their own party.
Webster's Dictionary defines "woke" as: "Aware of and actively attentive to important facts and issues (especially issues of racial and social justice)." The term has been used to describe left-wing activists, and also to criticize them for their perceived doctrinaire postures that alienate the broader public.
In his monologue, Beck spoke grimly about the social effects of "wokeism."
"They are separating us from our families," Beck said. "They're telling their cult members not to listen to anyone else. Would a cult tell you to silence everyone? Or would a cult tell you, 'oh, be open-minded; listen to everybody'? Which one does a cult do?"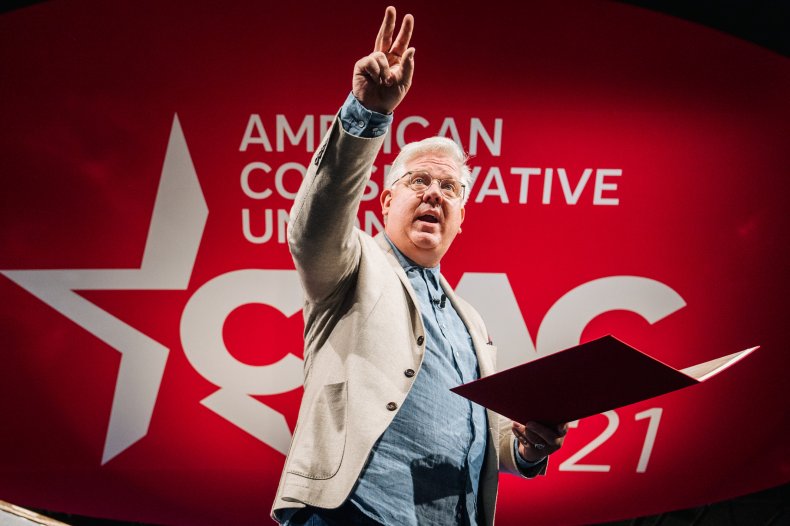 Beck encouraged his listeners to talk to their families and love them, despite disagreements or difficult conversations. He said "wokeism" instructs adherents to cut off family members with differing opinions.
"I'm not the extremist," declared Beck. "The cult that half of America worships today, those members are the extremists. And it's time we say it out loud without any fear: 'we are not afraid of, quite honestly, your evil cult."
He added, "We remain on God's side, hopefully."
Conservatives and Republicans have increasingly used "woke" to ostracize those who haven't staked out a sufficiently rightward stance on a particular issue.
Former President Donald Trump last week called Republicans who've pushed back on his debunked claims that the 2020 election was stolen of going "woke." Specifically, he used the label on Alabama Senate GOP candidate Mo Brooks, who has encouraged Republicans to put the election "behind" them.
Republicans have also used the term against the Walt Disney Company after it criticized parental rights legislation in Florida that some say would harm LGBTQ students. Indiana Representative Jim Banks accused Disney of giving in to "far-left activists through hypocritical, woke corporate actions."
The issue of wokeness has become a subject of debate within the Democratic Party as its faces tough prospects heading into the 2022 midterm elections. Commentators, including some more moderate Democrats, said the party's loss in last year's Virginia gubernatorial race is proof the "woke" label is weighing it down.
However, other have pushed back. New York Representative Ocasio-Cortez, a progressive Democrat, said last year on Twitter that if the party does poorly in the coming elections, it's because Congress has failed to pass voting rights legislation.
"Making up a 'woke' problem results in putting civil & voting rights on the backburner," she said. "In a year state legislatures are planning out GOP majorities & voter suppression, that's dangerous."
Newsweek has reached out to Beck for comment.