Trump Says Candidates Rejecting His Election Fraud Claims Have Gone 'Woke'
Former President Donald Trump accused Republican candidates, who rebuke his claims of the 2020 election being stolen, of going "woke" during a fundraiser on Thursday.
After he lost the election to President Joe Biden, the former president and his allies have pushed the idea that widespread voter fraud is to blame for his loss—even though no evidence has been presented to back up their claims. He has endorsed candidates, who also push this claim, however, while attacking Republicans that have rejected it.
Trump doubled down on his criticism during a fundraiser for Arizona gubernatorial GOP candidate Kari Lake, who is running for the governorship being vacated by Republican Governor Doug Ducey.
He praised those who have gone "all in" on the "fraudulent election" claims, but offered a sharp rebuke of others, including Alabama Senate GOP candidate Mo Brooks, who has encouraged Republicans to put the election "behind" them.
"He decided to go woke. He said 'let's not talk about that anymore. Let's go out and think to the future,'" Trump said.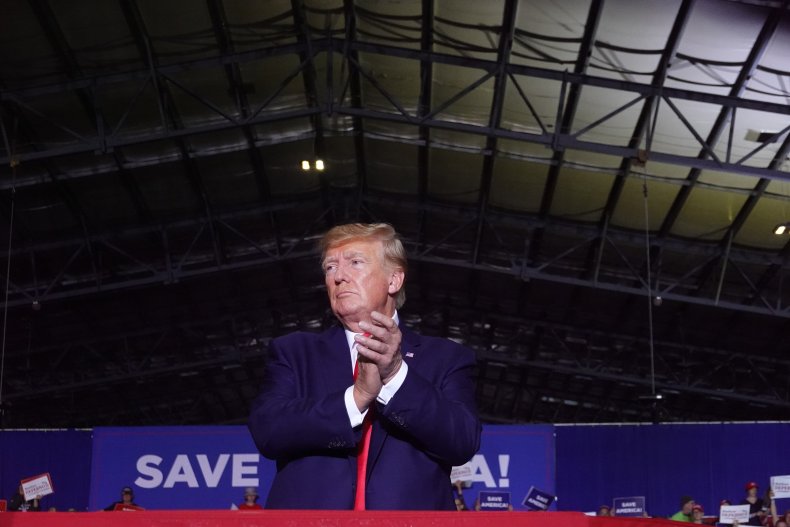 Trump initially endorsed Brooks, who currently represents Alabama's Fifth Congressional District. The congressman for years aligned himself with Trump's policy, but after his remarks on the 2020 election, the former president revoked his endorsement.
Brooks also took a hit at Trump Saturday night, tweeting: "This is happening because Trump's surrounded himself by staff who are on McConnell's payroll & hostile to the MAGA agenda. Everybody telling Trump who to endorse in primaries works for The Swamp. They played him. Again."
Trump has endorsed several candidates ahead of the midterm elections set to take place later this year, who have closely aligned themselves with his fraudulent election claims. Several of them have not only embraced the claims, but have made election security a key part of their campaign.
In Wyoming's At Large Congressional District, for example, he endorsed Harriet Hageman, who is challenging Representative Liz Cheney, a House Republican, who has vocally criticized his election fraud claims. In South Carolina's First Congressional District, he backed Representative Nancy Mace's challenger Katie Arrington, who has promoted his election fraud theories.
Still, some Trump-backed candidates have distanced themselves from the election fraud claims. Representative Ted Budd, who is running for Senate in North Carolina—a key battleground state—said Biden won the election, calling him "the legitimate president" in September 2021.
The former president brings up the election fraud theories in nearly every appearance at his rallies. During a speech in Michigan last week, he said: "The presidential election was rigged and stolen and because of that our country is being destroyed."
Newsweek reached out to the office of former President Trump for comment.