Conservatives Call for Dr. Anthony Fauci to Be Fired for Advising Against Indoor Dining
Republican Georgia Representative Marjorie Taylor Greene and other conservatives have publicly called for the firing of U.S. infectious diseases expert Dr. Anthony Fauci after he said it's "still not okay" to eat and drink inside of restaurants and bars.
During Fauci's Sunday appearance on the MSNBC's The Mehdi Hasan Show, the host asked Fauci whether he thought it was fine for Americans to dine and drink indoors in restaurants and bars.
"No, it's still not okay for the simple reason that the level of infection the dynamics of infection in the community are still really disturbingly high," responded Fauci, director of the National Institute of Allergy and Infectious Diseases (NIAID).
Fauci said that the U.S. had seen a recent uptick in newly confirmed COVID-19 cases after a decline. Fauci also noted that people who have been vaccinated against coronavirus should continue to avoid crowds, especially indoors where many people aren't wearing masks.
In an April 12 tweet, Greene included a clip of Fauci speaking to Hasan. She wrote, "The highest paid government employee in America is completely detached from the reality of the lives of Americans. He's CLUELESS. He's done enough damage to our country... #FireFauci."
Former attorney for President Donald Trump, Jenna Ellis, also linked to the video and wrote, "This is completely stupid. #FireFauci".
On the same day, Republican Kentucky Representative Thomas Massie tweeted a link to the video and wrote, "This is ridiculous. #FireFauci".
On April 2, Massie announced his co-sponsorship of Greene's "Fire Fauci Act." The legislation would cut Fauci's salary to zero. The bill would also direct the Government Accounting Office to conduct an audit of all of the NIAID's policy memos and correspondence.
"The audit will allow us to see what they knew about COVID-19, when they knew it, and how they responded internally to the disease," Massie wrote on Facebook. "The fact that Fauci was ever paid with tax-payer money is an embarrassment to the United States of America."
Fauci has long drawn the ire of conservative critics for failing to offer rosy assessments of the pandemic, as well as the social restrictions necessary for reducing its spread.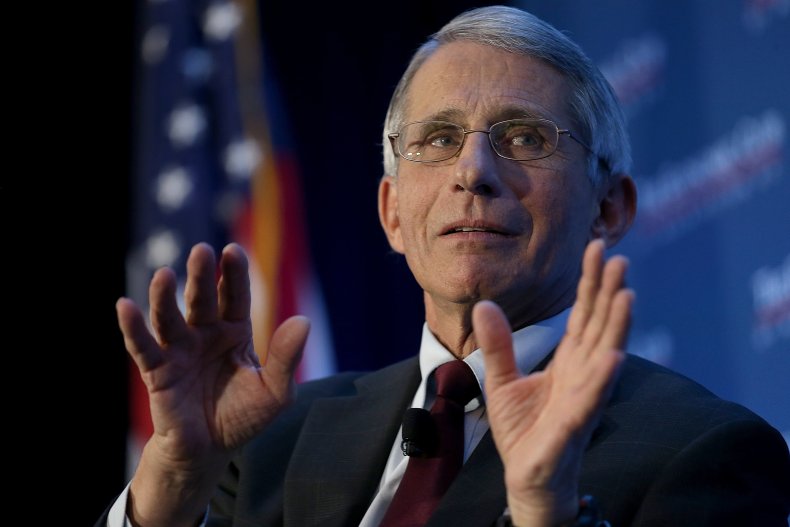 In March, Republican Senator Rand Paul of Kentucky criticized Fauci's continued use of a face mask despite being vaccinated as "just theatre." Fauci responded that it is important to continue wearing masks because the vaccination doesn't guarantee complete immunity against COVID-19 variants.
In February, The View's Meghan McCain, a conservative talk show host, criticized Fauci for being unable to explain when she'd be eligible for a vaccine or whether a vaccine would enable her to resume dining with her extended family.
On January 21, Fox News host Laura Ingraham labeled Fauci as "Dr. Doom" when he began discussing COVID-19 variants.
During Trump's presidency, Fauci repeatedly contradicted Trump on issues such as the pandemic's death toll and the efficacy of hydroxychloroquine as a COVID-19 treatment. In one particular instance, Trump accused Fauci of wanting to keep the nation's schools closed "for years."
Newsweek contacted NIAID for comment.