Conservatives are livid over Oregon's "Menstrual Dignity Act" that will require schools to place period products in all restrooms, including those for boys, in an effort to be more inclusive.
In July 2021, Oregon's Democratic Governor Kate Brown signed a bill requiring all schools—elementary, middle and high schools—to provide free period products to students and instructions on how to use them. Conservatives are claiming the left is using the opportunity to push an LGBTQ agenda.
"When will this insanity stop! Only when Democrats are no longer in positions of authority and are prevented from pandering to minorities like the LGBT crazies," a Twitter user wrote.
During the 2021-22 school year, the Portland Public School (PPS) board began a phased approach to the legislation by placing period products in female and all-gender bathrooms in comprehensive high schools, according to a PPS release.
In the state's guidance, school officials are instructed to use gender-affirming language like "menstruating students" instead of "girls" and "menstrual products" in place of "feminine hygiene products."
Some believe this rhetoric isn't inclusive at all but erases females and blurs sex-based distinctions. For example, the state guidance also encourages teachers to say "someone with a uterus and ovaries" instead of women or girls.
"I and many Oregonian women find your Menstrual Dignity Act an affront to women," a Twitter user said. "Only females can menstruate. Only females should be in the female restroom, and only males should be in the male restroom."
The Oregon Department of Education said the law affirms menstrual dignity for transgender and non-binary students while "minimizing negative attention" they might receive during menstruation.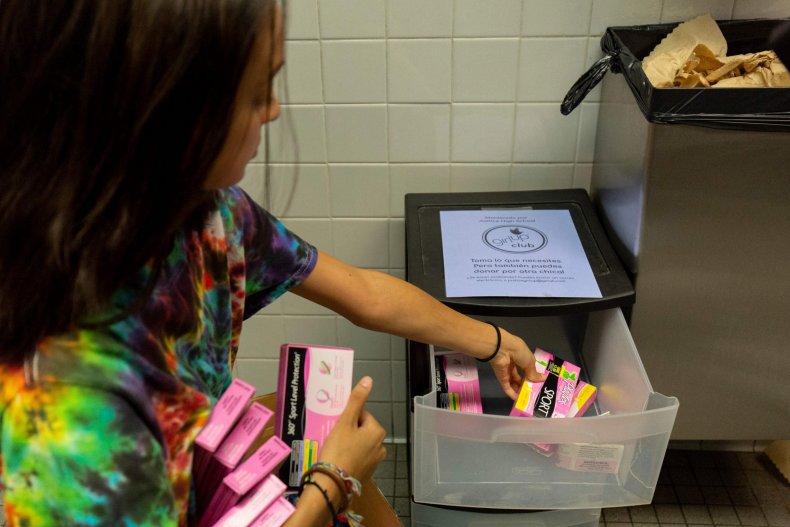 However, some argue that the law opens up the opportunity for girls to get bullied and shamed for using the products.
According to a 2021 survey commissioned by Thinx & PERIOD, 80 percent of teens already feel there is a negative association with menstruation, "that they are gross or unsanitary."
"Has anyone considered the trauma girls will experience when boys run up & down hallways, waving tampons & pantomiming insertion?" a Twitter user asked. "Ridiculing girls at their most vulnerable is NOT dignity."
Some people believe giving students more access to the products may reinforce stereotypes already surrounding menstruation.
Although the legislation is meant to be helpful and inclusive, Republicans have slammed the bill and Democrats for "forcing" gender-affirming ideals on students.
"The 'Menstrual Dignity Act' is another example of liberal maniacs forcing the population to accept their mentally ill beliefs," a Twitter user said. "They want parents to encourage children to become different."
Newsweek reached out to the Oregon Department of Education for comment.