Conservatives Lash Out at Biden, Call for Impeachment Over Gun Speech
Conservatives are lashing out at President Joe Biden following his Thursday speech addressing gun violence.
Biden spoke in favor of gun restrictions that he said he and "the overwhelming majority of American people" were in favor of during the speech, including strengthening background checks, allowing firearms manufacturers to be sued, enacting a national "red flag" law and reinstating the 1994 ban on semi-automatic weapons and high-capacity magazines.
Republican lawmakers and conservative commentators reacted negatively to the speech, which was given in the wake of 19 children and two teachers being shot and killed at an elementary school in Texas last week. Although Biden maintained that the proposals were "not about taking away anyone's guns" or "vilifying gun owners," some critics insisted that the president had indeed issued a call to confiscate guns, while others called for the president to be impeached over his speech.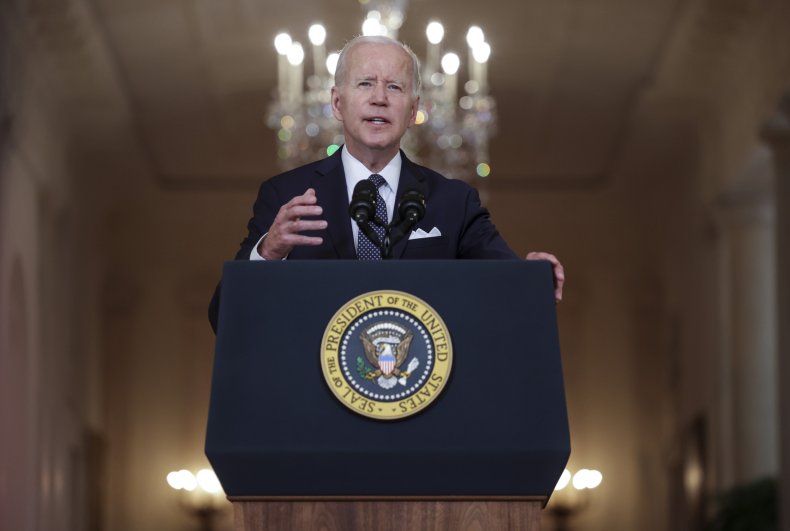 "The lines were just drawn from The White House," tweeted Charlie Kirk, founder of the conservative group Turning Point USA. "Biden is coming for our guns. Time to get to work. Gook luck, Joe."
During a Thursday episode of Tucker Carlson Tonight, the Fox News host said that the president was hoping to "disarm people who did not vote for Joe Biden." A graphic of Biden alongside the words "prepare to be unarmed" was shown during a segment about the speech.
"Where's the lie?" Nicholas Fondacaro, deputy managing editor for the conservative watchdog group Media Research Center, tweeted about the graphic. "Biden literally told people he was going to take their ARs away."
"President Biden had the opportunity tonight to help unite the country," California Republican U.S. Representative Darrell Issa tweeted. "He didn't. He lashed out at everyone who doesn't share his gun control agenda. Then he demanded voters elect more Democrats. His worst speech yet."
"Joe Biden's gun speech was not unifying," tweeted Wendell Husebo, a reporter for the conservative news outlet Breitbart. "He attacked half the nation with campaign talk about midterm votes."
"Joe Biden wants to ban 'assault weapons' and 'high capacity magazines' yet Democrats refuse to prosecute violent crimes in Democrat cities all over the country, and refuse to protect your children at school with armed security," Georgia Republican U.S. Representative Marjorie Taylor Greene tweeted. "Same Democrats are protected by armed guards daily."
"BREAKING: Biden Declares War on Second Amendment," tweeted conservative columnist and talk radio host Todd Starnes.
"Joe Biden does not respect the US Constitution. Impeach him," conservative columnist Benny Johnson tweeted.
Fox News contributor Mollie Hemingway also called for Biden to be impeached during a Jesse Watters Primetime segment reacting to the speech, arguing that the president allegedly speaking against the "natural right of self-defense and to guard against tyranny in the Second Amendment" constituted an "impeachable offense."
"Joe Biden showed that he does not respect the Constitution," said Hemingway. "He does not support this natural right. That really is an impeachable offense to talk this way against something so foundational to the country."
Newsweek reached out to the White House for comment.