'Constable Floof:' Dog Wearing Clothes in Cop Car Sends Internet Wild
An incredibly fluffy dog dressed in clothes while sitting in a police car has sent the internet wild, with people hailing the pooch "Constable Floof."
The snap of the very business-esque mutt was shared to Facebook by New Zealand Police, and shows the white-furred dog in the driving seat.
Beneath its enviable mane, the Samoyed appears to be dressed in a blue top, not dissimilar to the color of the police officers' uniform.
The photo, posted last week, was captioned: "Feeling cute. Might delete later."
Nearly 8,000 people liked the photo, while hundreds commented, including the Facebook account for the Australian Federal Police.
"It should be illegal to be this cute," they joked, while the Kiwis responded: "Ikr."
Others also hailed the dog's cuteness levels, as Ali Clements noted: "Constable floof has a certain ring to it…"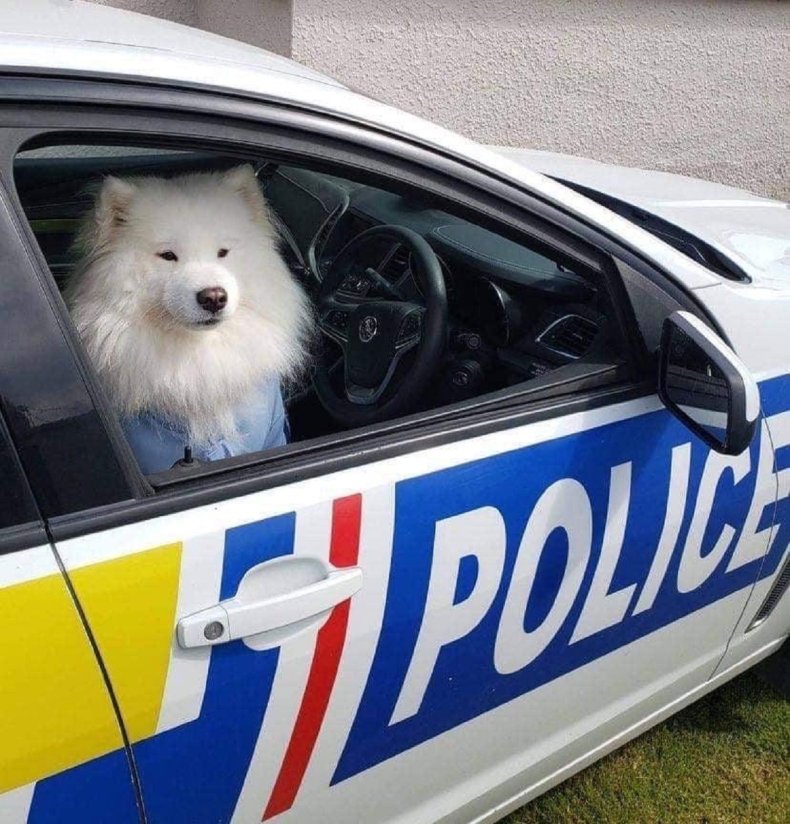 Mercy Heta Taioalo wrote: "I present to you our one and only, Constable Floof. So cute."
Jane Smelt thought: "Sargant Samoyed to the rescue."
Marie Knight reckoned: "He looks to me he would befriend the crims instead of apprehending them. Too lovely to be tough."
Angel Stewart commented: "I know you guys wanna recruit but this takes a new cuteness level."
Ethan Odonnell-Mcintosh asked: "Has this K9 got a valid driver's license?"
Natasha Chant said: "Partner in crime."
While the pooch certainly looks part of the K-9 unit, the website for the New Zealand Police revealed all the dogs they use are German Shepherds.
That was noted by a few commenters, as Sonja Rankin said: "Teddy Bear Dog impersonating a German Shepherd… love Samoyeds."
Darryl Baser said: "That pup is so undercover right now. Great job on a German Shepard…"
Bev Lambert wrote: "I think he's doing undercover work, lol, gorgeous."
The New Zealand Police website, says: "All patrol dogs are German Shepherds and are supplied by the police dog breeding programme that is based at the Dog Training Centre near Wellington.
"All police dogs are trained at the Police Dog Training Centre at Trentham, Upper Hutt, near Wellington.
"The training of a patrol dog is based on a six-stage development and qualification process that starts when the dogs are puppies and ends when they graduate at 18 months of age. Dogs live at home with their handlers."
Police dogs respond to more than 30,000 incidents each year in New Zealand. They help their human counterparts in search and rescue, victim recovery, drug detection and are deployed with the armed offender squad.
Newsweek reached out to New Zealand Police for comment.